Why You Should Avoid Having Your Child's Ears Pierced in Malls

Plus, find out the type of lock your child's earrings should have.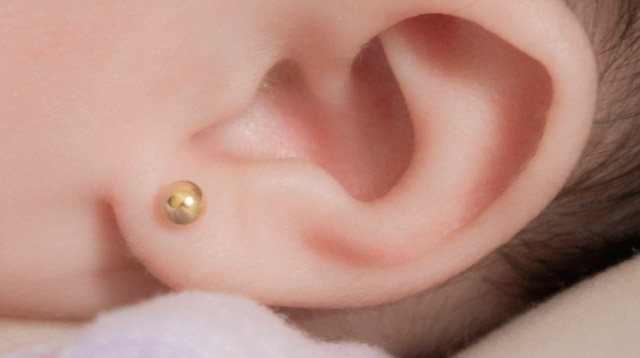 For the first time, the American Academy of Pediatrics (AAP) has released guidelines for piercings, tattoos, and body modification. Though the guidelines are for adolescents, the clinical report also includes recommendations for parents of younger children. Here are a few points found in the report that a new parent may find useful: 

1. Go for nickel-free earrings
"Most body piercing jewelry is made of metal, usually stainless steel, gold, niobium, titanium, or alloys," says the AAP. Gold, for example, is often combined with nickel to make the earrings sturdier. Take note: the AAP says skin reactions from jewelry containing nickel are common. 

Jewelry made from titanium and niobium are lightweight and rarely produce an allergic response. Same goes for surgical stainless steel, says the AAP. Don't forget to check what the earrings' back, studs, or clasps are made from as well. 

What other parents are reading

2. Check the lock
For small kids, earrings that lock or screw at the back are recommended. "Parents of infants or young children with pierced ears should be informed of the risk of aspiration and ingestion of earring parts," says the AAP. According to BabyCenter, a good fastener or lock should cover the entire back of the earring.  

3. There is a risk of infection in piercing
Up to 35 percent of individuals who get their ears pierced experience one or more complications, which are commonly minor infections, allergic reactions, keloid formations (overgrown scarring), and tearing, according to the clinical report. There can also be painful swelling, warmth, and redness of the area. 

A superficial earlobe infection will respond well to a warm, moist compress and topical antibiotic ointment, says the AAP. If your child's piercing is noticeably swollen or red, consult a doctor. The pediatrician may advise you to remove the earrings and other measures will be taken to try to make sure the piercing doesn't close. Kids with atopic dermatitis are at an increased risk for skin infections. 

ADVERTISEMENT - CONTINUE READING BELOW

CONTINUE READING BELOW

Recommended Videos

What other parents are reading

4. Tears do happen
Sometimes, the earring is pulled through the earlobe and the flesh tears. When this happens, head to the emergency room because the wound need to be attended to within 12 to 24 hours, says the AAP.  "A simple earlobe tear can be sutured under local anesthesia. If the hole has closed, the earlobe can be repierced in an unscarred area after 3 months." 

5. Have it done at a clinic
If your child's ears were not pierced at birth, do not go to a jewelry store or to the mall to get them done. Though the earrings they give you afterward are sterile, most piercing guns are not sterilized in between procedures, says the AAP. Ask your child's pediatrician instead if he or she does piercings. If not, ask your baby's doctor to recommend someone who does.

Trending in Summit Network