Two Toddlers Had Unexplained Bruising On Their Limbs. Turns Out They Had 'Pork Tapeworms'

Multiple other similar cases have also been recorded in both kids and adults.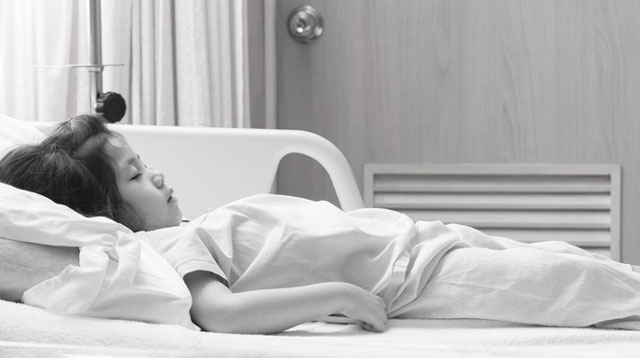 In December 2019, two toddlers — a three-year-old boy and his one-year-old sister — from China were discovered to have Taenia solium larvae, also known as pork tapeworms, living inside their bodies, Fox News reports.

Both children had unexplained bruising on their limbs. AsiaWire also reports that the girl had begun having skin discoloration in October. In early November, the siblings were taken to the hospital to receive medical attention.

Wang Xianfeng, the pediatrician who treated the siblings, told AsiaWire that because doctors did not know what the children's conditions were, both were advised to stay in the hospital for examinations. Their blood tests showed that they both had high white cell count.

After also discovering that the young girl's bruises were caused by nodules under her skin, the doctors tested the children for parasites. They then discovered that both kids had pork tapeworms in their bodies.

What other parents are reading

"The larvae found in the children were living between their skin and flesh, causing nodules and bruising," Xianfeng told AsiaWire, according to Fox News. Xianfeng further explained that he prescribed an anti-parasitic drug to help flush out the larvae and that the children continue to be monitored.

In March 2019, Forbes also reported a case published in the New England Journal of Medicine of an 18-year-old man who experienced pain in his right groin, confusion, swelling over his right eye, and a tender right testicle. After having a seizure, he was taken to the emergency room.

The MRI of the patient's brain revealed multiple white spots in his brain. These white spots were cysts created by pork tapeworms. Forbes notes that in some cases, anti-parasitic medication can help kill the parasites, but when those parasites die, they might also cause inflammation and fluid formation.

ADVERTISEMENT - CONTINUE READING BELOW

Because the 18-year-old had so many larvae in his brain, doctors were concerned that medication might lead to inflammation and fluid formation and damage other parts of his brain. They instead gave him dexamethasone to reduce the inflammation and anti-seizure medication. Two weeks after being taken to the hospital, the patient died.

These are only some of the cases of humans with tapeworm infections. The Centers for Disease Control and Prevention (CDC) note that Taenia solium (pork tapeworm) and other tapeworm species Taenia saginata (beef tapeworm), and Taenia asiatica (Asian tapeworm) can cause a parasitic infection called taeniasis. According to the World Health Organization (WHO), only T. solium causes major health problems.

Larval cysts of T. solium can also cause a disease called cysticercosis, a parasitic infection that affects the brain, muscle, and other tissue. If the cysts go to the brain, they can trigger symptoms like seizures, behavioral disturbances, or death, as in the case of the 18-year-old man.

Children and adults can get tapeworm infections by eating raw or undercooked meat. The American Academy of Pediatrics (AAP) says that once a child eats the tapeworm cysts in contaminated meat, those cysts release the larvae in the stomach. The parasite then grows into an adult tapeworm with segments that each contain 30,000 to 100,000 eggs.

The proglottid separates from the adult tapeworm and travels out of the child's intestines along with his stool. A child who has an adult tapeworm will pass stools that have segments that are filled with eggs.

CONTINUE READING BELOW

Recommended Videos

What other parents are reading

According to the CDC, individuals with tapeworm infections might not know of their condition since symptoms are typically mild or nonexistent. The WHO writes that symptoms like abdominal pain, nausea, diarrhea, or constipation can occur once the tapeworms have become fully grown in the person's intestine, around eight weeks after consuming contaminated meat.

To prevent tapeworm infections, the WHO has five recommendations for safe food:

Keep your food clean
Separate cooked food from raw food
Cook meat thoroughly
Store food at safe temperatures
Use safe water and raw materials

Finally, practicing proper hygiene, such as hand-washing before meals and after using the toilet, can help prevent tapeworm infections.

Click here for everything you need to know about food poisoning and how to prevent it from happening to your kids.

What other parents are reading

Celebrate your pregnancy milestones!


Enter your details below and receive weekly email guides on your baby's weight and height in cute illustration of Filipino fruits. PLUS get helpful tips from experts, freebies and more!

You're almost there! Check your inbox.


We sent a verification email. Can't find it? Check your spam, junk, and promotions folder.
Trending in Summit Network