A Dog is More Likely to Bite in the Summer. What to Do If a Dog Bites Your Child

Any dog can bite when provoked. Here's how to keep it from happening.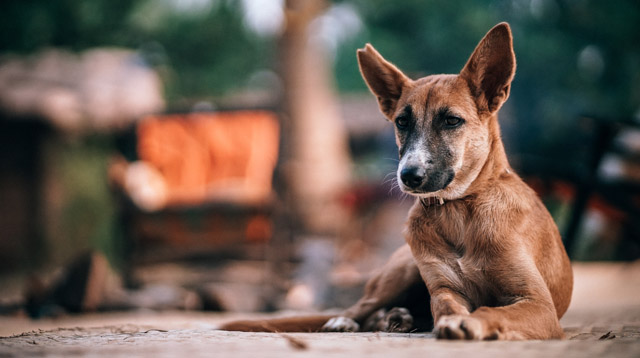 The summer season has officially started in the Philippines. While Filipinos are bracing for hotter days, a study found that this is the season when young children are at the highest risk for dog bites. That's why it's important that mom, dads, and kids are protected by the rabies vaccine.

According to the study published in the journal Otolaryngology - Head and Neck Surgery, there is a correlation between cases of dog bites and rising temperatures. Researchers suggest that the high frequency of injuries that occurs during the summer months may be because of "children spending time outdoors playing with dogs in the warmer temperatures or due to a general increase in the irritability of dogs during the warmer months."

In a radio interview a few years back, Dr. Raffy Deray of the National Rabies Prevention Control Program of the Department of Health (DOH) said that the number of animal bite cases increase during summer, with 50% of those recorded cases happening to children below 15 years old.

"Yung aming palagay po 'yan ay dahil karamihan ng mga bata ngayon, nasa bakasyon po sila. At 'yung...chance na makagat sila ng aso, tumataas (We speculate that it's because most children are on their summer break now. And so, the chances are greater that they'll get bitten by the dogs), said Deray.

He adds that not all dog bite cases are caused by stray dogs. Many victims also report being bitten by their own pets.

What other parents are reading

What is rabies?

Rabies is a viral infection and an animal disease that can spread to humans through a bite or scratch of an infected animal like dogs and cats, wherein the animal's saliva comes into direct contact with a victim's fresh skin lesions. According to DOH, rabies can also occur through "inhalation of virus-containing spray or through organ transplants" although this is very rare.

The Philippines is among the top 10 countries with the highest incidence of rabies in the world, according to the Philippine Council for Health Research and Development. The DOH estimates that about 10,000 Filipinos are treated for dog bites and 200 to 300 die from rabies every year.

ADVERTISEMENT - CONTINUE READING BELOW

What other parents are reading

Symptoms of rabies

Once a rabid dog bites a human, the infection will make its way to the person's brain, according to Dr. Eric Tayag, DOH's Director IV of the Bureau of Local Health Systems Development, in a previous Smart Parenting article.

Symptoms usually appear in one to three months, although they can appear as early as a few days after exposure to the virus, according to the International Association for Medical Assistance to Travellers (IAMAT), a non-profit organization based in Canada. "Mas malapit sa utak [ang kagat], mas maiksi ang incubation period," said Dr. Tayag.

Infected patients will have a fever, and feel pain or a tingling sensation in the bite area. As the infection makes its way to the brain, there will be inflammation in the spinal cord and brain, with some patients presenting "anxiety, hyperactivity, convulsions, delirium, and have a fear of swallowing or drinking liquids, as well as a fear of moving air or drafts," according to IAMAT. In some cases, the muscles become paralyzed followed by a coma. Once these symptoms are seen in a patient, death becomes imminent within one to two weeks.

What other parents are reading

When to get a rabies vaccine

Rabies is a vaccine-preventable disease. A rabies vaccine is available for humans given as pre-exposure prophylaxis (before a bite or exposure) or as post-exposure prophylaxis (after a bite or exposure). Pet owners should also be responsible and give their dogs and cats regular rabies vaccines.

"Rabies is considered a neglected disease that is 100 percent fatal but 100 percent preventable," told former DOH Secretary Paulyn Jean Rosell-Ubial to Smart Parenting. "Effective and safe medicines have been available for decades to prevent disease in humans and animals."

The Philippine Pediatric Society (PPS) recommends that families with pet dogs should be given the rabies vaccine even before they are bitten. "This is called pre-exposure prophylaxis and is especially recommended for children who may be unaware of the dangers of an animal bite," said the PPS in a rabies fact sheet published on their website.

The Rabies Act of 2007 mandates rabies immunization for children aged five to 14 years living in highly endemic areas. It consists of three doses given on days 0, 7, and 21 or 28. If you are a pet owner and have a young child, talk to your child's pediatrician about getting this vaccine.

CONTINUE READING BELOW

Recommended Videos

What other parents are reading

What to do in case of a dog or cat bite

Wash the bitten area immediately with soap and water for 10 minutes. Disinfect with an antiseptic and see a doctor to undergo post-exposure rabies vaccination. Don't hesitate whether or not the bite will lead to rabies — a small or large dog with rabies can infect your child.

Post-exposure rabies vaccines are available in public and private Animal Bite Treatment Centers. There are 486 centers in the Philippines, with 32 located in Metro Manila.

Depending on the vaccine regimen, the vaccine can be given as five intramuscular doses (days 0, 3, 7, 14, and 28) or 8 intradermal doses (2 doses of 0.1 ml each intradermally on both deltoids on days 0, 3, 7, and 28 or 30), according to the PPS rabies fact sheet. The multiple doses are needed to induce antibody development as early as possible in a patient who has been bitten.

What other parents are reading

In 2018, a shortage of anti-rabies vaccines for humans was reported around the world. In response, the DOH modified its protocol in vaccinating patients against animal bites. Instead of the standard five shots, patients would only get three shots.

"If one is bitten by a dog, after the first and second doses and the dog did not die after 14 days, that means you don't have rabies. Therefore, we will not give the succeeding shots anymore," Dr. Domingo shared in an interview with The Philippine Star.

He assured that the reduced number of shots is still safe. "We are sure about this because if a dog has rabies, it will die within 14 days. So, if it remains alive within 14 days, it means it was not able to transmit rabies to the victim," he said.

If you have completed the full course of anti-rabies vaccine and get bitten by a dog again, say a year after, you will only need booster shots. This will be given in two doses: one on the day you were bitten, and another one 3 days later.

ADVERTISEMENT - CONTINUE READING BELOW

What other parents are reading

Rabies from dog or cat scratches

A scratch by an animal's paw can also transmit rabies. It is also true for licks on open wounds and on mucous membranes such as the eyes, mouth, and genitals. Exposures on the head, face, and neck are especially dangerous, according to the PPS. Follow first-aid procedures on treating dog bites and undergo rabies vaccination after.

How to behave around dogs

While an anti-rabies vaccine is readily available for humans, it is also vital for parents to teach their young children how to act around dogs, especially when they encounter aggressive ones. (Click here for a detailed list.)



Avoid approaching, touching, or playing with any dog who is sleeping, eating, chewing on a toy or bone, or caring for puppies.
Your child should never approach an unfamiliar dog, especially a stray. If the dog is on a leash with a guardian, permission must always be asked first. Touch an unfamiliar dog on the shoulders or chest, not on the top of the head.

Any dog can bite when provoked, so it's also important to assess the dog's behavior for any warning signs that it will bite. "Ears are typically pinned back, the fur along their back may stand up, and you may be able to see the whites of their eyes," according to dog behaviorist Cesar Millan's website Cesar's Way. 

"Yawning is not an attempt by the dog to appear casual but to show off their teeth and should be considered a warning sign as well. Freezing in response to a touch or look followed by direct intense eye contact back from the dog is another clear sign that it may bite."

ADVERTISEMENT - CONTINUE READING BELOW

What other parents are reading

Celebrate your pregnancy milestones!


Enter your details below and receive weekly email guides on your baby's weight and height in cute illustration of Filipino fruits. PLUS get helpful tips from experts, freebies and more!

You're almost there! Check your inbox.


We sent a verification email. Can't find it? Check your spam, junk, and promotions folder.
Trending in Summit Network