The 4 Primary Causes of Kids' Stress and Burnout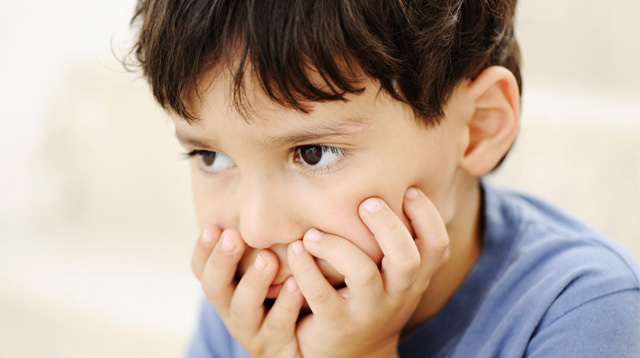 Fifty years ago, only bridges were "stressed," and only matches, candles, and torches experienced the sensation of "burning out."

Today, however, the word "stress" has fully evolved from an engineering term into an emotional byword, and "burnout" has become a phenomenon so prevalent it's even starting to affect our children.

David Elkind, in his book The Hurried Child, says, "Stress is the wear and tear on our bodies that is produced by the very process of living." He adds that one of the greatest contributors to stress in children's lives today is hurry -- to get ready, to go from one place to another, to do well and to grow up.

What other parents are reading

Is your child stressed?
In a biological sense, the stress response is actually adrenaline rush and part of our instinctive reaction to danger. But in today's world, the dangers our kids face aren't simple things they can always fight or walk away from. One student, for example, wrote in an e-mail: "I have so much information to cover for my exams that I really don't know where to begin. I end up walking away from my desk with nothing worthwhile covered!"

"Stress can infect and affect the physical, emotional, social, intellectual and academic well-being of children. It can interfere with their motivation, attention, perception, memory and the entire learning process," says Dr. Harold Minden, a psychology professor and expert on stress at York University.

Children respond to stress differently from adults. When kids are stressed, their reactions are more intense and may involve the whole body.

ADVERTISEMENT - CONTINUE READING BELOW

What other parents are reading

As for that student's reaction towards studying for her exam, stress management expert Karen Belshaw says, "It is common to feel stressed when there is a lot of work to be covered. However, it is good to remember that this is often only short term stress and nothing can't be rectified."

Of course, when a person is under stress it's usually impossible to make him understand the situation is only temporary. And when the stress is prolonged to the point where he just can't keep going no matter how much he needs to, his body runs out of fuel, and the result is burnout.

When stress becomes burnout
Burnout is the point when your body can no longer maintain the stress response, even when the perceived danger is still present. So your body just gives up. It has run out of fuel, and the fire burns out.

What other parents are reading

When a child experiences stress, parents can help by removing the cause of the stress, or finding ways to help him cope with its presence. But once you see the symptom of burnout in your child, it is advisable to consult a doctor, a psychologist, or a counselor. Burnout that lasts more than a few days can easily lead to depression, and could require medical attention.

When something life-altering happens -- a death, a separation in the family, or the loss of friends -- it's understandable that your child may experience stress and need your support and help.

However, much of the stress experienced by kids today don't come about because of one big event. Most times, it is caused by daily exposure to an ongoing situation.

Here are some of the most common child stressors among Filipino children today, and what parents can do about them:

Stressor #1: Your child is not ready for school.
Although most children look forward to making new friends and learning things, parents must remember that these aren't the only things that go hand in hand with "going to school."
    
A child's school experience also includes waking up earlier, getting dressed and finishing meals faster, encountering children who may not like him, and even facing competition for the very first time.
    
Do not be pressured into thinking that your child should go to school now to keep up with the other kids, or because your friends or parents say so.

ADVERTISEMENT - CONTINUE READING BELOW

Recommended Videos

What other parents are reading


    
"The mother is the best judge when it comes to deciding if her child is ready for school," says Grace da Silva, a full-time mother. "Accept other people's advice, but use your own judgement."

Stressor #2: Your child is unhappy in his present school.
Grace experienced this last school year, when her son -- usually active and cheerful -- became increasingly restless and prone to fights. So in the middle of the first quarter, she transferred her son back to his old school, and almost instantly his behavior returned to normal.
    
"Children have individual differences," says Rossana Llenado, owner of WorldPrep Learning Center in Katipunan, Quezon City. "They develop different skills at different times, and we personally take this into consideration when assessing our enrollees."

What other parents are reading

Dr. Moisés Kirk de Carvalho Filho, professor of developmental psychology at the De La Salle University, calls this "developmentally appropriate school practices." When a school correctly adjusts its teaching styles and strategies to match their students' current development levels, kids enjoy what they're doing. They also tend to absorb new information more effectively.
    
Stressor #3: Your child has developed negative thinking.
Sometimes when a child experiences repeated failures and disappointments, he develops the tendency towards negative thinking. This reduces his ability to cope in times of stress.
    
Belshaw agrees that negative thinking causes our brain to panic in stressful situations, making it harder for us to remember that we are in control. To counter such negative thinking, remind your child that he excels in other areas. This will help him cope with the situation better.

ADVERTISEMENT - CONTINUE READING BELOW

What other parents are reading

Stressor #4: Your child needs to develop new study habits.
Although most students experience a period of acute stress during exam time, this can be avoided by practicing better study habits.
    
Recent studies indicate that procrastination is something many children learn from their parents, so better time management skills are not only prescribed for the students, but for their moms and dads as well.

Belshaw believes that organization and prioritization are the keys to effective time management. He offers these helpful tips:
• Make a list of the things you need to do, and the available time and resources that you have.
• Plot out a detailed timetable, starting with the area that needs the most attention.
• Divide up the work into strict time allocations.
• Be realistic in your projections and expectations.
• Stick to the timetable.
• Don't let your brain panic. Remember you are in control.

What other parents are reading

Before the storm
The good news is that we can help our kids through stressful times by helping them develop better coping skills.    
    
Assure them of your love through affectionate hugs, active listening, and honest encouragement. Find out about any significant event in their lives by keeping communication opportunities available, and help them use appropriate humor to see the lighter side of life.
    
When it comes to stress, the most important thing we can teach our kids is that although we can't control the things that happen in our lives, we can always control how we would react to them. And that is the healthy kind of empowerment our children really need.

ADVERTISEMENT - CONTINUE READING BELOW

What other parents are reading

Is your child stressed?
Some signs of a stressed out kid include:
- Crying
- Aggressive or defensive outburst
- Rocking and self-comforting behaviors
- Headaches and stomachaches or neck pain
- Lethargy, daydreaming, withdrawal from activities
- Excessive energy or restlessness
- Nervous habits such as nail biting, hair twisting, thumb-sucking
- Trouble getting along with friends
- Sleeping disorders


Is your child burned out?
Some signs of a burned-out kid include:
- Resentment of people, school or work
- Lost motivation, ambition, or effort
- Emotional volatility
- Frequent illness or health complaints
- Physical, mental and emotional exhaustion

Celebrate your pregnancy milestones!


Enter your details below and receive weekly email guides on your baby's weight and height in cute illustration of Filipino fruits. PLUS get helpful tips from experts, freebies and more!

You're almost there! Check your inbox.


We sent a verification email. Can't find it? Check your spam, junk, and promotions folder.

Trending in Summit Network