This 5-Year-Old Boy Started Wetting the Bed Each Night. Then, His Blood Sugar Spiked

He was thirsty all the time and would feel the urge to pee constantly.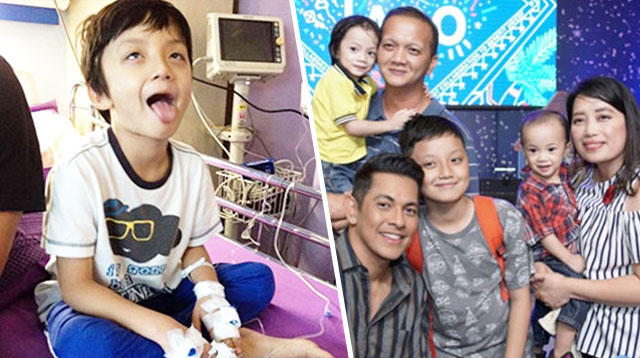 It's always a terrible feeling when your kid is suffering from a simple cold, cough, or fever. I remember when my daughter Monica had an on-and-off high fever for several days and I couldn't stop worrying and praying that it wasn't anything worse like dengue. What more if you find out that your child will have to battle a life-long disease like Type 1 Diabetes?

Justin and Irene Waga, with their eldest son, Joaquin, were based in Kuala Lumpur, Malaysia in 2013 when their ordeal started. Joaquin was only five years old when he lost weight drastically and started wetting his bed in the evening and during nap time. Irene attributed the changes to her son being stressed out or tired.

It went on for two weeks. Irene noticed that her son was thirsty all the time, and would feel the urge to pee even if he had just gone to the bathroom ten minutes before. Finally, one afternoon Joaquin suddenly asked his papa to stop the car while they were on the way to church because he needed to pee. The church was only five to 10 minutes away from their house, and that's when Irene realized something was going on with her son — and it was no longer due to stress. They decided to bring him to his pediatrician the next day.

What other parents are reading

ADVERTISEMENT - CONTINUE READING BELOW

Before being confined in the hospital, Joaquin had bedwetting episodes. He also lost weight drastically. 

PHOTO BY COURTESY OF IRENE WAGA

 

They ran some tests on Joaquin and everything came back normal except for his blood sugar. It was more than 200mg/dL when a person's normal blood sugar level should be less than 100mg/dL.

Irene could not fully comprehend what the pedia was telling them — all she understood was that Joaquin had to be admitted to the hospital immediately.

"I felt that I was floating and I kept asking myself what just happened. Why is this happening to us? Joaquin never liked sweets," she shares.

Joaquin was diagnosed with Type 1 Diabetes (T1D), a chronic condition where the pancreas produces little to no insulin. Also known as Juvenile Diabetes, any individual who has this becomes insulin-dependent for the rest of his life because the pancreas is no longer producing insulin.

Finding help from another warrior

Despite his condition, Joaquin maintained a positive outlook.

PHOTO BY

courtesy of Irene Waga

CONTINUE READING BELOW

Recommended Videos

Irene shares she and Justin lost focus after the diagnosis, like their world just fell apart. They thought they won't be living normal lives anymore. Like any mother, Irene could not help but question why it happened. Was there something she could have done to prevent it?

"It was very difficult to accept his situation. But I guess, as parents, we have no choice. Acceptance is a big word up 'til now," she says.

Irene gave up her career in Kuala Lumpur and went back to the Philippines (Justin stayed in Malaysia). She found another job here and her family helped watch over Joaquin. Having T1D meant he needed to have his fingers pricked to check his blood sugar levels four times a day and he also needed to be injected with insulin.

Irene reached out to Angeli Pangilinan-Valenciano via Twitter and she and her husband, Gary Valenciano, were instrumental in helping the Waga family deal with their son's condition.

PHOTO BY

courtesy of Irene Waga

ADVERTISEMENT - CONTINUE READING BELOW

Clueless on what to do and how to deal with their situation, Irene used social media to reach out to Gary Valenciano, who was also diagnosed with the same condition as Joaquin's. She sent a Tweet to his wife, Angeli Pangilinan-Valenciano, hoping to hear how to handle Type 1 Diabetes. As much as she wanted to understand what the doctors were explaining to them, she felt it was better to hear from people who are on the same boat.

It was a good move — Angeli and the rest of the Valencianos were nothing but accommodating and helpful people who made her realize that Joaquin can still live a normal life. Diabetes won't be a hindrance for him to be successful and he can still pursue his dreams.

Raising a child with a chronic condition made their family much stronger. They all adjusted to the changes but they did not and will not give up.

"We are still living a normal life and I don't want my son to think that he is different. We try to manage his disease the best way we can," Irene explains. "We pray a lot about it — about him and our family, and we talk to people with the same illness."

Turning illness into an advocacy

Joaquin is now 11 years old and doing much better! Here he is with Gary V, mom Irene, dad Justin, and his two brothers.

PHOTO BY

courtesy of Irene Waga

ADVERTISEMENT - CONTINUE READING BELOW

Since this life-changing situation happened to them, Irene and her family have become very vocal in spreading awareness about the condition. When they moved back to the Philippines, she reached out to different support groups. She found out that Joaquin was qualified as a Person with Disability (PWD) and could get discounts for his medicines and other necessities (like strips, syringes, needles, and more).

Irene was also introduced to SweetMoms, a Facebook Messenger support group of kids with T1D and their families; local community group, Act1ve Diabetes PH; foundations such as Shining Light, Juvenile Diabetes Foundation Philippines, Inc., and Institute for Studies on Diabetes Foundation. There are also camps intended for kids with T1D, too, like Rainbow Camp, Camp Cope, and Wave Camp.

Irene feels relieved knowing that they are not alone in this battle and that she still has so many things to be thankful for. Her message to parents who are experiencing the same is to take things easy and just deal with it one day, one meal at a time. "T1D kids are normal kids, it's just that their body does not produce insulin, hence the need for injections," she says.

What other parents are reading

Irene also reiterates that it will help a lot if parents and caregivers continue researching for means to help the kids boost their immunity the natural way (herbals won't hurt), and to connect with support groups.

"It helps a lot knowing we are not alone in this journey and it gives us hope hearing their stories," she shares. "Our kids can do anything they want. All we must do is teach them to be independent. Don't be too hard on them and do not let them feel deprived. Everything boils down to management — just hang in there!"

ADVERTISEMENT - CONTINUE READING BELOW

She adds, "There will be highs and lows but that's all part of the journey. Pray and surrender everything to the Lord. All will be well."

What exactly is type 1 diabetes, and how can a child have it? Read up here.

What other parents are reading

Celebrate your pregnancy milestones!


Enter your details below and receive weekly email guides on your baby's weight and height in cute illustration of Filipino fruits. PLUS get helpful tips from experts, freebies and more!

You're almost there! Check your inbox.


We sent a verification email. Can't find it? Check your spam, junk, and promotions folder.

Trending in Summit Network