Car Crash Images That Show Why Car Seats Are Non-Negotiable

These graphic images shared by moms prove that using car seats saves the lives of young kids.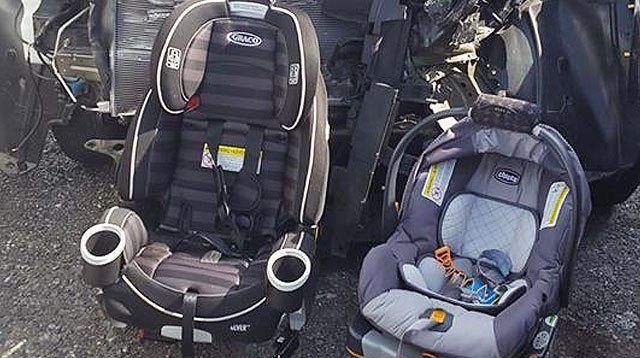 While the enforcement of the Child Safety in Motor Vehicles Act, the child car seat law, has been deferred, we urge you to plan for it already because we cannot settle for "maingat naman sa byahe."  You will never know when an accident can happen.

Case in point: In July 2017, a car carrying TV host-actress Jolina Magdangal and her family was in full stop when it got rammed from behind by a van whose driver had fallen asleep. The impact shattered their car's rear windshield and the van's front windshield.  

Jolina sustained slight injuries. Pele, who was properly secured in his car seat, got through the accident unscathed.

"Thank God walang nangyari kay Pele. Naka car seat and seatbelt siya palagi 'pag bumabiyahe kami. He did not even cry," Jolina's husband, Mark Escueta, wrote in a Facebook post. Jolina added that it was a good thing they're strict about using car seats even when in complete standstill traffic.

What other parents are reading

Recently, a Facebook post went viral after a family showed a photo of a car with a completely smashed front that would have left anyone wondering if there were any survivors. Thankfully, the family not only survived the accident, but the kids were were unharmed.   

In the photo, mom Jenna Casado Rabberman, who is from Pennsylvania in the United States, placed her two kids' almost-intact car seats in front of the wrecked car. "THIS is why you buckle your kids into their car seats correctly every SINGLE time. Even when they scream because the straps are tight. Even when they complain about the chest clip or being rear-facing," she wrote on Facebook.

How did their accident happen? Someone ignored a red light and struck them.

"You never think it will happen to you. My boys escaped without a scratch, but the paramedics told me it could have been very different had I not taken the extra two minutes to be sure they were buckled correctly. I will be fine; my kids are fine, everything else can be replaced," Jenna continued in her post. 

In 2016, Kylee Barrett, a mom from Washington, was taking her elder son Kolten to school with her 2-year-old son Hunter, when their car hit a patch of black ice. Her car slid, so she tried to swerve to avoid a head-on collision, but the car slammed into a tree that smashed Hunter's side of the vehicle. The impact caused the seat to bend, but it effectively absorbed the force, which would have been fatal for Hunter.

"Hunter has a broken femur and has to get castes from the waist down. My poor baby is okay other than that, and I can say him being rear facing is the reason why! And Kolton, who is 5 was in his booster with a seat belt and only has a bump on his head," Kylee shared on Facebook. 

What other parents are reading

Wakulla County Fire Rescue in Florida shared photos from a vehicle accident rescue back in 2015 on their Facebook. It involved a 16-month-old and a 4-year-old who escaped serious injury because their mom took the time to make sure they were secured in their car seats. 




The rescue team took photos of the car seat of the toddler and showed how the car seat absorbed the impact for the child. "The impact even broke to seat itself. Responders were amazed when they arrived to find the massive damage and discovered no life-threatening injuries," read the post.

Just this January, Therese Gilbert, the mom behind the blog ERF Mama, shared a photo of a bruised chest after a car accident to show the impact of a crash to an adult. Her goal was not to discourage using seat belts but to show why infants and kids are much safer in a car seat. "This was an adult -- imagine this type of an injury or worse on a child," she wrote on her Facebook. 

She hoped her story will make parents think twice before they decide to let their kids to use a forward-facing car seat, high-back booster seat or the car's seat belt. "A rear-facing car seat would never do this to the child. So wait as long as possible before you take that last step...The children are far safer rear facing for as long as possible," she added. 

The World Health Organization (WHO) states correctly installed and used child car safety restraints reduce deaths among infants by approximately 70 percent, and fatalities among small children by between 54 and 80 percent. Note that even if you're careful on the road, you can't be certain that others would take as much precaution as you do. Plus, some things are simply out of your control. A parent's mantra: It's better to be safe than sorry.

This story was updated at 7:45 a.m., on February 4, 2021. 

Trending in Summit Network