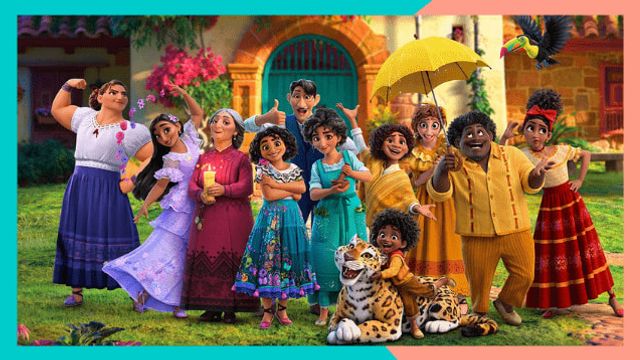 We get it. By now, your family has probably seen the movie Encanto twice and we know that won't be the last time.  Following the story of young Mirabel, the only member of the huge Madrigal clan without a magical gift, Encanto understandably keeps both kids and grown-ups alike hooked.
The exceptional animation, catchy songs, dances, and a whole lot of unique characters whose personal stories only get more interesting as the film progresses are some of the reasons why the movie will likely be watched over and over again. 
While it's easy to get lost in its entertaining animation, to its core, Encanto brings home so many great family lessons we all want our children to learn. Interestingly, many of these lessons are revealed in that part where the Madrigal clan sings the most famous song in the film, "We Don't Talk About Bruno."
Bruno, of course, is one of Abuela's three children and Mirabel's estranged uncle whose magic gift of clairvoyance doesn't seem to sit well with the family. After all, he reads the future and what he sees are literal cracks in the perfect, magical life of the Madrigals that the rest of the family, especially Abuela, doesn't want to acknowledge and confront.
However, these cracks eventually show up in the Madrigal's living, breathing casita, and that's when the family is forced to face the truth. In facing the truth, the valuable lessons in the movie are revealed.
So, let's talk about Bruno and all the beautiful lessons we can take away from Encanto.
Warning: spoilers ahead.
1. Everyone is vulnerable.
At the beginning of Encanto, we see every member of the Mardrigal clan proudly claiming their own special gifts and using it both for practical and entertainment reasons.
Luisa "the strong" sister is ever ready to carry things around for others from donkeys to pianos. Isabela, the "perfectly beautiful sister", confidently beautifies the casita with flowers of all colors. Abuela, the grandmother and matriarch, consistently keeps a strong front for the entire family.
Even Mirabela shows a brave, happy front when in fact she is beginning to feel left out being the only member without a special gift. "I am sick of waiting for a miracle," she sings.
Towards the end of the story, everyone's vulnerability begins to show—Luisa feels useless when she started feeling weak; Isabela reveals she is only pretending to like the man he is being betrothed 'to please the family'; and Abuela is pushed to face the cracks in her home and her family.
It is only when they begin acknowledging their vulnerability that their true strength is revealed. Their impressions of each other begin to change, everyone begins to help the other heal again, compassion begins to replace resentment, and their respective truths begin to set them free.
2. You are perfect just as you are.
"I wish you could see yourself the way I do." Julieta, Mirabel's mother, tells her increasingly restless daughter. "You are perfect just like this," she adds. Envy only magnifies 'what we don't have' versus what we really do. In the case of Mirabel, seeing how her sisters, cousins, aunts and uncles use their gifts everyday blurs the fact that she too has plenty of gifts—she is intelligent, compassionate, independent, and a leader in her own right.
It is important for parents to nip envy in the bud when they can with constant reassurances to their children so they can see how 'perfect' they are, and that they are  'miracles' in their own right, just like how Julieta reminds Mirabela.
3. Talk about Bruno.
In many families, there are Brunos—someone who perhaps thinks differently from the rest. Someone who tries to reach out but keeps being shunned. Someone who is seen as a 'disappointment' or 'malas' by relatives. Someone whose 'disagreeable' ways are actually the result of constant rejection, especially by the family.
Mirabela became the key in reuniting the estranged Bruno with his family and making them see that he means well after all. His gift of seeing what the future holds for the Madrigal family—whether good or bad—is not his fault. In the movie, his visions eventually caught up with the family and they had no choice but to confront the cracks that threaten to destroy their precious home and take the flame away from the symbolic candle that keeps the miracle alive.
Healing between Bruno and the family began when they saw that he sacrificed a whole lot to protect both the family and Mirabel. It is important for parents to teach children to show compassion especially towards people who seem different from the family. This way, they will learn to see the goodness inherent in everyone, restrain from judging people even before they get to know them better, and welcome all kinds of people into their lives.
4. Truth will set you free.
One of the highlights of the film—and the scene that probably caught audiences aback--was that part where Isabela revealed to Mirabel that she wasn't happy being perfect all the time. That sh, in fact, didn't want to marry Mariano, his suitor and the guy she was about to be betrothed to.
She only pretended everything was okay 'for the family' and to please their Abuela.  When Isabela's truth was revealed, Mirabel who at first resented the sister she called 'Senorita Perfecta,' suddenly began to understand and feel for Isabela for the first time. For her part, the truth began to set Isabela free so much so that she began to explore new dimensions of her gift, finding beauty in thorny plants like the cactus for the first time.  More importantly, by revealing her truth, she was reconciled with her sister Mirabel after years of having a common dislike for each other. 
5. Value the family.
"Make the family proud," Mirabel was told by her Abuela at the start of the film. Encanto is essentially a family movie and was brave enough to send the message that there can be dysfunctions or 'cracks' in a seemingly perfect family.
However, the movie also demonstrated how families can be stronger when they are open to understanding and compassion. At the end of the film, one will notice how Abuela slowly lost her strong façade and showed her vulnerability, in the process making her open to the strength of each family member including her estranged son, Bruno. Together, they pooled whatever strength they have left and rebuilt their casita.
Encanto teaches us that no family is perfect, but it is the strongest foundation every member can rely on in times of crises.
Watch the official trailer here:
Dahl Marie D. Bennett is a full-time freelance writer and contributes regularly to different lifestyle sites including Smart Parenting. Before this, she worked as a media and communications specialist for Miriam College. She continues to do consultancy work and special projects for the school. She is mom to a teenage daughter who has watched Encanto for the nth time.