Level-up Your Spaghetti with These Colorful and Veggie-packed Pasta Noodles!

They were first made by a mom who wanted to get her preschoolers to eat healthier. Now, you can order some for your kids too!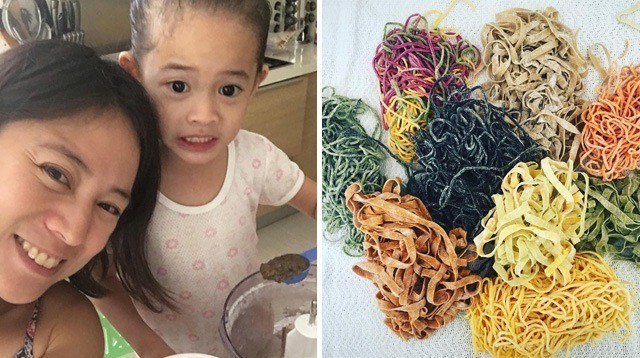 Why is it that whenever we cook pasta, the kids are more interested in eating the noodles plain without the sauce? Mom Karina Reyes found she had the same problem and decided to do something about it. 

Already adept at making pasta from scratch, Karina started experimenting with different flavors. "As a concerned mom, I thought to infuse my pasta with fresh vegetables and other fresh ingredients to add fun colors and the much-desired nutrition to their diet. To my delight, my kids loved it!"

Look how colorful KRCreates' pasta noodles are! These are naturally colored by the veggies -- no food coloring or preservatives added!

Karina is mom to 8-year-old Kai and 4-year-old Mia. She tells us her kids still like their pasta plain, but they also love their mom's veggie-infused noodles with a plain dressing of butter and cheese. Sometimes, they also like their pasta with olive oil, salt and pepper -- combinations we think your kids would find yummy, too!  

ADVERTISEMENT - CONTINUE READING BELOW

In July 2016, to help add a little more nutrition to families' pasta nights, Karina opened KRCreates, an online store where one can order her homemade pasta. "Kai is a pretty adventurous eater so I test almost all my pasta creations on her to see if other kids will like them too," she told Smartparenting.com.ph. 

KRCreates pasta noodles are available in different loads of flavors (over 16 of them) including malunggay, carrot squash, sweet orange potato, spinach, basil garlic, roasted  bell pepper and more. They also come in fun pasta shapes like caterpillar, wizard hat, bow, swirl and scroll shapes. You can check them all out @krcreates on Instagram.

What other parents are reading

For adults (and kids who like pasta sauce), Karina shares her simple and easy pasta sauce recipes that you can make at home. These are best paired with KRCreates pasta noodles. 

Basic Tomato Sauce
Makes 4 to 6 servings

1 1/2 tablespoons extra-virgin olive oil
2 cloves garlic (or more), minced (omit if you want a sweeter sauce)
1 big white onion chopped
1/8 teaspoon crushed red pepper flakes (optional)
1 28-ounce can diced or crushed tomatoes
1/2 teaspoon coarse salt
1 sprig of fresh basil (optional)
1 tablespoon unsalted butter (optional)

1. Cook pasta according to directions.
2. Heat saucepan over medium heat. Swirl around the olive oil to coat the pan, and when the oil is hot, add the garlic, onion and red pepper flakes. Stir constantly for 30 seconds, just long enough to release the fragrance and transform it slightly from its raw state. Don't cook it to golden.
3. Raise the heat to high and stir in the tomatoes and salt. Bring to a boil, reduce the heat, and simmer uncovered for 30 minutes. In the last 5 minutes of cooking, add the basil sprig.
4. Remove the basil before serving and swirl in the butter


Simple Puttanesca
Makes 4 to 6 servings

1 can (28 oz) tomatoes (whole, diced, crushed – whichever you have)
3 cloves garlic (or more), chopped 
2 tbsp olive oil
4 fillets anchovy or 1 bottle of tuyo
6 pitted and halved black olives
6 pitted and halved green olives
1 tbsp capers
1 tbsp chopped fresh basil
Parmesan cheese, grated

1. Cook pasta according to directions.
2. In a large nonstick pot, sauté garlic and anchovies in oil, taking care not to burn. Add tomatoes and simmer for 10 minutes over low flame. (Crush whole tomatoes if that's what you're using.) Add olives and capers to tomatoes and cook 10 minutes more. 
3. Garnish dish with fresh basil and Parmesan to taste. 

Variations: 
Add more vegetables to sauce. Try: bell peppers, baby corn, zucchini, cauliflower, etc.



Here's Kai enjoying a plate of her mom's yummy pasta!

ADVERTISEMENT - CONTINUE READING BELOW

Recommended Videos

What other parents are reading

Simple Alfredo Sauce (with a Carbonara variation)
Makes 4 servings

1/4 cup butter
1 cup all-purpose cream
1 clove garlic, crushed
1 1/2 cups freshly grated Parmesan cheese
1/4 cup chopped fresh parsley
Salt & pepper to taste

 1. Cook pasta according to directions.
2. Melt butter in a medium saucepan over medium low heat. Add cream and simmer for 5 minutes. Add garlic and cheese and whisk quickly, heating through. 
3. Season with salt & pepper to taste. Stir in parsley and serve.

 Variations:
1. Sauté bacon and add to sauce to make a simple carbonara
2. Mix in 2 to 3 tablespoons of bottled pesto to make basil cream sauce
3. Add fresh or canned mushrooms with garlic for a creamy mushroom sauce.


Aligue Pasta
Makes 4 to 6 servings
Goes especially well with KRCreates' Black Squid Ink Pasta

Olive oil
1 bottle of good quality aligue/crab fat
3/4 cup chopped tomatoes
Several cloves of garlic
Chili flakes (optional)
Calamansi/lemon juice (optional)

1. Cook pasta according to directions.
2. Saute tomatoes and garlic in olive oil until slightly golden, and tomatoes have released their juices.
3. Add a bottle of aligue paste and a bit of reserved pasta water to water sauce down. Mix and heat through. Squeeze a bit of calamansi or lemon juice over to taste. Top immediately over prepared pasta noodles. 

ADVERTISEMENT - CONTINUE READING BELOW

Aglio e Olio
Makes 4 to 6 servings

4 oil-packed flat anchovy fillets (optional)
6 large garlic cloves, thinly sliced (or more)
1/2 teaspoon crushed red pepper flakes (optional)
1 cup plus 3 tablespoons olive oil, divided
1/2 cup finely chopped fresh flat-leaf parsley
1 cup panko (Japanese breadcrumbs) or coarse fresh breadcrumbs (optional)
Freshly ground black pepper
Freshly grated Parmesan

1. Cook pasta according to directions. Reserve 3 tablespoons pasta water.
2. Cook anchovies, garlic, red pepper flakes, 1 cup oil, and a pinch of salt in a large skillet over medium-low heat, stirring occasionally, until anchovies dissolve and garlic is tender. This takes around 6 to 7 minutes. Do not brown. Stir in parsley, then remove from heat.
3. While anchovy sauce is cooking, heat the remaining 3 tablespoons of oil in a small skillet over medium heat. Add panko, stirring often until golden for about 5 minutes. Season with salt and pepper, then transfer to paper towels to cool.
4. Return pasta to pot. Stir in reserved pasta sauce, then anchovy sauce and half of the panko mixture. Cook quickly over medium heat, stirring constantly, just until heated through. Don't overheat or the fresh pasta will overcook and get clumpy. 
5. Season with salt and pepper. Serve topped with Parmesan and remaining panko mixture.

Variations:
1. Add fresh chopped tomatoes and/or spanish chorizo to pan with garlic. Top with fresh basil.  Omit anchovies if you're using chorizo.
2. Add bottled spicy tuyo or spanish sardines and fresh chopped tomatoes (for an olive oil based sauce) or canned tomatoes (for a red sauce base)

Karina Reyes's KRCreates is at @krcreates on Instagram. For inquiries, orders, and pasta sauce suggestions, contact Karina at 0920-938-8433.

ADVERTISEMENT - CONTINUE READING BELOW

What other parents are reading

Celebrate your pregnancy milestones!


Enter your details below and receive weekly email guides on your baby's weight and height in cute illustration of Filipino fruits. PLUS get helpful tips from experts, freebies and more!

You're almost there! Check your inbox.


We sent a verification email. Can't find it? Check your spam, junk, and promotions folder.

Trending in Summit Network