This Couple Gave An Amazing Makeover To 36-Year-Old Apartment They Are Renting

They were able to work on the transformation in just three months.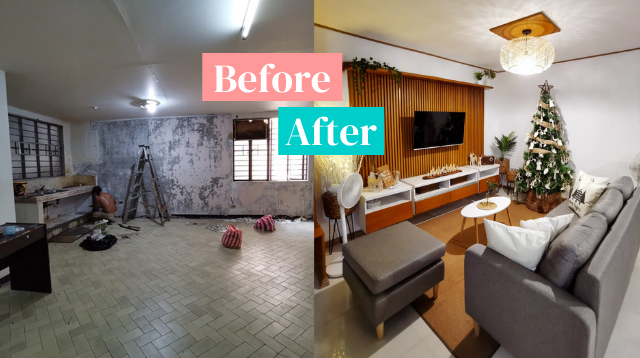 When we first featured Jannica Suillan and her family, they were living in a compact space that's just enough for their then family of three. By practicing minimalism and refraining from buying things they don't need, they were able to make the most of the space.

With the newest addition to the family expected to arrive in December 2021, Jannica and her husband, Kristoff, realized they need a bigger space for their growing family.

"'Yung previous house namin maliit na and napag-usapan naming ni Toff na if baby boy ulit, susundan pa namin. Medyo hindi na talaga enough 'yung space lalo na during a pandemic at 24/7 kaming naka-lockdown sa house with a toddler and soon, a newborn," Jannica tells SmartParenting.com.ph.

The soon-to-be family of four posing for a photo.

ADVERTISEMENT - CONTINUE READING BELOW

Fortunately, Jannica's sister referred an apartment in Binondo that measures around 120sqm, with three bedrooms, two bathrooms, and an extra room that can be used as a maid's quarters.

"Perfect timing talaga because the moment I found out I was pregnant with baby number two, sakto 'yung pag move out ng isang tenant ng building where she also lives kaya she was able to tell me agad. Para bang meant to be na mapunta sa amin itong unit," she happily recalls.

Giving an old apartment a cozy new look

Before the makeover, signs of wear and tear can be seen in every corner of the house.

When it comes to renting a home, working on major renovations is usually not allowed or would require permission from the landlord. Fortunately, the owner of the building gave the Suillans the go signal to improve the space.

"Since the building is already 36 years old, sira na 'yung mga lababo sa CR, ang dudumi na ng mga tiles, and may mga tulo na din sa ceiling. Pati 'yung mga windows ang hirap na buksan since super old na ang design. The owner was very supportive sa request namin," Jannica says.

In transforming the unit, the couple settled on an inviting feel reminiscent of resorts and staycations. To achieve the relaxing ambiance they wanted, they worked with neutral colors like white, brown, and gray.

"Para makatipid, kami lang ni Toff ang nag-plan and design. The workers naman, ni-refer ng building owner since sila daw 'yung trusted na every time may kailangan ipa-renovate," the soon-to-be mom of two shares.

ADVERTISEMENT - CONTINUE READING BELOW

See the inspiring transformation of the apartment below:

The current entryway features a disinfecting station which is a must these days. They use a step ladder to access the area that functions as Asher's outdoor play area. It's also where they hang clothes to dry.

ADVERTISEMENT - CONTINUE READING BELOW

Having an open mind about renovating a rented space inspired the family to push through with the project. "Those renting na maraming bawal, I suggest looking up inspiration on Youtube or Pinterest. There are plenty of renter-friendly renovation ideas you can find," advises Jannica.

The kitchen is one of the most captivating areas in the house as it has plenty of storage solutions, a kitchen island, and an extra countertop.

ADVERTISEMENT - CONTINUE READING BELOW

Having a bar was important for Jannica and Toff so they can have a coffee station. "Coffee shops served as our pegs so we can still enjoy our coffee dates even at home," says Jannica.

Sticking to a neutral color palette, they added warmth to the living room with wooden slats that also serve as an accent wall. They chose to mount the TV on the wall and hide the wires for a clutter-free look.

ADVERTISEMENT - CONTINUE READING BELOW

The Suillans have already decorated the home for the holidays!

 

Mirror-magic! The owners opted for a mirrored wall with a geometric design to make the space look bigger.

ADVERTISEMENT - CONTINUE READING BELOW

While you can always work with adhesive hooks and wall stickers, being able to revamp the home according to your needs is a big plus. If you have the approval and budget, go for it.

"Inalis din namin 'yung thinking na, 'sayang naman mag-renovate kung nagre-rent lang din.' For us, iniisip namin na long-term stay kami dito," Jannica advises. Renting long-term works for the family since their business is in Binondo and buying their own home is not part of their immediate plans yet.

(LEFT) The hallway leading to the rooms before the makeover. (RIGHT) Fresh coats of paint and varnish can make a difference! Most of the lighting pieces have a wooden base that help create a dramatic effect.

ADVERTISEMENT - CONTINUE READING BELOW

(LEFT) Asher's original room looked dark and gloomy. (RIGHT) Now Asher has a spacious room where he can play and stay active. Most of the items here came from their old home.

Though they have a bigger space now, Jannica and her family still adhere to the principles of minimalism. Each belonging serves a purpose and they skip buying items they don't need.

ADVERTISEMENT - CONTINUE READING BELOW

The family also makes sure each item has its own place to avoid clutter. "Once walang sariling lugar ang bagay na yan, magiging clutter sya. We also stick to our color palette. If it's too 'shocking,' hindi sya pwede sa house," explains Jannica.

Simple yet inviting, the revamped master bedroom follows the clutter-free look the owners wanted.

ADVERTISEMENT - CONTINUE READING BELOW

 

Caption: They are slowly making space for the new baby with the crib in place and a comfy chair for breastfeeding placed near the bed.

(LEFT) The bathroom needed a lot of work given the state of the tiles and fixtures. (RIGHT) Jannica and Toff worked on a modern look by opting for a black-and-white theme. "Naglagay lang kami ng rattan lighting piece and baskets to connect it to the overall concept," Jannica explains.

ADVERTISEMENT - CONTINUE READING BELOW

This area also serves as Asher's outdoor play area which was previously featured on Smart Parenting. Jannica and Toff were able to liven up the space by adding artificial grass as flooring and hanging lights.

Working on the renovation project definitely brought Jannica and Toff closer. They make it a point to arrive at a compromise when it comes to making decisions. After all, having a welcoming home is their dream.

ADVERTISEMENT - CONTINUE READING BELOW

"Ngayong nakikita na namin ang actual, nakaka-proud at nakaka-happy kasi nag-sync ang mga pegs namin. Looking back, this home is something that God has blessed us with. We built a home founded in love and patuloy nafi-fill ng love ang home namin," Jannica muses.

Want to share your home makeover and get featured? Email us at smartparentingsubmissions@gmail.com and tell us about your project. For more home improvement and renovation ideas, click here.

Trending in Summit Network