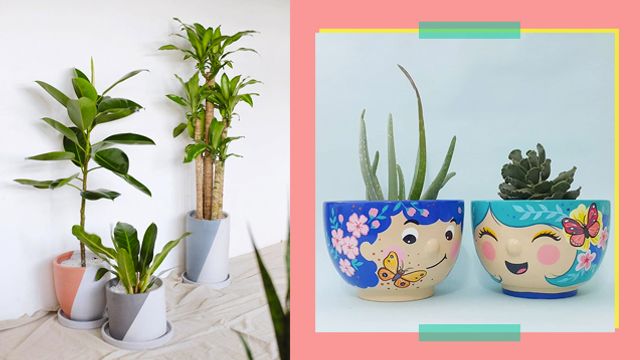 Before you start your organic container garden at home, first make sure you have everything you need, including planters. There are lots of online stores selling gorgeous planters that will fit even in small spaces. Learn about some of these stores below.
6 stores to shop for planters for your container garden
Nest Manila
Nest Manila is an online destination where you can find stylish and modern pieces for your home, including unique planters for your greens. One of their most eye-catching offerings is the Alon Statement Piece (Php7,100), which is both spacious (perfect for beginner plant moms!) and visually appealing.
For orders inquiries, contact (02) 821-9977, email info@nestmanila.com, or send a message via the Nest Manila website. Check their Facebook, Instagram, and website.
Nest Plant Studio
If you're looking for unique planters, check out Nest Plant Studio! Their planters come in different finishes, so you have lots of options. Here's a peek at the Scandinavian-style finish planters, which come in various colors, like coral, stone grey, blue slate, burgundy, midnight, and black.
For orders and inquiries, send a message to Nest Plant Studio's Instagram or Facebook. You may also visit their pop-up stores at SM Aura Premier (open until October 31, 2019) and Power Plant Mall (November 30, 2019).
C&C
This store specializes in planters that are handmade by local weavers and sewers, so each showcases the craftsmanship and talent of our fellow Pinoys. The Buko Rim Sinag Basket (Php1,900) looks like it can beautify any room you put it in!
For orders and inquiries, visit C&C's website or Instagram.
Plant Parenthood PH
Make your plant mom dreams come true with Plant Parenthood PH! This store offers not only planters but also different kinds of plants you can include in your home garden. One of their bestselling products, the Brit pot set, is made of terracotta and comes in different colors, like olive, seafoam, and dusty blue.
For orders and inquiries, send a message to Plant Parenthood PH's Instagram or visit their website.
Qach Lifestyle & Garden
At this store, you can find everything you'll need to start your container garden. Their planters vary in size, from smaller pots like the Capi Arc Vase Ball (Php250) to larger varieties like the Capi Wood Vase (Php700).
For orders and inquiries, send a direct message to Qach Lifestyle & Garden's Instagram or Facebook or visit their stores at Manila Bay, Ayala The 30th, Alabang Town Center, Solenad, and UP Town Center. Check their website, Facebook, and Instagram.
Gawa ni Femi
Gawa ni Femi's ceramic pots are hand-painted to look like adorable little people! We're sure these colorful planters, like the Nancy pot (Php600), will put a smile on your face every time you look at them.
For orders and inquiries, email femicachola@gmail.com. Visit Gawa ni Femi's Instagram.
There's no such thing as a black thumb! Click here for everything you need to learn about starting your own container garden.