Real Moms Share How They Deal With Yayas Who Steal, Lie, and More

Household help can drain our energy that we end up saying, "I give up." At least one mom here did.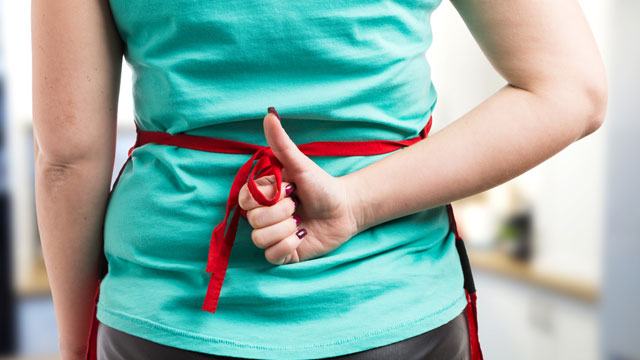 Having the right yaya or kasambahay can be crucial because we welcome them into our homes, entrust them with our children, make them prepare the food we eat. But we all know it can be a love-and-hate relationship. There are those who go the extra mile so we can do our work productively while others just can't seem to stay out of trouble.

Here are a few infuriating experiences that taught a few moms how to manage household help better and keep them on their toes.

PROBLEM: Yaya steals
"I've yet to find a loyal, 100% trustworthy kasambahay," says Dedet Reyes Panabi, a SmartParenting.com.ph contributing writer and a mom of two, who discovered her help, her daughter's yaya since birth, was stealing from her.

When Dedet was still a magazine editor, a brand sent her products for a photo shoot. She arranged them in plastic boxes and distinctly remembered grouping it for a particular layout. By the time she checked them just before the photo shoot, two products were missing.

"I found around 14 pieces of clothes and dresses in her bag!"

"I panicked because I had just borrowed the products, and I couldn't buy a replacement because the products were not commercially available yet. So something told me to check the help's stuff. So I sent her to run an errand that would take at least half a day to finish. I went through her room, found the products AND other stuff she had been making kupit, from toys to perfumes and even groceries."

It was the same for Len Bagsit, a mom of two girls. She discovered her yaya was taking her daughters' clothes every time she left for her day off. "I found around 14 pieces of clothes and dresses in her bag!" 

Lessons learned:
Check your kasambahay's bag each time she leaves for a day off. Len sends them off at the gate just to make sure yaya does have anything else from them waiting outside.

Monitor your pantry and don't buy in bulk anymore, advises Dedet. This way, you know what's missing. Dedet had also discovered that her helper was getting kickbacks from her grocery budget. So now she arranges the cleaning schedules of the bedroom and bathroom when she is home. "I know it sounds 'off' to fuss over missing beauty products or food, but as my mom says, when they get used to taking things it's only a little while until they start gaining confidence to take money."

ADVERTISEMENT - CONTINUE READING BELOW

What other parents are reading

PROBLEM: Yaya borrows — without permission
Mom Rochelle's story will probably sound familiar to many. Her helper had this habit of complimenting her daughter's fashion and beauty choices. No reason why alarm bells would go off, right? 

One time, Rochelle received a text message from her daughter asking her if she saw her swimsuit. Her daughter didn't ask the helper because Rochelle gave her a half-day break. Rochelle's daughter got another swimsuit and headed to the community pool with her neighborhood friends.

That's when Rochelle's daughter saw the help wearing her missing swimsuit. After letting the help go, Rochelle checked her Facebook account and saw more photos of her wearing Rochelle's daughter's clothes. 

"Some were taken in our living room, lying down on the sofa and inside the car in full makeup! So, of course, we wondered whose makeup did she use?"

"My daughter goes to the community pool and found her yaya wearing her swimsuit!"

Lesson learned:
Tell the kids to take better care of their things. Rochelle notes it was one of the good things that came out of the incident: her daughter realized the hard way why she needed to be more responsible. The family now locks the bedroom doors each time they leave the house. 

"After our clothes get washed and folded, I ask our labandera to just put them in a basket where we get them and return them in our respective closets. Bawal na talaga sila sa loob ng bedrooms and bathrooms. They can only clean the rooms when we are around."

What other parents are reading

PROBLEM: Yaya likes to tell white lies
Chona San Diego, mom of three kids, had a yaya who told her she was meeting her brother on her day off. The help was only 19 years old, so Chona was more protective than usual. They agreed she would come home at 5 p.m., but she returned at 10 in the evening.

ADVERTISEMENT - CONTINUE READING BELOW

Recommended Videos

One yaya was already pregnant before she started work — and didn't tell her employer. 

Chona, who is friends with her yaya on Facebook, later learned the yaya was out with her boyfriend. "Okay lang naman sa akin na may boyfriend sila. Ang ayoko yung hindi nagsasabi ng totoo lalo na sa day off. What if something happens?" 

Lessons learned:
Consider adding your household help on social media, advises Chona who also brings the household help to family outings to get to know them better. 

Get the numbers of your yaya's family members, Chona adds, so you know who to notify in case of emergencies.

What other parents are reading

PROBLEM: Yaya loves food a bit too much
Lily Fernandez couldn't complain that her yaya didn't do her job — in fact, she did it well. The problem was the grocery bill was going through the roof. There was a two-week period when the household went through 20 kilos of rice yet her husband was abroad, her two kids barely finished a cup of rice each, and she ate at home only for dinner.

Lily spoke with the yaya to discuss her food consumption. The helper's response: "Eh, Ma'am, ang sarap talaga kasi kumain tsaka mukhang kulang nga ang 20 kilos."

Lesson learned:
Make a list for "To Buy" and "What's in Stock," Lily recommends, to closely monitor your grocery bill.

After one traumatic experience with a yaya, one decided to quit work and become a stay-at-home mom.

What other parents are reading

PROBLEM: Yaya has health issues
Lily had another helper who was efficient, good with the kids and was a quick learner. As months passed, Lily started noticing she was behaving strangely. She learned from another helper that her yaya was pregnant. A medical check-up Lily scheduled confirmed she was already five months along — she was already pregnant before she started working for Lily. 

ADVERTISEMENT - CONTINUE READING BELOW

Lessons learned:
Make it mandatory for prospective kasambahays go through pregnancy test, urinalysis, and exams for hepatitis, fecalysis, among others. 

Queen Anipan, a mom of three kids and a nurse, had a yaya who had been epileptic. They didn't know until the yaya had an episode. It placed Queen's family in an awkward and stressful situation that could have been avoided. After that episode, Queen decided to resign from work so she could be at home.

Educate them on their health and discourage the "martyr" mentality. Many are afraid to say if they are suffering from a cold, stomach or a headache or any pain because they are afraid they might lose their jobs. Encourage them to be open when they are feeling sick so you can address asap.

What other parents are reading

PROBLEM: Yaya thinks you are her ATM
One mom, Cecille, shared how she thought she found the perfect help, who hailed from Quezon province. She was blown away during the interview. "This lady had all the right answers. She was a midwife in her town in her younger years, worked abroad, and shared recipes of ginataan, bicol express, kakanin, etc. She even had tips on how to iron clothes efficiently, so we don't consume too much electricity."

On her first day at work, the helper asked Cecille for a cash advance — her husband got into a minor accident while harvesting coconuts in Quezon. From then on, the cash advances didn't stop. Cecille spoke to her about her habit of borrowing money, showing her the figures she owed the family. 

Cecille recalled, "Hindi ko sure if she was getting it or she simply refused to learn about handling money. We had to let her go after a year din because we learned that she was not only asking money from us, she also borrowed money from other helpers!" The helper made the situation worse when her borrowing resulted in dispute. There were even speculations of theft.

ADVERTISEMENT - CONTINUE READING BELOW

"She kept asking for cash advance. And she was borrowing money from other helpers!"

Lessons learned:
Don't get into the habit of rescuing them. The help was forced to use her last salary to pay off her debt. "We had to teach her a lesson. Kailangan nyang bayaran yung mga utang nya sa mga kasama nya at sa amin. By the end of it, she only had enough for pamasahe to return home and food on the journey."

Have a no-cash-advance policy was Cecille's takeaway from the experience. "[Lending them money] does not teach them anything kasi. Lalo lang sila nababaon sa utang. We always tell them, 'Ang mahihirap nananatiling mahirap kasi namumuhay na parang mayaman. Ang mayayaman nananatiling mayaman kasi namumuhay na parang mahirap.'"

What other parents are reading

Of course, for all the yaya horror stories, there are many tales of household help who have become trusted members of the family. There are those who return your wallet when they find it in the pants' pocket when they do the laundry. There are those who show you purchase receipts before you even ask, shows their bags before they leave for a day off, and calls you using their own "call loads" to report an emergency (without the white lies). 

Some yayas are such a part of the family that they get to pin a medal on her "alaga" on school's recognition day. There are even those who take the initiative to text or call the parents of their alaga's classmates to ask about projects and homework (true story).

For all the yaya horror stories, there are many tales of kasambahay who have become trusted members of the family.

If we think about it, most of them are born in the provinces, unable to finish studies and have no choice but to seek employment as yayas or kasambahays. Some of them want to get out of the "isang kahig, isang tuka" rut, but their financial literacy is limited. Most household help only have their employers to empower them towards the better life.

It's a matter of letting them realize HOW to invest their efforts in service to gain trust — and how that crumbles, the moment they lie, steal, and give in to laziness. But they also want to let their employers know that they are capable and care about their work. They just often need our guidance, understanding, and patience. 

How about you? What can you share about managing your household help?

ADVERTISEMENT - CONTINUE READING BELOW

Celebrate your pregnancy milestones!


Enter your details below and receive weekly email guides on your baby's weight and height in cute illustration of Filipino fruits. PLUS get helpful tips from experts, freebies and more!

You're almost there! Check your inbox.


We sent a verification email. Can't find it? Check your spam, junk, and promotions folder.

Trending in Summit Network