Couple Creates Playroom For Toddler Son To Encourage Active Play And Independence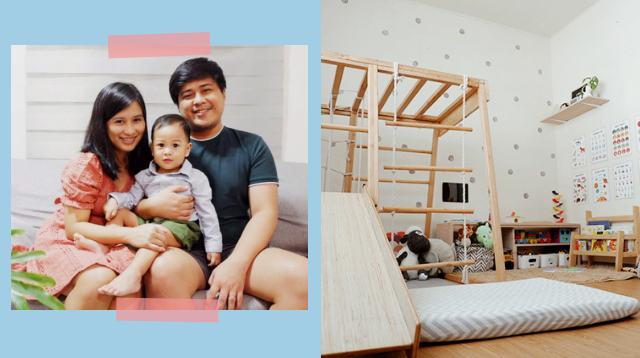 When it comes to buying gifts for their kids, parents just know which ones to pick to make sure it will be useful for a long time. For Daisy and Karlo Rupac, coming up with a gift for their son Lucas' second birthday involved working on a home improvement project. 

In a post on the Home Buddies Facebook group, Daisy shared how they achieved a Montessori-inspired play area as a gift for Lucas which is perfect since he cannot play outside because of the pandemic.

"We've been wanting to do a Montessori-style play area ever since because it helps kids explore more. It's a form of education wherein they enjoy things while at the same time, it teaches children about the world and their surroundings," Daisy explains to SmartParenting.com.ph.

Daisy, Karlo, and their son, Lucas.

According to montessorimethod.com, a Montessori playroom is clean, simple, cozy, and with a limited number of toys and activities for the child. With toys that promote "engagement over entertainment," this type of playroom also helps promote concentration and independence.

ADVERTISEMENT - CONTINUE READING BELOW

Achieving a Montessori-inspired play area

It took the couple one month to finish the play area. They make it a point to keep it clean and organized so that Lucas will be excited to play.

Daisy and Karlo worked on Lucas's play area for a month, transforming the spare room they have in their house into a bright and welcoming space. Daisy read different blogs on the Montessori method to learn more about it as well as to finalize the design.

"I also thought of things or toys that can help my son explore and boost his imagination," she shares. "We actually don't buy a lot of toys and we wanted ones that he can still play with for a long time," Daisy adds.

Daisy bought wooden blocks for their son to help spark his creativity.

The mom of one also logged on to Pinterest to search for pegs since they want the space bright, functional, and most importantly, easy to clean. Working on the play area was a team effort, with the couple doing the repainting, shopping for toys and decorations, and finally, sprucing up the space.

The jungle gym has a slide, a swing, a rope ladder, and other features that will encourage Lucas to move and stay active.

All in all, Daisy and Karlo spent around Php13, 000 for the play area which already includes the customized jungle gym and book display. After realizing how expensive jungle gyms are, Daisy decided to tap the services of Double Z Works, a shop that customizes furniture pieces. Since she's friends with the owner, discussing the specifics of the design she wants became easier, too.

Safety first! Cushions and a mat ensure Lucas's safety while playing.

ADVERTISEMENT - CONTINUE READING BELOW

"I saw a peg on Pinterest then I showed it to Brian, the owner. I wanted it to be functional so that Lucas would feel like he's really in an outdoor playground. The jungle gym has a reversible slide, monkey bars, a swing, a rope ladder, a climbing ring, and net obstacles," she shares.

The gym measures 4x4 feet so that Lucas can use it until he is 10 years old.

Daisy values the importance of books and charts in a play area. "Books can really help them grow while displaying posters at eye level can help them get familiarized with it," she shares.

The finished play area is indeed a labor of love by Daisy and Karlo. Not only did they accomplish bulk of the work, they also put their DIY skills to good use. The toy shelf in the area used to be hanging kitchen cabinet revamped to hold Lucas's toys.

ADVERTISEMENT - CONTINUE READING BELOW

"We just removed the door then we put a wooden wall sticker so that it matches the room's color palette. We also rebuilt the cabinet since it's still useful," Daisy says.

Most of the items found in the play area were purchased online. Daisy suggests looking for gender-neutral and quality toys that can be passed on to future children.

After all the hard work, the best reward for the couple is seeing Lucas happy and excited. Prior to finishing the project, Daisy shares that their son can only get a glimpse of the subdivision's closed playground from where they live. Now that he has his own play area, he can stay active and engaged even at home.

In addition to seeing Lucas happy, Daisy is also satisfied that they were able to create a room that's organized and easy to clean. "As a mom, it's one of my priorities, to make sure that it's clean. Every morning, before Lucas wakes up, I make sure that everything is organized so he'll be excited to play," she explains.

ADVERTISEMENT - CONTINUE READING BELOW

For fellow parents who want to work on a similar play area, Daisy suggests going for gender-neutral and quality items that can be passed on to a future child. She also advises picking toys that match the interests of the child and can help boost the imagination.

"Consider what your child needs and if he or she can learn from it so it wouldn't be a waste of money and there's no need to declutter," she shares.

Want to share your home makeover and get featured? Email us at smartparentingsubmissions@gmail.com and tell us about your project. For more home improvement and renovation ideas, click here.

Trending in Summit Network