Don't Throw Out the Water You Used to Rinse the Rice!

After reading this, we wonder is there anything rice water cannot do?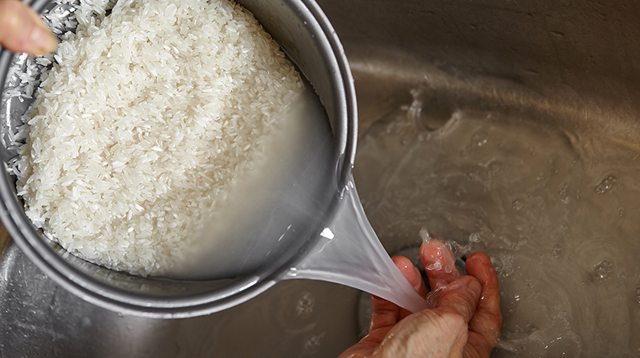 Cleaning the home can be a tough job, but nifty cleaning hacks can help make it much easier and more fun, especially if they are easy and affordable. One hack you probably haven't heard of involves something you probably produce every single day: rice water! So instead of throwing it out, maybe save it for your next cleaning session instead.

What makes rice water an effective cleaning agent

Just to make sure we are all on the same page, when we talk about rice water we are talking about the water that is left over after you rinse the rice before cooking. Sabrina Wang, a blogger and health advocate, tells Apartment Therapy that she always uses rice water  as a cleaning agent for her kitchen counters, dishes, and appliances.

Wang lived in China for 10 years and shared that this cleaning hack had been passed down from her grandmother to her mother to her.

"This is something that many people in China still do to this day," she says. "Rice is so common there, so instead of wasting the water we use to wash rice, we collect it."

We wash uncooked rice with water to get rid of the starch and other minerals present on the surface. Apartment Therapy also adds that the water prevents the rice from clumping together or becoming gummy when it is cooked.

The starchy quality of the rice water turns it into an abrasive solution that can scrub away food particles that have collected or gotten stuck on your cookware.

ADVERTISEMENT - CONTINUE READING BELOW

Rice water is also slightly acidic, which means you can use it to get rid of mineral deposits like hard water and mild rust stains. Therefore, you can use rice water to clean parts of your home you might typically clean with lemon and vinegar, such as kitchen fixtures, utensils, and ceramic toilet bowls. Apartment Therapy advises against using rice water on surfaces that may be damaged by acidic cleaners, like grout and unsealed stone.

Unfortunately, rice water is not good at removing grease. Apartment Therapy explains, "Oil- and fat-dispersing cleaners are alkaline, with a pH or more. On the other hand, rice water is slightly acidic, with a pH around 6. So it won't be useful at battling grease by itself, or even when combined with grease-cutting cleaners: it could actually neutralize the active ingredients in the product you're using, making it completely ineffective."

How to use rice water to clean your home

Rice is a staple in our daily diet, so we have plenty of opportunities to make rice water at home every day! Soak a cup of uncooked rice in two cups of water. Swirl the rice around until the water gets a milky color. Using a strainer, separate the water from the rice. Finally, take a clean cloth, dip it into the rice water, then use it for your cleaning. If you get some rice water left over, put it in an air-tight jar or bottle and store it in your fridge. Apartment Therapy says you can keep it there up to a week.

CONTINUE READING BELOW

Recommended Videos

Mother Nature Network suggests a slightly different way of making rice water at home: place two to three tablespoons of white rice in a small saucepan then add two cups of water. Boil the rice for about 20 to 30 minutes until you get a milk-colored liquid. After straining the rice, cool the rice water and store it in a lidded glass jar. The boiling procedure is supposed to draw out more of the starches.

Note that the best kind of rice to use in making rice water is white rice since this type of rice has more starch and will produce a more acidic rice water. Wang tells Apartment Therapy, "Avoid basmati rice or brown rice since these types of rice don't have that much starch, which is what makes rice water such a good cleaning agent."

Other uses for rice water

Aside from being an effective cleaning solution, rice water can also be used for lots of other purposes around the home! Did you know you could use rice water to wash your hair and take care of your skin?

Deodorizer and kitchen cleaner

According to GB Times, the pH level of rice water during the third round of rinsing can reach up to 7.2, which makes it an effective homemade cleaning solution for specific kitchen tools. Submerging your chopping boards in rice water overnight and scrubbing them with some salt can get rid of unpleasant smells. You may also try soaking your knives and metallic kitchen tools in rice water for a few hours then scrubbing them to get rid of rust stains.

ADVERTISEMENT - CONTINUE READING BELOW

Facial cleanser and toner

GB Times reports that, according to studies, water preserved from the first or second round rinsing rice has a pH level of around 5.5. The pH level of human skin is also 5.5 — slightly acidic so the skin isn't too dry and sensitive, says Women's Health. Using skincare products with this pH level helps you preserve your skin. And if we follow this logic, it means rice water may be a good choice, right?

Healthline also says rice water can be used to improve damaged skin by increasing collagen and repair skin irritation that is caused by sodium laurel sulfate (SLS), which is an ingredient commonly found in skincare products.

If you want to try using rice water as a toner, all you need to do is put a bit of the liquid on a cotton ball and apply it all over your face and neck. To use it as a cleanser, massage the liquid into your skin. Finally, rinse the liquid off with clean water.

Hair treatment

Rice water has been used as a hair treatment for a long time by the Yao women in the Chinese village of Huang Luo. These women have long healthy and shiny hair. According to a Vogue feature, the Yao women wash their hair in rice water combined with various organic ingredients. They use a wooden comb to work the solution into their hair. They attribute the luster and shine of their hair to this process.

Aside from being said to help detangle hair and improve its elasticity, Healthline also writes that rice water contains a chemical called inositol, which helps repair damaged hair. 

ADVERTISEMENT - CONTINUE READING BELOW

Apply the liquid directly to your hair, from the roots to the tips, and leave it on for about 10 minutes. Rinse it out afterward. You might also want to try adding a few drops of your favorite essential oil to make it smell nice.

If your tresses are looking dull and damaged, would you try washing them in rice water?

To learn about different cleaning solutions you can make at home, click here.

What other parents are reading

Celebrate your pregnancy milestones!


Enter your details below and receive weekly email guides on your baby's weight and height in cute illustration of Filipino fruits. PLUS get helpful tips from experts, freebies and more!

You're almost there! Check your inbox.


We sent a verification email. Can't find it? Check your spam, junk, and promotions folder.

Trending in Summit Network