Doctor's Advice: How to Protect Your Child From Fungal Infections, Contact Dermatitis, and More

Know the viral and fungal infections and other skin problems that are common during school season.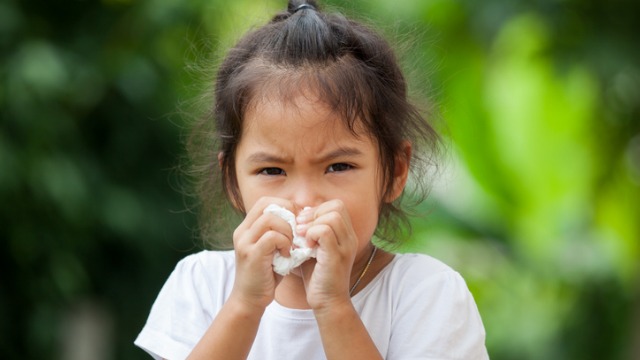 In the Philippines, we know that a new school year heralds wet, wetter, and humid days, which means our kids can easily get exposed to skin diseases and problems common at this time of year. It is essential for us to keep our health radars up, especially when it comes to the more contagious skin diseases.

We asked clinical and cosmetic dermatologist, Ailza Limcangco, M.D., about the skin infections and other problems parents need to watch out for as the rainy weather intensifies in the coming months.

Viral infections

Unlike bacteria, viruses need hosts and can only reproduce when they attach themselves to a cell. Beyond the common cold, most viral infections are often referred to doctors, including those that involve the skin. "Perhaps the most common of all infections I see in children are viral in nature," says Dr. Limcangco.

She names chickenpox, molluscum contagiosum (a white to reddish bump on the skin that can multiply rapidly), and warts as the more common ones. "These are all contagious conditions that can be acquired from close contact with infected classmates. Chickenpox can be transferred through sneezing or direct contact, while molluscum contagiosum and common warts can be transmitted via skin to skin contact, communal items, and public places like pools," she warns.

What other parents are reading

Fungal infections

We've heard of an-an, buni, hadhad, alipunga before. Yes, kids can be infected with them, too. "Contrary [to the ads that] we see on TV, most of these conditions are rarely itchy when they start," says Dr. Limcangco. "They either present as a red, itchy, scaly rash, just a scaly patch, or whitish spots that multiply. When they get to spend more time outdoors like in the playground, kids generally sweat more, and these organisms thrive in a warm and moist environment.  [Most prone] areas in the body are the back, forehead, armpits, and feet, leading to these conditions."

ADVERTISEMENT - CONTINUE READING BELOW

Contact dermatitis

Mayo Clinic defines contact dermatitis as a red, itchy rash caused by direct contact with a substance or an allergic reaction to it. These symptoms are the result of the body triggering the immune system to respond to the irritant. These irritants can be man-made such as latex, detergents, antibiotics, or they can come from nature, such as plants.

Dr. Limcangco warns there are all sorts of irritants and allergens that can be possible triggers when your kid goes back to school, and these include plants, grass, chalk, dust, stray animals and even sweating or sun exposure.  "Most of these cases present an itchy, reddish, and sometimes scaly rash that can be very irritating depending on the location."

What other parents are reading

Insect bites

As tiny as they are, they can be big culprits to skin problems or worse diseases. Whether inside the classroom or even in our very own homes, our kids will always be exposed to insects. Thing is, we will never know to which ones they have an allergic reaction to unless, of course, they get bitten. Some bites, however, can be more serious than others such as the dengue-carrying mosquitoes, which DOH has included in its list of illnesses to watch out for this season.

"Being outside the home exposes children to all sorts of bugs, and some of them can have a severe reaction or infection from bites. Of special mention is the possibility of acquiring Dengue Fever or worse, Dengue Hemorrhagic Fever from mosquito bites," says Dr. Limcangco. "Although most cases of dengue present itself with persistent fever, some cases can show symptoms like a rash all over the body or pinpoint petechiae — a deep red to purplish dots on the skin which can be ominous in the presence of bleeding gums and a tummy ache," she adds.

ADVERTISEMENT - CONTINUE READING BELOW

Recommended Videos

What other parents are reading

 

Eczema

According to Dr. Limcangco, eczema or dermatitis is an umbrella term for a group of skin conditions that are itchy, sometimes scaly, and red or irritated. "It's true, nature is still a mystery to the world of dermatology, but the stress of going back to school, the change in weather, and a slew of other factors can trigger eczema in children," she says. "I have seen kids develop eczemas during exam week. Others, right before a big performance. Children who are known to have Atopic Dermatitis, popularly known as 'skin asthma,' are also more prone to eczemas," she adds.

What you can do about common skin problems 

Since skin diseases can be acquired anywhere, the best way is to have preventive measures in places where your children frequent, in this case, the school and the home. As school begins, the responsibility can be shared by parents and schools alike to reduce the children's risk of getting these skin conditions. 

Dr. Limcangco gives these simple preventive tips that go a long way in protecting kids from major skin problems and infections.

Teach your kids to do frequent handwashing with a mild non-irritating non-soap cleanser and to practice good hygiene. Along with these, teach them not to share soaps, towels, and personal grooming items, or to avoid walking barefoot in public places.
A quick shower after sports activities (or, if not possible, drying up quickly and completely), and using cotton or breathable clothing can help prevent fungal infections. 
Protection when outdoors is also of paramount importance. Sunscreen, insect repellent, pants, and long sleeves during dengue season, for example, are all effective measures from getting skin problems and infections.  
Update your children's vaccinations before going back to school. Here is the 
Schools and communities should conduct regular fumigation and general upkeep to discourage the proliferation of mosquitoes and other insects.

ADVERTISEMENT - CONTINUE READING BELOW

What other parents are reading

Celebrate your pregnancy milestones!


Enter your details below and receive weekly email guides on your baby's weight and height in cute illustration of Filipino fruits. PLUS get helpful tips from experts, freebies and more!

You're almost there! Check your inbox.


We sent a verification email. Can't find it? Check your spam, junk, and promotions folder.

Trending in Summit Network