10 Parents and Kids Who Made Us Go 'Wow' and 'Yey!' in 2016

These stories defined love, courage, and imagination for all us this year.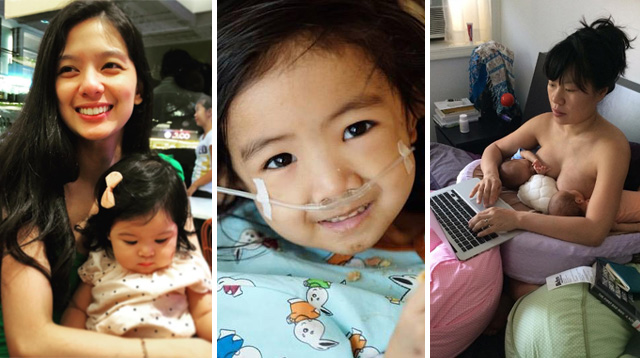 Who doesn't like an inspiring and uplifting story? And we had a lot this year about parents (and kids!) who, aside from a few exceptions, were regular folks who showed us that we are all capable of courage, resourcefulness, and, yes, change. These ones inspired you the most, dear SmartParenting reader. (Think we missed some? Tell us your favorite story in the comments below.)

1. Couragous Caitie and the whole Lucas Family



Caitie Lucas, at the tender age of 3, was diagnosed with a rare form of leukemia, juvenile myelomonocytic leukemia (JMML), in March 2016. But she had to go through several doctors, travel out of the country, and endure numerous blood tests, biopsies, bone marrow aspirations, transfusions, and more to get the right diagnosis. In the face of it all, her heart and spirit remained strong, and her memory continues to live in the hearts of many, as demonstrated by your response to the news that her mom Feliz is now pregnant. We look forward to a new year with hope and joy as the family expects a new addition to their family. Look back on their inspiring story here. 

2. Mom Jennica Garcia-Uytingco practices the natural approach to child-rearing and parenting

ADVERTISEMENT - CONTINUE READING BELOW

Some of you may know her parents (Jigo and Jean Garcia), but many young parents now follow Jennica Garcia-Uytingco for espousing the natural approach to child-rearing and parenting (full-term breastfeeding and co-sleeping, among many others). And jaws have not stopped dropping when people find out she was able to potty train her daughter Mori at just 7 months old. She has actually begun doing seminars for new moms like her called "Natural Mothering." 

How does she do it? For one, ever since Mori was born, she and her mom have been inseparable, building a strong bond and and ideal environment to nurture Mori's development. "I realized [Mori] wants to see movement; she yearns to imitate kasi. So when I fold clothes, I show it to her. When I cook, 'yong baby bouncer, inaakyat ko para makita niya ako na I'm peeling and everything. So she grew up to be a very calm baby. She rarely cries," she told Smart Parenting. Jennica plans to breastfeed for as long as Mori wants to. You go, mom! Read her story here. 


3. DIY mom Margaret Wuthrich-Sarmenta makes toys for her son out of tissue paper rolls



Full-time mom Margaret Wuthrich-Sarmenta and her husband wanted to raise their 3-year-old, Lucas, screen-free. So to keep him busy, Margaret makes him DIY toys, using simple, inexpensive and often recycled materials like cardboard and empty toiler paper rolls for her projects. And the results have been amazing -- she's made a toy car garage, a carwash, a soft book, Christmas ornaments, and more. Her son helps her out, too. Check out her DIY creations here. 


4. Dad Hayden Kho continues to strive to be the best father he can be to Scarlet Snow



We were treated to a surprise this year when Dr. Vicki Belo and Hayden Kho, Jr. revealed that the adorable baby in the Belo Baby ads was their daughter Scarlet Snow. Since then, we got to know Hayden the dad who will never be accused being an absentee parent (all you have to do is go to his, Dr. Belo's and Scarlet Snow Instagram accounts). People certainly saw another side to the man, who admitted to us that it has been quite journey to get to where he is now. "There was a time in my life when I thought maybe I shouldn't be a father, maybe I don't deserve it, maybe I don't have the ability to raise a child." he told Smart Parenting. In 2010, he embraced the Christian faith and slowly started to have a change of heart. 

"I have an objective for myself. I really wanna be the best father that I could be... not for my sake but for the sake of my child," says Hayden. "My greatest fear is that if, because of any unfortunate or unforeseen circumstances, I'll be absent in her life. That's my greatest fear." Read his story here. 

5. Yaya Yolanda "Auntie Yolly" Pascual has helped raise an Olympic gold medalist



In this year's Rio Olympics, 21-year-old Joseph Schooling of Singapore won gold in the 100-meter butterfly swimming competition. One of the people he thanked for his victory was none other than his nanny of 19 years, Pinay Yolanda Pascual. "I've always believed in him. I was watching and shouting for him. I cannot express how happy I am... I was jumping and crying after he won," she said in an interview with Straits Times. "She supports me unconditionally. She's passionate about what I do. I think I couldn't have a better mom or second mom or nanny by my side to help me through all these," said Schooling. Read her story here. 

CONTINUE READING BELOW

Recommended Videos

What other parents are reading

6. Working mom Hein Koh takes multitasking to a whole new level

Artist Hein Koh uploaded a photo last September of herself breastfeeding back in 2015. But, as you can see above, she clearly was a picture of a master multitasker. She was breastfeeding her twins, one on each breast, while sitting up in bed working on her laptop! How impressive is that? "Becoming a #mom (of twins no less) has personally helped me become a better #artist - I learned to be extremely efficient with my time, prioritize what's important and let go of the rest, and #multitask like a champ," she wrote in the caption on Instagram. Read her story here. 


7.  Junior Masterchef contestant Lukas, 10 years old, risks his chances of winning to help out an injured opponent



During the semifinals of the Spanish edition of MasterChef Junior, 8-year-old Laura burnt her hand, which had to be treated while the contest was ongoing and left left her well behind her opponents. But to the rescue came fellow junior chef, 10-year-old Lukas, who took her place while she was away! Mind you, he also had his own cooking to tend to as well. When Laura came back with a heavily bandaged hand, Lukas continued to help by assisting her in moving pots and setting the stove. Awesome kid! Read his story here. 


8. Pinay mompreneur Rodessa Villanueva Reyes who made her daughter an amazing play kitchen out of cardboard boxes 



Rodessa Villanueva Reyes wanted to buy her daughter Audrey, who was 16 months old during the time of our interview in March, her own play kitchen after seeing her spend so much time in a toy store just playing pretend cooking. With the expensive price tag, however, Rodessa decided to build one herself instead. The result was a play kitchen so impressive it went viral all over the internet! Some of the details of the DIY kitchen: the sink is actually a mixing bowl, the faucet's nozzle came from a liquid hand soap bottle, and covering the whole kitchen is a bright blue vinyl with floarl gift wrapping paper used for flourishes. Inspired to make one yourself? Read her story here. 


9. Student with Asperger's syndrome Isaiah Paolo Atienza Lee delivers one of this year's most memorable graduation speeches



"We often look to larger-than-life figures to celebrate honor and excellence, from Miss Universe to near-perfect-GWA graduates. I'm not saying it's wrong to do so, but I believe the first place to seek it is within ourselves," says Isaiah Paolo Atienza Lee who graduated summa cum laude from the prestigious University of the Philippnies with a degree in Molecular Biology. 

He was diagnosed with Asperger's syndrome during his college years but that didn't stop him from pursing his dream. "I didn't fail the class, I didn't get dismissed from UP, and I didn't jump off a bridge. I could have, but I didn't… I am not the best, but I am good enough, I am not the brightest, but I am a UP graduate, and I am not your valedictorian, but I am going to tell you all to go out there and show the world what we've got." Read more of his speech here. 

10. Artist Snezhana Soosh draws beautiful watercolor illustrations that capture the father-daughter bond

ADVERTISEMENT - CONTINUE READING BELOW

Snezhana Soosh's watercolor paintings depict a big dad and his little girl in mundane, everyday situations, and that's what makes them so endearing and charming. Of course, the artistry is absolutely stunning, too. You'll see the big dad and his little girl putting on puppet shows, playing with hula hoops, and taking a nap together. She posts her artworks on @vskafandre on Instagram if you want to see them. Read her story here. 

This article was updated to reflect the following corrections: Caitie Lucas was diagnosed with JMML on March 2016 not April of the same year 

What other parents are reading

Celebrate your pregnancy milestones!


Enter your details below and receive weekly email guides on your baby's weight and height in cute illustration of Filipino fruits. PLUS get helpful tips from experts, freebies and more!

You're almost there! Check your inbox.


We sent a verification email. Can't find it? Check your spam, junk, and promotions folder.
Trending in Summit Network