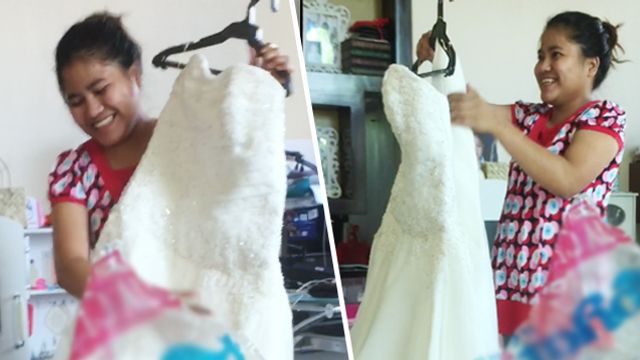 We often hear of yaya horror stories. So we're glad we get to share a positive story where moms rallied together to help make a yaya's dream come true.
Anna* is a mom of two who has had her share of difficult yayas. Since she had her first child in 2013, she has employed 50 of them. But that all changed when she met Karen Velarde whom she hired in late 2015.

"She was jolly but shy. I knew she was different from the rest because I saw how much my daughter loved her," she tells SmartParenting.com.ph in an email interview.  "I saw how well she took care of her — my daughter had different hairstyles every day, and Karen diligently washed and cleaned all her toys."

Karen, who has been with Anna's family for three years now, had recently announced she was getting married. It took Anna by surprise because Karen was just 21. She admitted she tried talking Karen out of it because of her age. In the end, however, Anna gave in to Karen's wishes and decided to support her yaya's decision.
The search for a wedding gown
Anna wanted to do something nice for Karen's wedding. She went on Facebook in December 2018 and posted an ad looking for recommendations for a designer or a second-hand gown for sale on one of the mommy groups. And the moms did not disappoint — they were touched by Anna's kind gesture, and many sent recommendations as well as offers to sell their gowns at a low price.
One mom, however, was so touched that she offered her wedding gown for free! Speaking with Smart Parenting, she shared how she came to the decision to give away her wedding gown. (She asked us not to name her so we'll call her Tiffany to avoid confusion.)
"I was already selling [my wedding gown] last year because it was just taking up storage space at home. I haven't taken it out of the box since I had it dry cleaned a day after the wedding," Tiffany shares via Facebook Messenger. "I was selling it at a really low price even though it was a gown by Von Lazaro (a well-known bridal fashion designer). I just felt like a new bride might be happy to own it. When I saw Anna's post, I offered it to her. She said she wanted it but would like to check other options."

The two women lost touch since Anna was about to give birth to her second child at the time. After contemplating, Tiffany decided she would just give the gown instead.
"I felt her yaya was really nice, and I wanted my gown to be loved by its new owner. I decided to just give it to them in the hopes that it will be loved."
When Anna received Tiffany's message, she was surprised by the other mom's decision. "I know how hard it is to part with something that means so much to you," she says.

Tiffany, too, had a hard time parting with her gown at first. "When the courier took the gown for delivery, I actually felt my heart sink and was reminded of my wedding day," she shares. "[It] felt like I was letting go a part of me. But in the end, it was worth it."
In February 2019, Anna posted an update on the Facebook group. She surprised Karen with the gown and caught it on video.

In the video, Anna asked Karen to take the gown out from a bag. When Karen realized it was a wedding dress, she couldn't stop smiling. When she took the gown out of the package, she started jumping up and down with excitement. And then the tears began to fall.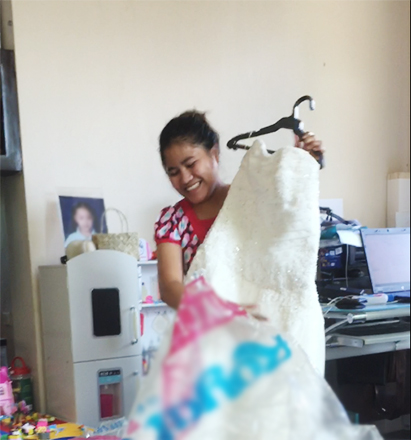 Nung nakita ko 'yung gown sobrang saya ko, hindi ko maipaliwanag 'yung pakiramdam," shares Karen. "Nag-wish po talaga ako kay God na sana magkaron ako ng sariling gown sa kasal ko. Ngayon, may sariling gown na ako."

Of course, Anna also shared the video to Tiffany. "We were all crying! I could have earned more if I sold the gown, but money will just be spent. Now it's forever etched in our memory that the same dress I wore during one of my happiest days will hopefully bring the same joy to its new owner," Tiffany says.
"The gown now has more value because two happy brides owned it."
Moms helping moms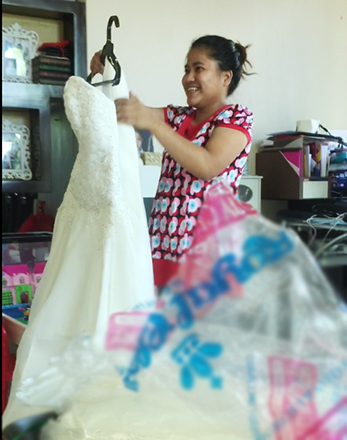 Unsurprisingly, the moms in the Facebook group, Glam O' Mamas, were also touched by what transpired. Many commented that they, too, cried when they watched the video.
Then, something even more amazing happened. Moms started pitching in for the wedding!
"One mom sent the pillows from her wedding, the one where you put the wedding rings. Another mom, who is also a friend from college, volunteered to make her wedding cake," Anna shares.

A photographer mom also offered to give Karen and her fiancé a free engagement shoot. Other moms sent messages to Anna about sending their wedding shoes, and some even offered to send money for the wedding. "We declined because we don't want anyone to take advantage of any monetary donations," Anna shared.
The response to Karen's story was overwhelming, and Anna was so touched by the other moms' kindness. "I didn't know that everybody could be so generous! Faith in humanity restored talaga," she says.
Karen's wedding will happen in May, and Anna made a promise to attend even if it meant traveling all the way to Isabela. Karen also made a promise to their family that she would come back after her wedding.

"We are planning to enroll her in school to finish her degree then eventually transfer her to our office," Anna shares.

They say kindness begets kindness. Anna and Karen are proof of that.
* Names withheld upon request