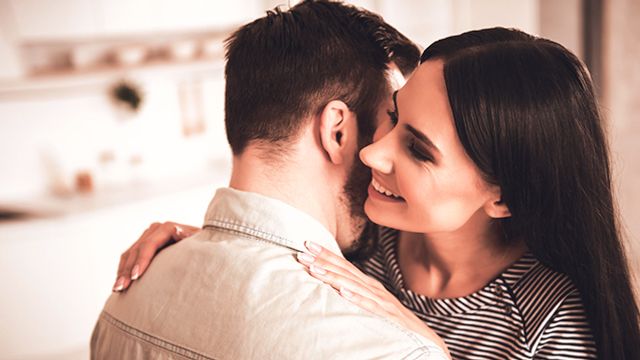 Moms are amazing for all the sacrifices they make for the family, but they are also the first to admit that their significant others deserve some recognition as well. And it's not just because husbands help provide for the family, put up with their wives' pregnancy cravings or let them win arguments — it's because the men in our lives know how to take care of their partners and help raise the kids without complaining.

Because even though the hubbies don't like admitting it, they appreciate feeling special and being complimented from time to time. So let us help take the guesswork out for you — here are sweet gifts (inspired by dad website Fatherly) that don't require you to spend (but if you do want to give him a little something, here's a list of gift ideas) and small gestures you can accomplish beyond the special day:
1. Let him sleep in. You might say that he always sleeps in (he doesn't even wake when the baby cries in the middle of the night!), but this is his day so he's excused (for now — LOL).
2. No asking, "Can you do this?" for the whole day. It's easy for us to boss the hubby around because we are busy with...everything! But, hey, give him a day off on Father's Day where you do everything by yourself (we know, we know it already feels like you already do anyway). 

3. Let him pick the menu for dinner. And no complaining even if he says he wants to treat the whole family to burgers and fries.
4. Let him play his games. Again, no complaining! Dads also deserve a day when they can kick their feet up and just be engrossed with their favorite activity, whether it's watching a basketball game or playing the PS4 — without the kids asking when it's their turn to play (or watch).
5. Write a note telling him how much you love him and why he's such a great dad. Don't hold back and be as cheesy as you want — he secretly loves it.

6. Tell him he's sexy, but be specific about it. For example, say, "It's so sexy when you smile at me like that." Husbands need their egos stroked, even if they don't want to admit it.
7. Wear something you know he likes. Even if you're just staying in the house, wear that little black dress he says you look sexy in, or that lingerie that's an instant turn-on. He'll ogle at you and you'll feel flattered — it's a win-win situation!

8. Give him a massage. Give your best effort at working out the knots in his back. If you're not feeling confident, go ahead and book a spa trip — Dads deserve a little pampering, too.

9. Do that move he likes in bed. In fact, be the one to initiate your lovemaking. "Some men love it when the wives initiate the act because it means their wives really want them," says Dr. Margarita Holmes, the well-known clinical psychologist specializing in sex therapy.
10. Praise him in person, not on social media. If he's the type of dad who cringes at public displays of affection, refrain from posting on Facebook and tell him your Father's Day message in person instead. In fact, take it a step further and spend the day with your phones off (or on silent mode) and focus on bonding with the whole family.

11. But if he likes posting on social media, indulge him. Post one of his best photos (where he looks really good) along with a family photo and tell the world why he's the greatest dad. He'll beam with pride once he sees the likes and comments.
12. Let him eat his favorite snacks, and keep some beer cool in the fridge. Nothing says 'I love you' than letting your man dig into all his favorite things — even if you know it's bad for them. Just think of it as a cheat day!
13. Speaking of digging in, why not treat him to a buffet? Here's a list with special promos this Father's Day!
14. Don't talk about money. No budgeting, no pestering about saving up for the future.
15. No nagging. Even if he does something that annoys you (which, let's face it, he will), suck it up and keep your mouth shut.
16. Help the kids make him a Father's Day card. He can display it on his desk at work and help keep the stress at bay.
17. Make plans to go out without the kids. Do that one thing he likes — exercising, golfing, going to the hardware store — even if YOU secretly hate it. You know what will also make him happy: getting together with his barkada!
18. Give him the biggest hug and tell him he's doing a great job as a dad. Then, invite the kids to jump in for a group hug! The best reward is to let him know that he's appreciated.
We love you, dads!