'l'm an Exhausted Stay-at-Home Mom Who Asked My Hubby for Help. He Refused'

The reason why I was here, at home, is so he won't need to worry about anything but work.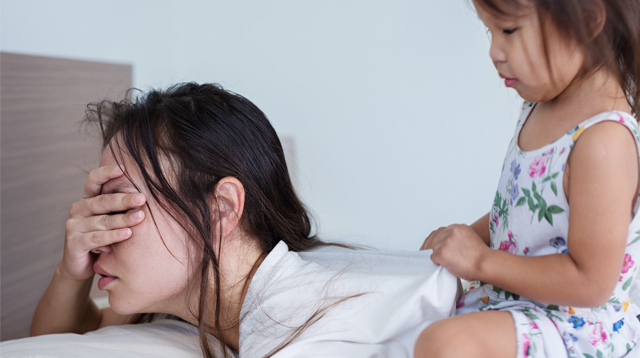 Motherhood can be a lonely job, made worse by doubts a mom has about her parenting skills. She knows there is no such thing as a perfect parent, but it doesn't give her solace when she makes mistakes.

What has helped many of our moms is having a community who listens and who gives voice to her joy AND her fears and pain. She isn't always looking for answers — sometimes, it's about crying and screaming at the top of her lungs without judgment.

We call it an #SPconfession.

They say one of the secrets to a happy marriage is working together as a team — that means couples should be on the same page when it comes to their relationship, home duties, money spending, and parenting values. Experts say teamwork is vital in making the marriage work and having a lasting relationship.

More often than not, however, we hear stories of moms seemingly struggling with their burdens alone. Even if they try to reach out and talk to their husbands, they end up being dismissed. With no one to talk to, they reach out to us and share their stories, just like this mom who sent in a heartbreaking #SPConfession.

What other parents are reading

I read one of your articles about a dad's share of household chores and it gave me the confidence to confide in you. I don't have mom friends — majority are not even in a relationship, let alone have kids — so I always find myself without someone to talk to.

I'm a stay-at-home and lately, I've found myself overwhelmed with my responsibilities. My husband and I bought a lot of necessary things for the house and I've had to convert those purchases into installments. The next six months are considered crunch time.

Adding to our financial burden is the fact that my chores are piling up. My husband and 18-month-old daughter are very sensitive to dust (a big chunk of the expenses I mentioned above is related to their allergies). And since it's summer, the house is extra dusty.  I've had to double-time my deep clean and I can't ask an on-call cleaner because we are on a tight budget.

ADVERTISEMENT - CONTINUE READING BELOW

What other parents are reading

"I am exhausted."

Does my husband help? No, he's allergic to dust. So, aside from the intense cleanup that I do, the chores that require drilling are all sitting around. I've moved my to-do's several times already, and the list is about to celebrate its birthday.

I finally convinced him to stop shopping for groceries online because the fee is killing us. But that extra time spent over the weekend became an excuse to not do anything at all. Drill? Nope, he's tired from grocery shopping. Basically, everything that I ask is answered with a "nope."

Some months into breastfeeding (maybe when my daughter was around four months), my weight dropped. The endocrinologist prescribed Ensure for me, at least three times a day. It is expensive and every time I would purchase a can, I would always hear "gastos" from my husband. When our grocery bill increased, he told me to increase my food intake instead. Eventually, I just stopped buying Ensure and resorted to cheap snacks a.k.a. junk food.

What other parents are reading

Now, our pedia is telling me to supplement my daughter's milk. She's growing a lot taller but barely gaining weight. I was striving to do two years of exclusive breastfeeding, so this made me very sad. Formula milk also costs a lot, and it's so hard to squeeze it in our already tight budget.

My husband second-guessed the doctor's prescription and said our daughter is just using up her calories by growing taller instead of getting fatter. He told me to eat more meat to make my milk more nutritious. I don't think he's really getting it.

CONTINUE READING BELOW

Recommended Videos

I blame myself because I couldn't keep myself healthy.

To make matters worse, my daughter is not touching the [formula] milk. From my research, I know that it's better for someone else to offer the bottle aside from the breastfeeding mother. But I am seeing that my husband doesn't care.

I am getting desperate to supply my daughter with sufficient nutrients. She hasn't been eating well. She's not touching the meat and veggies on her plate, no matter how much I try to blend it in her rice. She's also not into fruits that much because we can't buy it without hurting our budget for the grocery.

What other parents are reading

I told my husband all of these and that I felt like I'm the only one concerned with the home stuff. He kept a conversational tone but essentially told me that he already had too much pressure at work, his boss doesn't like him, and there are people trying to 'destroy' his reputation. His main point: The reason why I was here, at home, is so he won't need to worry about these things.

I am a firm believer that husband and wife should have teamwork. And even though the household is the wife's realm, the husband should have his fair share in the household affairs. After all, it is his household as much as it is the wife's.

I feel so alone. I couldn't confide with my closest friends because I feel they'll just attack my husband and tell me it will all be okay, and to just hold on. That's fine, but I want to feel that I am not alone. I feel liking crying — it's been a long day and I kept on snapping on my poor daughter who is clingy and moody from teething.

ADVERTISEMENT - CONTINUE READING BELOW

What other parents are reading

I read that post-weaning depression is a thing. But I haven't even started! It scares me because I felt I had postpartum anxiety and my husband just told me to forget it because it might become real. I don't know how I got through it but I feel like I'm having it all over again, and this time around, I don't feel it's getting better. 

Thank you for reading. I don't actually know what kind of help I'm asking for, but I am hoping someone out there actually understands what I'm going through.

Do you have an #SPconfession? Send it to our Facebook Messenger or email at smartparenting2013@gmail.com. Join us at the Smart Parenting Village here

What other parents are reading




Celebrate your pregnancy milestones!


Enter your details below and receive weekly email guides on your baby's weight and height in cute illustration of Filipino fruits. PLUS get helpful tips from experts, freebies and more!

You're almost there! Check your inbox.


We sent a verification email. Can't find it? Check your spam, junk, and promotions folder.
Trending in Summit Network