The Secret to a Happy Life Is a Goal Parents Work Hard to Achieve

Spoiler alert: it's not related to wealth or fame.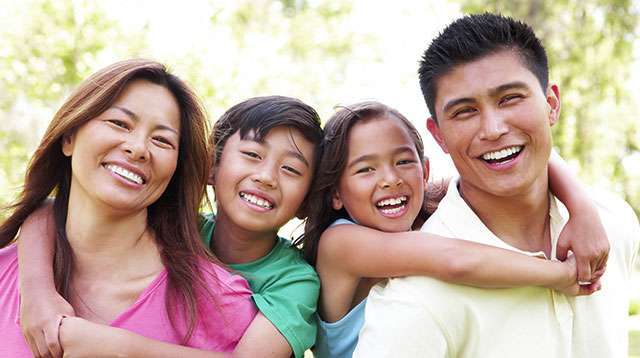 Ask a kid, "Are you happy?" and you'll probably get a quick, honest response. Ask an adult, however, and you'll probably get silence for an answer.

As we grow up, we start to form our dreams and carve out our life goals. It starts simple enough — we finish high school, get into a good college, find a job. Then, it gets complicated — we want a successful career, find the love of our lives, raise successful kids, get rich and famous. We work hard to make these goals a reality, thinking that it's the be-all and end-all of life. But when we come to an end and look back at how we've lived our lives, will we be able to say that we are truly happy?

If you've ever wondered if there is a key to happiness, science has an answer: Good relationships keeps you happier. It can even make you healthier.

What other parents are reading

That's what the Harvard Study of Adult Development discovered. The ongoing study, which started in 1938 and is considered the longest study on adult life, aimed to shed light on how "psychosocial variables and biological processes from earlier in life predict health and well-being in late life (80's and 90's), what aspects of childhood and adult experience predict the quality of intimate relationships in late life, and how late-life marriage is linked with health and well-being," according to their website.

Researchers tracked the lives of 724 teenagers (the first control group consisted of students from Harvard University in the United States as well as a set of boys from Boston, Massachusetts's most impoverished neighborhood), who eventually grew up to be factory workers, lawyers, and doctors. Some became alcoholics and schizophrenics. One man, John F. Kennedy, became president of the United States.

Over the years, the researchers expanded their control group and included the original men's children as well as their wives. They studied the participants' home lives, career, and the state of their health. They interviewed them about their triumphs and failures both in their careers and relationships. In 2017, only 19 of the original Harvard group remained alive, and all in their mid-90s. By then, researchers had already made significant realizations.

"The surprising finding is that our relationships and how happy we are in our relationships have a powerful influence on our health," said Robert Waldinger, a psychiatrist and a professor at Harvard Medical School, and the fourth director of the study, in an interview with Harvard Gazette.

ADVERTISEMENT - CONTINUE READING BELOW

"Taking care of your body is important, but tending to your relationships is a form of self-care too. That, I think, is the revelation."

Speaking in a TED talk in 2015, Waldinger reveals the three lessons they learned about relationships and how it is related to a person's happiness. Spoiler alert: it's not related to wealth, fame, or working hard.

What other parents are reading

1. Creating social connections makes you happier. These include your family, friends, and community. In the Harvard study,participants who had good social relationships were physically healthier and lived longer than those who are less well-connected.

They also learned that loneliness could be toxic. Not only were participants who isolated themselves less happy, but it also made their health decline mid-life. Their brain function declined, and they lived short lives.

2. Invest in quality over quantity when it comes to close relationships. Unfortunately, you're vulnerable to loneliness even when you're with a crowd. You can also experience it even while married. That's why Waldinger stresses that "it's not just about the number of friends that you have, or whether or not you're in a committed relationship. It's the quality of your close relationships that matter."

He cites high-conflict marriage, where couples don't show much affection to each other, as an example. "It's worse than getting divorced," he says.

On the other hand, warm relationships will leave you with feelings of happiness and satisfaction. In their study, participants who reported to be most satisfied with their relationships at age 50 were the healthiest at age 80. It even seemed like these relationships helped give them comfort as they were growing old.

"Our most happily partnered men and women reported in their 80s that on the days when they had more physical pain, their moods stayed just as happy. But the people who were in unhappy relationships, on the days when they reported physical pain, it was magnified by more emotional pain," shares Wagner.

3. Good relationships protect our brains. The study found that feeling secure and attached to another person has a protective effect on one's being. Participants who were in relationships where they felt they could count on their partner in times of need had sharper memories than those who felt they couldn't rely on their partners. They also remembered them longer. 

Wagner also says that a good relationship doesn't necessarily have to be smooth-sailing all the time. Their 80-year-old participants would bicker with each other most of the time, but because they knew they could count on the other when life gets extra challenging, it didn't affect their brains.

They say having arguments is healthy for any couple — turns out, according to science, it's true. "Relationships are messy, complicated, and the hard work of tending to family and friend, it's not sexy or glamorous. It's life-long, it never ends," Wagner says. But despite that fact, it's actually worth it, as the study shows.

So if you want to answer the question, "Are you happy?" it might be time to re-evaluate your relationships, especially toward your spouse, your life partner.

The path to happiness doesn't have to be complicated — you can spend more time with the whole family together, or do something new, take long walks or have date nights with the hubby. Wagner even suggests replacing screen time with people time.

Not many of us may live up to 80 or 90 like the participants of this study. But what we can do is make a conscious effort to be happy starting now.

CONTINUE READING BELOW

Recommended Videos

What other parents are reading

Celebrate your pregnancy milestones!


Enter your details below and receive weekly email guides on your baby's weight and height in cute illustration of Filipino fruits. PLUS get helpful tips from experts, freebies and more!

You're almost there! Check your inbox.


We sent a verification email. Can't find it? Check your spam, junk, and promotions folder.
Trending in Summit Network