Is It Cheating If You Keep Liking Someone Else's Posts? Survey Lists (And Ranks) Infidelity Acts

Thanks to technology, infidelity today is on a whole new level and with a lot of gray areas.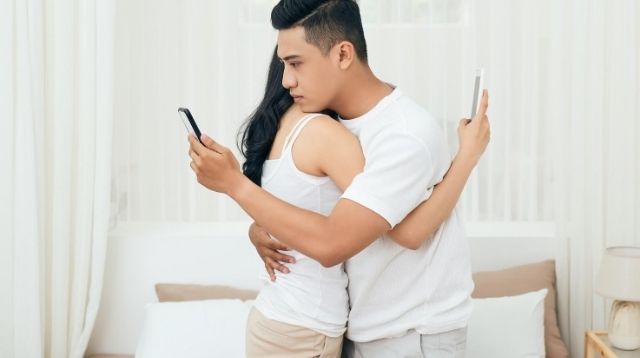 Years ago, text messages or liking someone's post on social media was unheard of. Cheating partners, those who dare, had to do with personal meetings, snail mails or emails, or landline calls. Today, infidelity is on a whole new level. 

According to Bustle Trends Group's survey of 283 people, people still prefer monogamous relationships. But more than half of individuals who were supposed to be in exclusive relationships have been cheated on. Nearly half of the survey participants have played the third party in the couple's relationships. 

What other parents are reading

The numbers may reflect the fact that there are so many ways to cheat on a partner today. Thanks to technology, what's considered cheating has also included actions that seem harmless at first. 

What acts are considered cheating?

There are so many kinds of cheating other than having sex with someone other than your partner. Bustle's survey revealed other infidelities today and ranked them according to how many agree that it is indeed a form of cheating.

Nearly half of participants admit some acts, such as liking someone else's posts, are up for debate. But here's the gist:  

Kissing and holding hands with someone

Aside from that, kissing someone else ranks the highest (1st). Nearly all survey participants agreed with this. Holding hands with someone else is another old school form of cheating in 7th place. 

Using a dating app or keeping one

Techy-savvy cheaters have online platforms now. You don't have any business using a dating app (3rd) or keeping a dating app (10th) if you're married or committed. If you were on one before being in a relationship, deactivating your account and deleting the app is respectable.  

Sending flirty photos or messages, public or private

Sexting someone else (2nd), sending thirst trap photos or photos that make the receiver want to engage in sex (6th), sending flirty direct messages (8th) are also considered cheating. It also includes leaving flirty comments on social media (13th). Flirting in real life is still a no-no even if it's down to number 12. 

ADVERTISEMENT - CONTINUE READING BELOW

Lying to your partner, period

Cheating is oftentimes about lying to your partner. In the survey, this type of cheating takes many forms: lying about your relationship status (4th), contacting (9th) and meeting up (5th) with an ex and hiding it from your partner, and changing someone's name on your phone (11th).

Why lie when there's nothing wrong with what you're doing? Or, why lie if you know your partner is not comfortable with what you're doing? If your partner appreciates honesty, then it's better to come clean the first instance you get. Better yet, you can both discuss it with calm heads.

Giving your attention or time to someone else

Also included in the list are getting drinks (14th) or dancing (16th) with someone else, and even having a crush (15th) on someone else. Today, that also includes liking someone else's social media posts repeatedly (17th). 

Watching porn

At the bottom of the list of possible acts of cheating is watching porn. (Click here to read what spouses have to say about watching porn as an act of infidelity.)

 

What other parents are reading
Many people automatically think you can end the relationship when your partner cheats on you, but it's a lot easier said than done if you're married or have a child together. Many people agree that having sex, sexting, and kissing someone else are deal-breakers. Others also consider dating while in a committed relationship, and having an emotional affair, as grave offenses.
At the end of the day, openness in a relationship is crucial to navigating cheating's gray areas (i.e., liking someone elses post on social media repeatedly). 
What other parents are reading

Trending in Summit Network