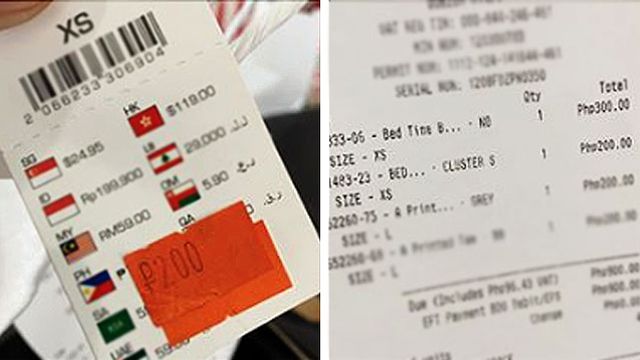 Shopping is often an enjoyable experience for most of us unless the lines are long at the cashier. What can even be annoying is when you see a shopper at the front of the line, arguing with the cashier about sukli or the wrong sale price. You're probably mumbling "baka naman magkano lang 'yan." But, before you actually get mad, know that he or she is probably fighting for your consumer rights.

One of those people not afraid to hold up a line was mom of two Kaye Sy-Catral, who admits she shops a lot (so much so that she has blog called the First Wives Club dedicated to shopping!). She was at a clothing retail store and found two pairs of shorts for a steal at P200 a pair, as indicated in the price tag. When she was paying for her items, the cashier informed her that the shorts were tagged wrong – it actually costs P300. The cashier was about to remove the alleged wrong price tag when Kaye stopped her.  

Now, aside from being a shopaholic, Kaye worked in retail for 12 years. She actually knew there was a law that prohibited the cashier from what she was about to do.

Stated in Article 81 of Republic Act No. 7394, otherwise known as the Consumer Act of the Philippines, "It shall be unlawful to offer any consumer product for retail sale to the public without an appropriate price tag, label or marking publicly displayed to indicate the price of each article and said products shall not be sold at a price higher than that stated therein and without discrimination to all buyers."
It is also known as the "Price Tag Law," and the Department of Trade and Industry (DTI) issued a reminder about it just last November 10, 2016. "It is illegal to sell any consumer product for retail without an appropriate price tag, label or marking to tell the consumer the price of each article. The law mandates that products should not be sold at a price higher than what is stated in the price tag. If there are any variations in the price tag, the one on the shelf must be followed."
In a Facebook post, Kaye related her experience of how she insisted to the cashier that she had to honor the tag price, as pointed out by the law and by her experience in the retail industry. She stood her ground, adding that she maintained a pleasant tone while the cashier was visibly upset. She asked them to check the rack where the other stocks of the shorts were found, and they all had the same P200 price tag!
The issue was raised to the store manager who eventually granted Kaye the price stated on the tag. But he commented they would be short of a hundred pesos, which vexed Kaye. "When an issue is escalated to a manager, he should decide right away. Without giving the burden to anyone else on his team, or worse, on the customer!" she told SmartParenting.com.ph after we reached out to her.
Kaye told us, "Normally, I'd pay for the difference. Point it out lang then pay pa din. Yung sa wrong change. If they ask nicely, I give it to them na. Kahit piso, 25 cents, 20 pesos pa yan. Smart shopping lang, and know your rights as a consumer." Even online, Kaye recalled she had to return items to an online seller because the photo on the website didn't match the actual product.  
Kaye obviously held up the line, and when she told the other shoppers what was happening, another shopper shared she had the same unfortunate experience. They bought three items marked P700, only to be informed it had the wrong tag, and the "correct tag" should be P1,000.

To date, Kaye's post has been shared 9,000 times and has garnered more than 25,000 reactions since she posted it on December 21. Kaye was surprised that a lot of her friends wanted to share her story and also didn't know about the price tag law.
She told us, "I only shared [my story on Facebook] kasi nakakainis na. [I wanted to share it] just to inform friends to be vigilant," she said. "We need to know our rights as consumers. I've had enough of people charging me the wrong price, not giving change [FYI, you are entitled by law to get an exact change even to the last centavo], and fooling us with sale tags."

According to Kaye, a brand representative of the store reached out to her via Facebook Messenger and apologized for the incident. Smartparenting.com.ph reached out to the store via their Facebook page to ask for their comment and here is their reply in full:
The Cotton On team takes customer feedback to heart. It is when we are met with the most challenging critiques, that we hope we are able to take a step back, review our support systems and come forth stronger, better and able to extend  to our customers that exceptional shopping experience each and every customer deserves. Sadly there may be occasions where we might disappoint but this only invites us to do better the next time around.

In a retail environment that spurs brands to provide value for money, the essential significance of having a customer leave with a great cotton on encounter is priceless and one we put notable weight on. We regret that possibly not all our customer encounters are perfect 100% of the time, we sincerely hope that for customers who may have experienced deficient service, to please let us know, allow us to correct, take up our invitation to come back and see us and allow us to be at our finest.

Thank you very much.

If you encounter any shopping issues, don't hesitate to contact DTI Hotline at 751-3330. Provide the following information: your name and address, the name and address of the store or service provider you are complaining about; and a narration of facts (don't forget to include dates). Attach your proof(s) of transactions (that's why it's always a good idea to document all transactions!) and send it via email to ftebmediation@dti.gov.ph.
This story was updated on December 22, 2016, 8:14 p.m.