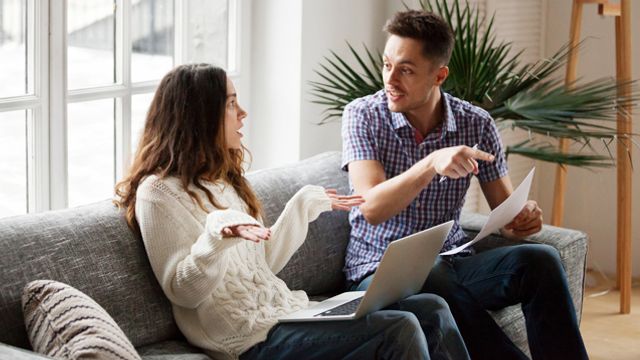 Money management is a sensitive topic for many couples and yet it is one of the most important conversations couples should discuss especially if you are building a family. But how do you find common ground if your money approach is different from each other? The key is to acknowledge your financial bias, which may be the reason behind the tension between you and your partner.
"A financial bias is simply a belief about money that affects the choices we make or the way see the world," says Elaine Grogan Luttrull, founder of Minerva Financial Arts, a financial consulting firm in the United States, in an interview with Real Simple. "They can come from anywhere, but I find many people's beliefs about money stem from the experiences they had as children or young adults — it's amazing how those formative experiences stick."

She offers this example: if your partner grows up in a household with a high level of debt, and remembers receiving and evading phone calls from debt collectors, he may grow anxious of owing people money or people owing him money. It can influence his money choices in life.
Your financial bias is formed based on how you view money and finance while growing up. "Prior to marriage, each individual already has his or her own financial background, lifestyle, mindset, and upbringing," explains child and adult psychiatrist Dr. Ann Princess Grana-Nespra, M.D., D.P.B.P., to SmartParenting.com.ph. "Yours may not necessarily be compatible with your partner's."

It's why conversations about money are essential for couples. It's important to understand how you and your spouse view money, and you are both on the same page when it comes to your family's financial goals. If you do not know or refuse to acknowledge your financial biases, it can be a major source of conflict.

For example, you might argue about investments because you want to live in a house and lot while your partner wants a condo lifestyle. Neither of you will budge because you both think your choice is a wise investment, but the argument actually stems from your differing money values and priorities.
Fitz Villafuerte, a blogger, entrepreneur, and a registered financial planner, encourages both parties to talk it out and come up with doable solutions along the way. "That will certainly dictate how and where you will want to invest," he says.

Just because you have different financial biases does not mean your relationship is doomed. You can merge and balance out each other's contrasting traits and habits, money or otherwise, according to Luttrull.
"Our beliefs and histories don't have to be different to cause friction. Imagine two people who both grew up in households that prioritized saving money — perhaps to a fault. Their habits are technically compatible, so there may not appear to be as much friction there, but their habits may not be healthy," she explains. "They may be depriving themselves (or their children) of vital experiences and setting up future generations to repeat these habits."

A step in the right direction is to have regular "financial dates" to help improve money-related communication, advises Bambi Holzer, author of Financial Bliss: A Couple's Guide to Merging Money Styles and Building a Rich Life Together. Think of it as a "financial state of the union" meeting where each person talks about their past money-related experiences. Then, establish ground rules on how to address money matters.

Lutrell suggests keeping the date light — find one hour to check in on your financial health as a team but don't make it feel like work. "The point of these money dates is to keep each other informed about the financial metrics that matter to you individually and as a couple," she says. "Those metrics could be anything — the balance in your emergency fund, how much you spent last month, what's in your retirement account, or even the balance of credit card debt."

Just remember to keep an open mind and approach these conversations with kindness. "Financial discussions require frequent dialogues, considerations, and negotiations. Compromise means that you and your husband meet halfway, and not have it your way or his," says Dr. Grana-Nespral. "Continue your discussions. Refrain from speaking in anger. Verbalize your fears and concerns, and let each other know how one is feeling and thinking. Work at it, and you'll come to a compromise."