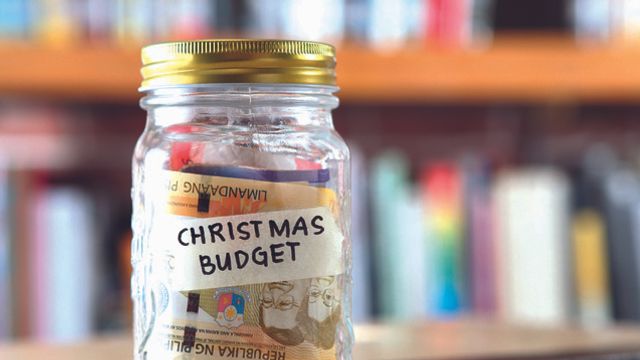 Set a good financial tone for 2017, and don't start the year with an empty wallet and soaring credit card bills! Be money-smart when it comes to expenses for your Christmas celebration. Here are tips on how you can splurge wisely and save without compromising.  

1. On your family's Christmas #OOTD
Come Midnight Mass on Christmas Eve, everyone is dressed for the occasion and looking their best. After all, per Pinoy custom, brand new clothes are worn during Christmas and sometimes New Year's Eve, too. It's not unheard of to buy a whole head-to-toe outfit just for Noche Buena! 

Splurge: Pick out clothes for each family member that you know will last a long time (until next Christmas rolls around, in fact) and are versatile enough to go with a lot of the clothes they already own. It's a good idea to invest in quality shoes or jeans that fit well. They may be a little more costly, but you know you wouldn't have to buy new ones anytime soon. 

Save: Stay away from party-only pieces that end up gathering dust and taking up space in your closet. Think hard before buying trendy fashion as well. They can be unwise investments especially if a new year is coming along. Plus, you don't have to buy a whole outfit either. Pair your favorite shoes or bottoms with a new top or dress, and you'll feel just as glam on Christmas. 

2. On last-minute gifts
The last-minute dash to the mall for Christmas presents is inevitable. The lack of time and the overwhelming amount of people can make it easy to just grab the first thing you see. But it is also easy to go over your budget. Wonderful and thoughtful presents that don't cost a fortune take a little bit more effort. Here's what you need to do: 

Save: Before you head out, do a little research online. Check out gift ideas lists or find out which stores are on sale and have promos on gift sets. Knowing where you have to go rather than randomly trying out stores will save you both money and time. The last time we checked many online stores are on sale but you have to be quick because they can easily run out of stocks. Here's a list of great last-minute gift ideas under P300 you can check out here. 

Splurge: Reserve expensive presents for family and closest friends. Or splurge on a gift when a whole family is the recipient (and it saves you the trouble of racking your brain what to buy each one).   
3. On your handa
Some dishes are more expensive to make like those with sugpo, alimango and prime beef cuts. It becomes even more costly as prices sky rocket at the palengke the closer to Christmas you get especially on December 24 and December 25.

Splurge: We say spend on yourself. What do we mean? If you are planning to prepare and cook food that will require you to slave hours in the kitchen, consider ordering the food instead. This way, you can actually enjoy your own party. For some ideas on what food to order, click here. Now if you really want to do dessert, spend for good milk, cheese, and chocolate. Even the easiest and simplest recipes become luxurious treats with good ingredients. Check out our list of easy Noche Buena desserts here. 

Save: Speaking of dessert, consider that someone is bound to give you brownies, ube halaya, fruit cake and chocolates. Skip buying the pastries, and serve what you received. If you have already splurged on ham and one special dish, do your everyday dishes (perhaps with a special ingredient added) that are your specialties -- and proven crowd pleasers. Avoid dishes that call for ingredients that you can't use for any other recipe or can't even use for your everyday dishes. Consider making a menu around ingredients that are in season, which are you usually less expensive. Also, familiarize yourself with ingredients where you can be sure of the quality no matter how cheap the price. See our list here. 
4. On Christmas fun and games
No proper Christmas party is complete without games! For the kids, you can go for the usual Musical Chairs (aka Trip to Jerusalem) and Stop Dance or you can check out our list of new party games you can try.

Splurge: Prizes are basically a must. Players get determined to win and it encourages more people to join. Get the budget for prizes everyone will be more than willing to compete for by agreeing to chip in a small amount as a group. Then, designate one person to budget the money and pick out the prizes. Everyone will be excited to play come Christmas day! 

Save: Rethink the annual Christmas exchange gift. Instead of setting a price tag, think of fun categories that encourage creative and silly gift ideas. For example, items have to only come from a hardware store or a toy store. What toy will your grown up giftee find fun, and why do you think so?