Kryz Uy Shares 8 Ways To Financially Prepare For 'Rainy Days'

'Kailangan mo ba?' and other things you need to ask before you spend that hard-earned money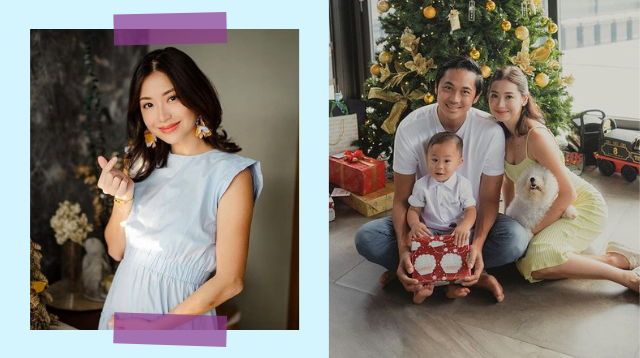 YouTube content creators and new parents Kryz Uy and Slater Young live a rather comfortable life with their baby Scottie in Cebu at their home which they call the Sky Pod. Recently, typhoon Odette left a wreckage in most parts of Visayas and Mindanao, and the Sky Pod was not spared. The tips below will surely help parents like them prepare for "rainy days", and thrive even after any of life's storms.

In her recent video titled "Who Makes More Money?", Kryz asked her Instagram followers to send their questions related to money and finances, and she got interesting replies, which she candidly answered one by one. Below, we list down Kryz's top money tips parents will find most useful.

1. Be frugal

Kryz Uy shares that she and Slater met when she was 25 years old and when Slater was 31 years old. They were both already financially independent at the time and could live on their own money. Coming from Chinese households, both were also fortunate enough to only be financially responsible for themselves. 

ADVERTISEMENT - CONTINUE READING BELOW

"Whatever we earn we can keep to ourselves, but my family and Slater's family have always instilled the value of being frugal with money," she says. "So whenever we want to spend on a luxury travel or an item that's quite heavy, parang we really have to think about it if we really need it or not. We'd look at our bank account if kaya ba namin bilhin or not." Kryz adds.

2. Have a joint account

Kryz answers the question about splitting bills with Slater by talking about joint accounts. Following their parents' footsteps, Kryz and Slater agreed to combine their finances and have a joint bank account months before getting married.

Kryz attributes trust, openness, and having the same financial values and goals as the reason why they are able to do this without any complications. "Money has never been an issue for us," Kryz says.

"[Being] together, it made sense to combine everything because both of us were working... and both of us had the same goals of eventually starting a family and making a comfortable life for each other."

3. Open a bank account, if you don't have one

"If you don't have one, open one now!", Kryz stresses on when one should open a bank account. She emphasizes that planning one's finances should be done as early as possible. She recommends banks that allow customers to open an account purely through an app without needing to physically visit the nearest branch.

CONTINUE READING BELOW

Recommended Videos

4. Don't spend money that you don't have

Kryz started her career as a fashion blogger and as a fashion blogger, she would go buy luxury items like bags and make videos about it. But, she reiterated that "I was always shopping responsibly. I would never shop [for] anything that I didn't have the money for."

Aside from staying debt-free, she also stays away from installment schemes of credit card companies. "I never do installment payments on my credit card. I always make sure that before I use my credit card… I already have it (the money) in my bank account so that when the credit card company bills me… hindi ko na iisipin 'yun because that money is already there," Kryz says.

She also adds that before she buys something, she considers whether she really has the 'excess money' for it because she doesn't go on spending her whole savings on just one item. "You only spend for it when you have an excess of something. You don't spend for it when you don't have anything else. Ang dami pa nating kailangan bayaran [na] iba!"

5. Save whatever you don't need to spend

Kryz says that she puts 80% of her income into her savings but she advises to "save whatever you don't need to spend." It really depends on each person's income but she does remind everyone to not spend money on unnecessary things. She also advises her fans to surround themselves with people that understand them and not urge them to spend money they don't have.

ADVERTISEMENT - CONTINUE READING BELOW

6. Track your money

Kryz uses an excel sheet to keep track of her money and her investments as taught by her dad. For her, the best investments are: a time deposit (as influenced by her dad) and a trust fund (which her dad also did for her when she was younger and which she now does for her son, Scottie). A time deposit, according to Forbes, "is a type of interest-bearing bank or credit union account that requires you to leave your money in the account for an agreed-upon length of time, or term" while a trust fund " is a legal entity that holds assets until an intended recipient is able to receive them." She and Slater also set a budget to invest every month such as in stocks. She emphasizes researching about investments and on your risk profile first. She also dreams to invest in real estate someday.

7. Hustle hard now and retire early

Kryz says that she and Slater joke with each other that they want to hustle hard now and then retire early. In order to possibly do that, she and Slater are looking for a business that can give them passive income so that even when they are not physically working like what they are doing right now, their money or income will keep on coming in. 

8. Be ready to make sacrifices

"Running a business is not that simple or as easy as anyone thinks," this is how Kryz started talking about starting a business. If you are going to run a business, Kryz says you have to consider or think about how you will hire the people that will work for you, how you will pay them, and how you will manage all of the needed paperworks for you to run your business.

ADVERTISEMENT - CONTINUE READING BELOW

"The entrepreneur is the one who has to make all of the sacrifices. The team is working like normal but you, as the entrepreneur, ikaw ang magsasalo sa lahat ng problema."

Celebrate your pregnancy milestones!


Enter your details below and receive weekly email guides on your baby's weight and height in cute illustration of Filipino fruits. PLUS get helpful tips from experts, freebies and more!

You're almost there! Check your inbox.


We sent a verification email. Can't find it? Check your spam, junk, and promotions folder.

Trending in Summit Network