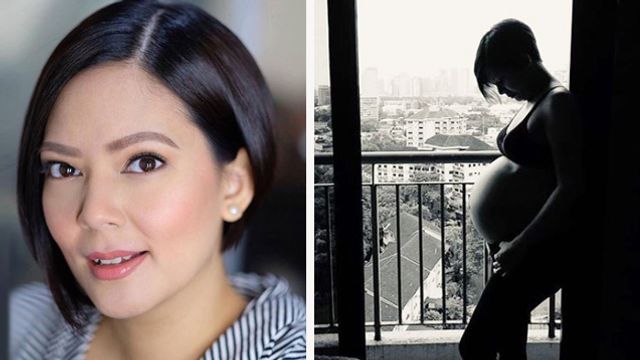 Giving birth is no easy feat. Whether you deliver your child vaginally or via Cesarean section, the whole journey of 42 weeks of pregnancy that culminates in childbirth is one amazing show of strength. Hurray to all moms!
After having gone through two births, actress Chynna Ortaleza wanted to give herself (and all moms) a pat on the back with a social media post. 
"Remembering my 2 births. I am SUPER! Peanut was out in 2 pushes. Salem a bit more than that 6 or 7 if I remember correctly & all I remember was the sheer impact of his head descending. Holy Sh*t! ???? But I did it," the Kapuso actress wrote on Instagram.
Chynna and husband Kean Cipriano welcomed daughter Stellar (nicknamed Peanut) in April 2016, while son Salem was born on September 25, 2019. 
With a toddler and a newborn, Chynna implied on her post that it's not always easy to be everything she wants to be especially since she herself is still recovering from childbirth.
"Even if I cry when I get overwhelmed with constant cries due to colic.. and have to deal with feelings of inadequacy because I can't take care of my eldest who is sick at the moment.. I do not want to be doing anything else at present."
Kean gave a touching tribute to his wife after baby Salem was born, saying, "You don't know how much I appreciate everything. Everything you do for our family.
"Sa dami ng pinagdadaanan ng babae sa buong pagbubuntis, lalo na yung panganganak mismo, and yung after manganak (post-partum), the nurturing, and taking care of the family.... Wild! Ibang klase," he wrote. 
Chynna also gave a shoutout to husband Kean for his "amazing" support all the way. 
On Instagram, she captioned their first family (of four) photo, "Ang asawa ko maraming kayang gawin. Minsan naiisip ko paano niya kaya napapagsabay sabay lahat ng bagay na ni minsan hindi ako naka ramdam na wala siyang oras para sakin o sa anak namin. Iba e! 
"Pero nung September 25 mas lalo akong nabilib kasi may bago na naman siyang kayang gawin." Chynna was referring to Kean's ability to read her body cues, because of which they reached the hospital just in time for Salem to be born.
"All with Kean's support & encouragement. Thank you mahal ko! You are the best," the mom of two wrote.
And as for herself, the new mom of two has nothing but gratitude for motherhood. "I love being a MOTHER. Thank you Lord for this gift."