Delamar Arias is pregnant again!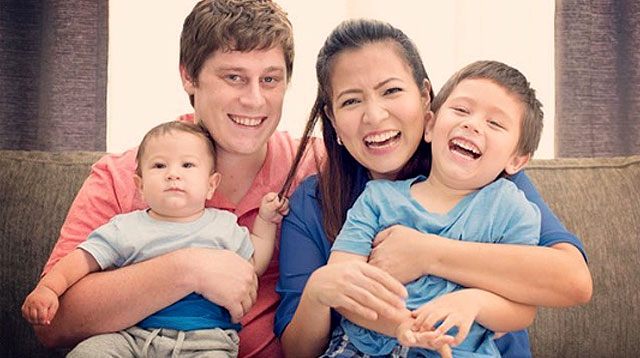 The former Morning Rush radio host, who was once told by her OB-gyn that it's highly-unlikely that she'd ever get pregnant, is on the family way with baby #4. Delamar  posted a photo of a friend with her second son Parker on Instagram, thanking her for visiting her at her house. In the comments, her friend @myrajanina replied to her post. "Oh, you know I love you, Delle. And I love our secret Star Wars meetings... My life is much enriched with you in it (since 1996!)," she wrote. Then she continued, "Plus, you are pregnant. Let's get it in there. I'm so happy about it I want to announce it!" Delamar never replied, so Smartparenting.com.ph reached out to her to confirm the news -- and she said yes, she is indeed! The good news comes just a few months after her second son Parker turned one last November. Delle and husband Tyler Ashby are also parents to Cooper, 5. Congratulations!


Kristine Hermosa and Oyo Sotto celebrate 6th wedding anniversary
The lovebirds had a double celebration yesterday, January 12: Oyo's birthday, and their sixth year as husband and wife. They both took to Instagram to send each other sweet messages. "To the most persistent, loving and enduring man in my life... happy birthday my one & only! What a great blessing to have a godly, dignified, sincere man of virtue. You are the true meaning of manliness. You always make me sooooo proud!!!! Cheers to a lifetime!!! I love you," Kristine wrote as caption to a photo of her kissing Oyo on the cheek. Oyo posted a wacky couple photo and wrote, "Six years. Thank you Jesus. I love you. Thank you for being so patient with me." The two married on January 12, 2011 in Talisay, Batangas. Happy anniversary! (pep.ph)


WATCH: Cassy and Mavy's 16th birthday highlights video
Carmina Villarroel and Zoren Legaspi's twins celebrated their 16th birthday with a swimming/Coachella-themed party last January 3, three days before their actual birthday, and now we can have a peek into all the fun they had! In the video by Nice Print Photography, the proud parents give Cassy and Mavy a video message, "You guys are sixteen, that means you're still a baby," Zoren said. "Forever baby -- they will forever be our babies," added Carmina. It also includes messages from Cassy and Mavy's friends, highlights of the early swimming party and long-table dinner, and many other fun and wacky scenes from the party. Happy Twinning at 16, Cassy and Mavy!


Congress holds online poll on lowering the age of criminal liability
Did you know that you can vote if you agree or disagree with the proposed bill that would bring down the age of criminality from 15 to 9? Yes, you can. On its website's homepage, the House of Representatives (HOR) is conducting an online poll to gather its constituents' take on the proposed bill. Psychologists and local and international groups such as UNICEF and the United Nations (UN) have made statements opposing the lowering of the age of criminality as it violates the UN Convention on the Rights of the Child. House Speaker Pantaleon Alvarez, one of the main supporters of the bill, vows to have it passed as law. Click here to go to the HOR's website and let your voice be heard and counted! (mblife.xyz)


A Series of Unfortunate Events premieres on Netflix today!
It's Friday the 13th today, and what perfect way to honor the so-called "bad luck" day with the premiere of the most anticipated Netflix series. To mark its release, Netflix uploaded a teaser video reminding everyone about the fate of the Baudelaire children in the hands of their wicked uncle Count Olaf, played brilliantly by Neil Patrick Harris. Yesterday, the online streaming site also released the theme song, which perfectly captures the dark type of comedy the series has to offer. Not familiar with the series? Click here to watch book author Lemony Snicket, played by Daniel Handler, give you a brief background. A Series of Unfortunate Events starts streaming today on Netflix.