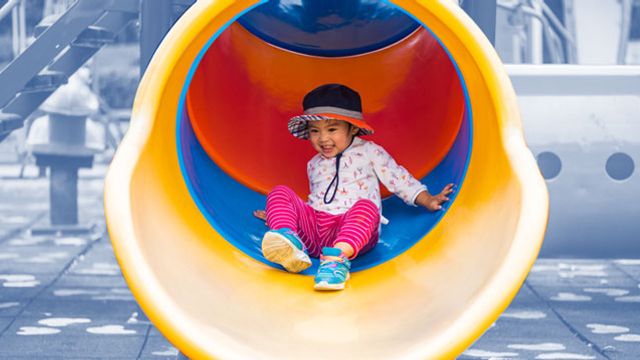 A new study from the environmental group EcoWaste Coalition has found that play equipment in several public playgrounds located all over the country has dangerously high levels of lead.
The study, called "Lead in Playground Equipment in the Philippines," found that 50 out of 55 play equipment analyzed by the group had lead concentrations higher than 90 parts per million (ppm), the limit set by the Department of Environment and Natural Resources (DENR).
42 of these play equipment had lead levels above 10,000 ppm. Multi-layered equipment, or those that had been repainted or fixed due to damage, were found most hazardous, containing up to 662,863 ppm of lead.
The group used a handheld X-Ray Fluorescence (XRF) chemicals analyzer to evaluate playground equipment in 12 out of 14 public playgrounds located in Luzon (Baguio City), Visayas (Lapu-Lapu, Mandaue, and Consolacion, Cebu), Mindanao (Davao City), and the National Capital Region (Caloocan, Malabon, Manila, Navotas, and Quezon City).
"The high levels of lead detected on the paint of outdoor playground equipment are very worrisome and unacceptable," said Thony Dizon, Chemical Safety Campaigner at EcoWaste Coalition.
"The paint will deteriorate with repeated use and exposure to sun and rain. This will cause the paint to peel and get into the dust and soil which can be ingested by children through common hand-to-mouth behavior."
The findings of the study have prompted the EcoWaste Coalition and its study collaborator, the non-government organization IPEN, to call for the enforcement of a ban on lead in all paints.
"The findings of the EcoWaste Coalition should trigger a review as to how the country's lead paint regulations are being enforced and how these can be strengthened," shared Jeiel Guarino, Global Lead Paint Elimination Campaigner at IPEN.
On October 20, 2019, the EcoWaste Coalition assembled at the Caloocan City People's Park "to press for a lead-safe play environment for all Filipino children," GMA News reports.
The assembly was done during the observance of the UN-backed International Lead Poisoning Prevention Week of Action from October 20 to 26, 2019.
According to the World Health Organization (WHO), lead exposure can greatly affect human health. Young children are especially vulnerable to the toxic effects of lead exposure and can also suffer from "profound and permanent" health conditions that would affect the development of their brain and nervous system.
The WHO also said that childhood exposure to lead is estimated to cause around 600,000 cases of children with intellectual disabilities every year.
"Lead paint represents one of the most widespread sources of lead exposure to infants and children. Yet lead paint still lurks in homes, in schools, and on toys," said Dr. Maria Neira, director of the WHO's Department of Public Health, Environmental and Social Determinants of Health.
"Banning lead paint now can prevent future exposures. This is a very good investment in your health, and in the health of your children."
Click here to learn about why the Department of Education (DepEd) banned lead paint from schools.