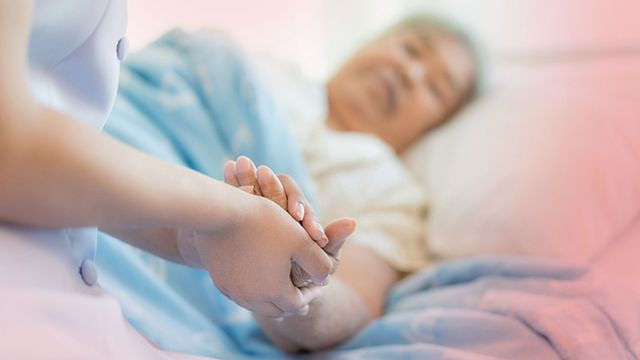 Despite the rising number of confirmed coronavirus disease 2019 (COVID-19) cases in the country (current count is at 2,311, according to the Department of Health), people can and will recover from the virus. As of this writing, 50 individuals have already recovered from the disease.
Twenty-nine of those who have recovered were confined at the Makati Medical Center (MMC) and have since been discharged, according to the hospital's Director, Dr. Saturnino Javier.
"The discharged patients are all clinically improved, with several obtaining at least one negative COVID-19 result," said Javier in a statement.
In an interview with AM radio station DZMM, Javier said that those who recovered were between 40 and 60 years old. They are still treating around 35 others who are still positive for COVID-19 and about 50 patients under investigation (PUI)s.
Javier assured that testing positive for COVID-19 is not the end. "Hindi po ito seal of death. Hindi naman ibig sabihin 'pag nagkaroon ka ng COVID e iyon na ang final death sentence," he told DZMM. (It is not a seal of death. It does not mean that if you contract COVID-19 you are given a final death sentence.)
According to the World Health Organization, COVID-19 sometimes does not present any symptoms and is mild for 80% of the cases. More than 178,000 have recovered from the virus worldwide, according to this daily count maintained by the Johns Hopkins University Center for Systems Science and Engineering.
When it comes to caring for the patients, Javier emphasized that the hospital replicates "best practices" of other countries. COVID-19 positive patients are given "broad spectrum" antibiotics, anti-viral drugs, vitamin C, and zinc. If a patient's oxygenation status goes down, they are immediately hooked to ventilators to help them breathe.
Patients who recover "based on clinical symptoms" and test negative for COVID-19 are sent home but with "very strict" precautions, like wearing masks for 14 days, according to Javier. They are tested a third time for COVID-19 as outpatients.
The Department of Health considers that a patient has made a recovery if they test negative for the disease twice. But Javier says that this is a "real challenge to satisfy given the delay in the processing of tests."
"We treat them as not completely free of the disease or the virus kaya pag-iingat pa rin po ang kailangan (so precaution is necessary)," the director told DZMM.
He adds, "Kapag naghintay kami na [dalawang] tests maging negative, hindi ho kami makakapag-admit ng panibago, mapupuno po tayo nang mapupuno at hindi po kami makakapag-service ng mga mas nangangailangan."
(If we wait for two test results to come back negative, we will not be able to admit new patients. Our hospital will continue to be full and we will not be able to give service to those who need it more.)
On March 24, MMC announced that it will no longer be able to guarantee hospital admission to COVID-19 patients because it has reached full capacity. Other private hospitals like  The Medical City and St. Luke's Medical Center have also declared maximum capacity.
The ones at the highest risk are the elderly and those with chronic illnesses. Click here for the inspiring story of patient #358 who was able to recover from COVID-19 despite having asthma, diabetes, and hypertension. For more stories on COVID-19, click here.