Experts Answer 7 'Is It Normal' Questions You Have About Your Baby

Is it normal that my baby's poop is green? That he snores? And he cries a lot?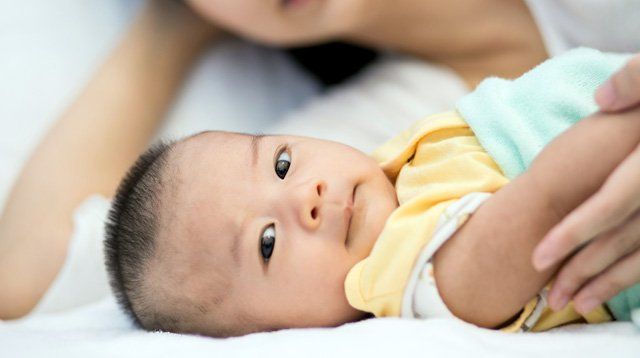 There are countless of things that can baffle a new parent, and a lot of them are worries about a baby's healthy growth and development. To ease your worrying, here are answers to common "Is it normal?" questions moms and dads have:

1. Is it normal that my baby's poop is green?
Don't worry! Baby poop can come in a variety of colors — yellow, orange, green, brown and all the shades in between. As long as it lands in the spectrum of these colors, there's not much to be concerned about, says pediatrician Dr. Ella Salvador from Ospital ng Muntinlupa. Poop colors that do point to a problem are black, white, and red. Take it as a cue to consult a pediatrician. Learn more about baby poop including frequency and consistency here. 

What other parents are reading

2. Is it normal that my 1-year-old can only say a few words?
By age 1, children usually have at least a couple of words they can say. But don't worry too much if your child seems a bit late in speaking. Every child is different, Liza Bulos, a speech therapist at the Hope Developmental Center for Children in Las Piñas, told Smart Parenting. "Some children may just not be at ease with words. They may be better at jumping and other gross motor skills, or at coloring and other fine motor skills." 

Her number one advice: don't immediately jump to conclusions and put the blame on a learning disability. "Sometimes it's just a normal delay that can easily be corrected. Many times labeling a normal delay as autism or hyperactivity or mental retardation is more damaging."  

3. Is it normal that my baby has really bad dandruff?
Does your baby have crusty, scaly patches of skin on his scalp? It can seem like an extreme case of dandruff, but it's a common condition in infants called cradle cap. "Cradle cap is not contagious, and it isn't an indication of poor hygiene. Most of the time, it just goes away on its own," said KidsHealth. You can gently try to loosen and remove it with baby shampoo. If it does itch and bother your baby, talk to your pediatrician or a child dermatologist. 

ADVERTISEMENT - CONTINUE READING BELOW

What other parents are reading

4. Is it normal that my baby snores?
"Young babies tend to be noisy breathers in general because their airways are narrow and filled with lots of bubbly secretions," said Dr. William Sears, a renowned pediatrician, in an article for Parenting. "Most of the time, these sounds are just a noisy nuisance that gradually subsides as baby's airways grow and as he learns to swallow excess saliva."

Nasal blockages, say, from a cold, can also cause babies to snore, said Dr. Sally Victoria King, a pediatrician who holds clinics at the Medical City and the Makati Medical Center. However, loud and regular nightly snoring should be a cause for concern. Seek medical advice as snoring can affect the quality of sleep and, more importantly, the delivery of oxygen to the brain and the heart, said Dr. King.   

5. Is it normal that my baby cries a lot? 
Your child may have colic, which is characterized by the persistent crying of a healthy baby, usually between 2 weeks and 5 months old, according to pediatrician Dr. Ina Atutubo. Colicky babies can cry for a total of three hours a day, several times a week. "Babies with a colic attack are inconsolable, and it is unfortunate that colic usually happens in the late afternoon or in the evening, when parents are already tired or stressed," she said. 

What other parents are reading

6. Is it normal that my baby bangs his head?
Up to 20 percent of babies bang their head on purpose, according to Anita Sethi, Ph.D., a research scientist at The Child and Family Policy Center at New York University, in an article for Parenting.

"Some children bang their heads because their language skills have not adequately developed yet. They have no means of expressing difficult emotions like frustration or anger or have no better way to ask for what they want," Ma. Araceli 'Lala' Balajadia-Alcala, a clinical psychologist at the Philippine Children's Medical Center, told Smart Parenting. Find tips on what you can do about it and when you need to worry here.  

7. Is it normal that my baby sleeps a lot?
One of the common surprises of a new parent is finding that your infant sleeps a lot. Newborns sleep up to 18 hours a day, according to the U.S. National Sleep Foundation. Infants 4 to 12 months old should be getting 12 to 16 hours of sleep per 24 hours for optimal health, according to sleep recommendations from the American Academy of Sleep Medicine (endorsed by health groups including the American Academy of Pediatrics). 

However, babies can be too sleepy as well, particularly during the first month, pediatrician Dr. S. Daniel Ganjian told The Bump. The newborn should still be getting enough feeding sessions if she spends most of the day and night asleep. 

Do you have other "is it normal" questions? Comment down below or send us a message on Facebook. 

ADVERTISEMENT - CONTINUE READING BELOW

Recommended Videos

What other parents are reading

Celebrate your pregnancy milestones!


Enter your details below and receive weekly email guides on your baby's weight and height in cute illustration of Filipino fruits. PLUS get helpful tips from experts, freebies and more!

You're almost there! Check your inbox.


We sent a verification email. Can't find it? Check your spam, junk, and promotions folder.

Trending in Summit Network