Expecting? Here Are 90+ Adorable Baby Names That Will Trend in 2018

Have you considered naming your child Sojourner, Luna, or Kylo?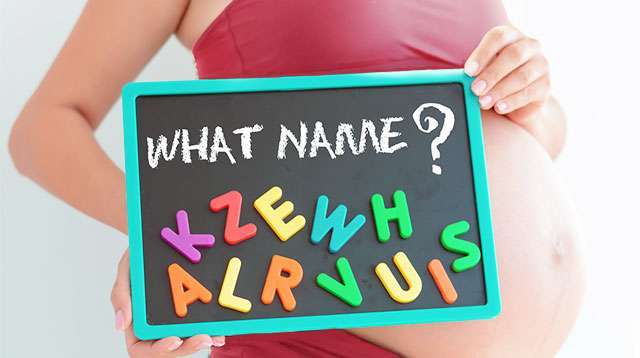 We've written about baby names before, from those that mean beautiful, miracle and blessed, as well as timeless biblical names. But, if you're expecting this 2018 and are looking for something different, you'll be happy to know that "baby name" experts have already predicted what will trend for the year. Here are some of their suggestions:

1. Girl power
According to a trend report by Nameberry, a website and name database founded by book authors Pamela Redmond Satran and Linda Rosenkrantz, this year's biggest trend will revolve around strong, female names. The biggest influence? Movies that pushed for women empowerment like Wonder Woman and events like the Women's Marches around the world.

According to the website, studies have identified the names most likely to get into top colleges, which includes serious monikers like (1) Eleanor, (2) Margaret, and (3) Ruth. Other favorites include those that mean intelligence or wisdom, like (4) Sophia and (5) Pallas, and names that mean strength like (6) Matilda and (7)  Bridget.

What other parents are reading

Names of heroines and goddesses are especially popular, such as (8) Freya, (9) Arya (perhaps inspired by the book and TV Series Game of Thrones), and (10) Sojourner.

2. Celestial names
In the United Kingdom, some of the top trending names are space-themed, according to website Channel Mum. (11) Luna, (12) Stella and (13) Nova are popular choices for girls, while (14) Orion is a favorite for boys.

3. Fashionable names for boys
There's been a shift in choosing names for boys, says Newberry. Whereas parents have made conservative choices in the past and straying from the most popular ones, now we have more boys with fashionable names like (15) Atticus, (16) Jasper, and (17) Wyatt. Names with more flair like (18) Jackson and (19) Milo trump classic-sounding names like John and Michael.

4. Gender-neutral
We think these will be popular especially to parents who don't want to know the gender of their children 'til birth. Channel Mum says that gender-neutral names like (20) Robin and (21) Noah were already trending in 2017, and predicts that its popularity will continue to rise until the end of this year. Here are other gender-bending names to consider: (22) Alex, (23) Andy, (24) Casey, (25) Harper, and (26) Kelsey.

ADVERTISEMENT - CONTINUE READING BELOW

What other parents are reading

5. Starts and ends with 'S'
According to Newberry, the top consonant for names is the letter S. Names like (27) Snow, (28) Sage, (29) Sasha, (30) Sayer, (31) Soren, (32) Stellan, and (33) Saskia will be popular, along with s-ending names like (34) Lucas and (35) Alexis.

Boy names are also heavily inspired by ancient Roman clans like (36) Amias, (37) Augustus, (38) Aurelius, (39) Cassius, (40) Justus, (41) Lazarus, (42) Linus, (43) Ozias and (44) Rufus, but names are also inspired by Hebrew derivations like (45) Amos, and Aramaic names like (46) Thaddeus.

Popular choices for girls include (47) Anais, (48) Frances, (49) Iris, (50) Venus, and (51) Lois.

6. Superheroes and villains
With superhero movies becoming so popular in 2017, there's no doubt that it will heavily influence this year's babies. In fact, the more popular ones are not even the heroes but the villains, according to Channel Mum. (52) Harley and (53) Quinn (of Suicide Squad) are the most popular in the US, including (54) Ronnie and (55) Reggie (portrayed by actor Tom Hardy in the movie Legend).

But the top spot goes to (56) Kylo or (57) Kylo Ren, who is the villain in the rebooted Star Wars franchise. In was the fastest rising boys' name according to surveys since the movie was released in 2015, according to Nameberry.

Thinking of naming your baby after movie characters? Consider (58) Ivy (Poison Ivy), (59) Jubilee (X-Men), (60) May (Spiderman), (61) Pepper (Iron Man), and (62) Rey (Star Wars) for girls.

For boys, top choices include (63) Falcon (Captain America), (64) Logan (Wolverine), (65) Odin (Thor), (66) Rocket (Guardians of the Galaxy) and (67) Wade (Deadpool).

ADVERTISEMENT - CONTINUE READING BELOW

Recommended Videos

What other parents are reading

7. Gender-switch
If you've noticed that most boys' names end in 'er' while girls' names end in 'i,' then expect a shake-up to happen in 2018. Some of the hottest names for girls end in 'er' including (68) Harper, (69) Skyler, (70) Aster, (71) Ember, (72) Juniper and (73) Sailer. Meanwhile, (74) Eli, (75) Levi, (76) Ari, (77) Omari, and (78) Rafi are the favored picks for boys.

8. Names for the rich
If you're looking to attract wealth and money this year, why not name your child (79) Ottilie and (80) Elodie, which both mean 'riches'? If it's a boy, you'd be surprised that many are named (81) Cash and (82) Rafferty, which means 'abundance' and 'prosperity.'

9. Ode to Shakespeare
Both Channel Mum and Newberry say that (83) Ophelia is one of the trendiest names of 2018, despite the name becoming unpopular in the past because of the character's tragic fate in the play Hamlet. Its popularity was fueled by the need to have an alternative and similar-sounding name to another hot moniker, (84) Olivia. Other popular picks for boys include (85) Romeo, (86) Balthazar, (87) Juno, and (88) Oberon.

10. Birds and plants
Names derived from birds and plants will also hit it big this year. (89) Wren works for both boys and girls, while (90) Phoenix and (91) Paloma (which means dove) are also increasing in popularity. (92) Fern and (93) Basil are also top choices, according to Strum.

What other parents are reading

Have you chosen a name for your baby? Before picking from these unique and popular names, here are two important reminders:

ADVERTISEMENT - CONTINUE READING BELOW

Think of it as an important gift. The first thing that you as a parent can give to your baby is his or her name so think long and hard of the weight behind it. It can contain your wishes, dreams, and aspirations of what you want your child to become.

Think of the future. When choosing a name, consider how it will sound to your own child as well as his future friends and families so as to avoid your child being ridiculed or teased. "Think not only of today, because today will become the past for the child. Choose names that the child can carry well into the future," says Shirley Adiviso, Ph.D., a sociology and psychology professor at St. Benedict's College.

What are you planning to name your baby? Share it with us in the comments!

[h/t: Redbook and Global News]




Celebrate your pregnancy milestones!


Enter your details below and receive weekly email guides on your baby's weight and height in cute illustration of Filipino fruits. PLUS get helpful tips from experts, freebies and more!

You're almost there! Check your inbox.


We sent a verification email. Can't find it? Check your spam, junk, and promotions folder.

Trending in Summit Network