Baby Acne Getting You Worried? This Is the Best Treatment

The red patches on your newborn's face is called baby acne. Yes, it's quite common.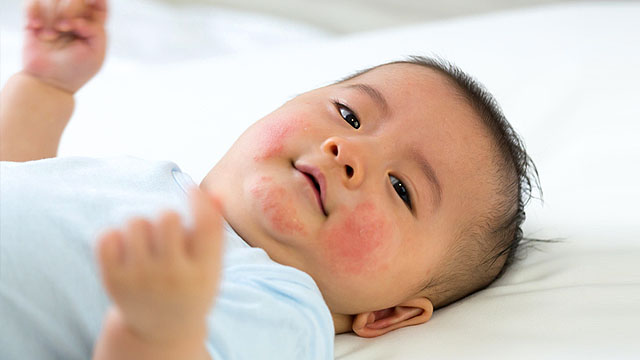 Babies are born with almost perfect skin. It's soft and silky, and at birth, you may still see a bit of the vernix caseosa, that thin layer of wax-like substance, coating it, the purpose of which is to protect baby's fragile skin. However, as your infant grows day by day, you might notice a few issues with his skin. One of these is baby acne, which is quite common among newborns.

What baby acne looks like

Baby acne looks a lot like acne that occurs among adults — they appear as red bumps or pimples on a baby's face, neck, and upper back. In some cases, baby acne may also be coupled with whiteheads, white pustules, and reddish skin. The acne is slightly raised and may appear as red bumps on baby's cheeks and forehead. When the baby is fussy, these may look even more pronounced.  

Baby acne usually develops within the first month of life, although on rare occasions, baby acne may also be present at birth. It may go away on its own after a week or so, but it's also possible to take a few months before it completely heals.

What other parents are reading

What causes baby acne

Although many newborns are affected by baby acne — about 20 percent — the cause is still unknown. Some say it is caused by maternal hormones that are passed on from the mother to the baby during the last stage of pregnancy.

If your baby has acne, her skin may become even more sensitive when exposed to different elements, so keep her away from possible irritants like fabric washed with strong detergents, or even drops of formula milk. It will be useful to consult with your pedia on which bath products are best to use for your baby, mainly to prevent the baby acne from worsening.

ADVERTISEMENT - CONTINUE READING BELOW

Treatment for baby acne

Baby acne does not typically need to be treated, as it goes away without a problem on its own. It is not known to cause your baby any discomfort, and although it looks like it, it is not contagious and won't harm your baby.

However, in extremely bad cases of baby acne, your doctor may prescribe a topical acne medication. Be sure to follow instructions carefully and adhere to your doctor's prescription strictly.

What other parents are reading

Is it newborn acne or infantile acne?

As mentioned earlier, baby acne may appear within your baby's first month of life and heal after a few months. Starting 6 months old, you may notice yet again a new irritation beginning to appear on your baby's face. It's probably infantile acne, which is different from baby acne.

The difference between baby acne and infantile acne is in what causes them. While baby acne is mostly believed to be due to maternal hormones that are passed on from mother to baby during pregnancy, infantile acne is said to be no different from adolescent acne, in that it is caused by hormones produced in the body that stimulate the sebaceous glands to produce more oil. As bacteria may be present on the surface of the skin, it could clog the pores and cause irritation.

If your baby has infantile acne, it could also be because of genetics — you or your partner were probably prone to acne when you were young. It is also possible although rare that your baby may have a hormonal imbalance, which may be detected by tests that a pediatric endocrinologist would recommend your baby to undergo.

ADVERTISEMENT - CONTINUE READING BELOW

Recommended Videos

What other parents are reading

Treating infantile acne

If your baby has a mild case of infantile acne, your doctor may recommend that you wait for it to go away on its own rather than treating it with medication. 

However, in more severe cases, and especially if it looks like the acne will leave scars, your baby's doctor may prescribe medications like a topical antibiotic, benzoyl peroxide, or retinoids.

Benzoyl peroxide works by clearing the blocked pores, while retinoids promote the production of skin cells. This then pushes the dead skin cells out of blocked pores, thereby declogging the pores. 

Is it baby acne or eczema?

Another skin condition that may be mistaken for baby acne, and vice versa, is eczema. This skin condition common among babies is characterized by dry patches of skin that may appear red and irritated. However, unlike baby acne, eczema can be very itchy and cause your baby to feel discomfort.

The cause of eczema, or atopic dermatitis, is said to be the body producing too few ceramides, or fatty cells, which makes the skin lose water, making it very dry. It may also be hereditary, and the symptoms may be passed on and manifest from one generation to the next.

Some people outgrow the symptoms of eczema when they reach a certain age, while for others, the symptoms will only become less pronounced with age and not go away completely. To manage the symptoms, your child's doctor may prescribe topical products like hydrocortisone creams, which will address the itching and redness.

ADVERTISEMENT - CONTINUE READING BELOW

What other parents are reading

Managing baby acne

While baby acne usually goes away on its own, you want to keep things simple so as not to aggravate the condition. Remember these tips:

1. Keep the affected parts clean.

Dirt and oil are your baby's skin's enemy. Bathe him using only the mildest cleanser (and sometimes, just water works as well) that your pediatrician recommended. Needless to say, avoid using products with strong formulations, whether directly (soap, lotion) or indirectly (detergent, fabric softener) on baby's skin. 

2. Be gentle.

Do not attempt to scrub the affected areas with a washcloth — this will strip the skin of natural oils, and the friction will only make it worse.

3. Do not attempt to squeeze the acne.

Not only will this irritate baby's skin further, but you could also hurt your baby unknowingly.

4. Stay in a well-ventilated area.

Perspiration could also worsen baby acne, so look for a place at home where air can circulate freely, and keep your surroundings cool as much as possible.

5. Just wait it out.

In time, the redness on your baby's face will clear out on its own. Give it a few weeks. If it persists beyond this period and shows no signs of improvement, let your doctor know at once. 

Celebrate your pregnancy milestones!


Enter your details below and receive weekly email guides on your baby's weight and height in cute illustration of Filipino fruits. PLUS get helpful tips from experts, freebies and more!

You're almost there! Check your inbox.


We sent a verification email. Can't find it? Check your spam, junk, and promotions folder.

Trending in Summit Network