Is Your Baby Bored? Expensive Toys Are Not Always the Answer, Experts Say

Instead of grabbing a toy to give him, keep these five pieces of advice in mind first.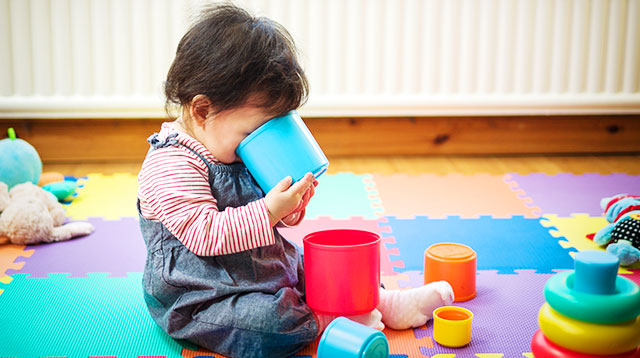 So you have baby-and-mommy time with your little one. You're both on the bed, your baby is fiddling with a stuffed animal or book, and you're contentedly watching him or sitting down beside him reading your book. Suddenly, your baby starts to make noises, not the kind that he's in a health danger. Is he getting bored? 

"Babies have mechanisms built in to prevent them from wasting time on things that don't have sufficient amounts of learning value. You could think of that as boredom," said Dr. Celeste Kidd, a developmental cognitive scientist at the University of Rochester, to Fatherly. "If they encounter something they already know everything about, then they lose interest in it and want to go find something else." 

What other parents are reading

The "something else" doesn't always have to be a toy, which we tend to give to our baby at the slightest whimper. It happens because we hate to see them cry, so we distract them with a shiny new thing. But it's not always a good idea? So, what to do? 

1. Respond to your baby
Keep in mind that crying or any other sounds of frustration your baby makes is her way of communicating. She's trying to tell you something, and the first thing a parent should do is talk back. Let your child know that you hear what she's "saying." 

Janet Lansbury, a parenting advisor, author, and host of the popular podcast Respectful Parenting, advised, "Right away, I would respond as if another person has said something. This other person is not able to express in words, so it's harder to understand, but we take that in." Even if your baby isn't looking at you, say something back to him like, "Hi, I hear you. What's wrong?"

ADVERTISEMENT - CONTINUE READING BELOW

What other parents are reading

2. Give the "right" kind of toys
So what are these toys? As it turns out, it's not necessarily the toy with all the "bells and whistles." In fact, they can overstimulate your baby (see item 3). Dr. Kidd explains the "right kind" kind of toy can be the one your baby has seen and held. "So things like spoons, or measuring cups that stack or bowls. Things that they have some background in but they don't understand fully."

It's also why your baby finds your house or car keys so fascinating. She doesn't understand yet what they're for, but she sees mommy and daddy using them — it piques their curiosity. The same goes for other everyday objects like a spatula or your favorite travel mug. So, yes, the most straightforward things make a baby happy. (Here's proof.) 

3. Don't have too many toys
"You can overwhelm your baby if you give her too many toys to play with at any one time," said child development expert Dorothy Einon in a column for Baby Centre UK. "The result is that none of them fully capture her attention and she does not play at all."

"To help your baby engage with her toys put most of them out of sight. Give them to her one at a time. If she is not interested in a toy, put it away for later and try another." 

What other parents are reading

4. Give your baby a break
Babies feel overwhelmed and get overstimulated quickly. When there's too much going on, they can soon become restless and tired, according to Lansbury. So, at first sight of grumbling during playtime, stay calm. Observe your child and see if he's tired or sleepy, hungry, uncomfortable, or in pain.  

If you're unsure of what's wrong, your baby might just need a break from playtime. Advised Lansbury, while still sitting down, try carrying and holding him in your arms for a bit first until he wants to be put down again and resume playing.

Clinical child psychologist Angharad Rudkin also suggests a little quiet time. Try putting down your baby in a different area of the room or at a spot with a view out of the window. "This allows your baby to rest and gives her brain an opportunity to catch up and learn from all the fun," she writes in a column for Baby Center US.

5. You are your child's best playmate
"Part of the problem with some of the flashy toys is overstimulation — babies don't need that. They benefit from having parents who are engaged with them," says parenting expert Jodie Benveniste to The Daily Telegraph. 

"It is not always about flashcards and expensive toys with bells and whistles. They learn from interacting with life; babies are very active learners who seek out stimulation." 

CONTINUE READING BELOW

Recommended Videos

What other parents are reading

Celebrate your pregnancy milestones!


Enter your details below and receive weekly email guides on your baby's weight and height in cute illustration of Filipino fruits. PLUS get helpful tips from experts, freebies and more!

You're almost there! Check your inbox.


We sent a verification email. Can't find it? Check your spam, junk, and promotions folder.

Trending in Summit Network