7 Ways to 'Test Drive' Your Baby's Name to Know if It's 'The One'

Tip # 1: Check the initials.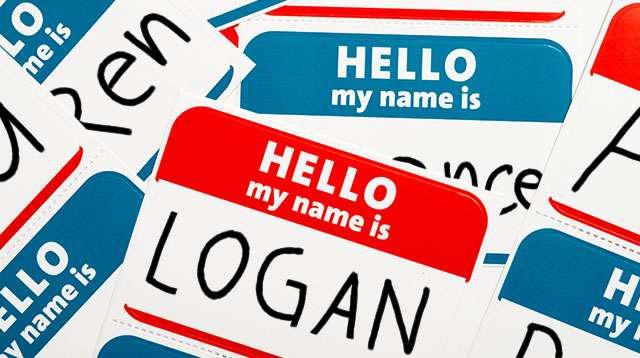 Every parent knows the pressure that comes with choosing a name for their baby. It will become part of the child's identity, and he will carry it for the rest of his life. Every parent wants a name that will reflect the hopes his parents have for him.

You'll find parents poring over baby books or scouring the Internet for the perfect name, but once you've settled on a choice, how do you know that it's 'the one'? Now, that's tricky the part, and here some easy ways to test it out (katuwaan lang po):

What other parents are reading

Check your child's potential initials.
You don't want your child's name to get a 'hit' when it's time for him to apply for an NBI clearance, but you might also want to do the initials test. Now, Thaddeus Alexis Enriquez may sound manly, not to mention trendy, but look closely — it's a recipe for disaster. It might lead to an unfortunate nickname at school. And what happens when he grows up to be a boss and needs to be addressed using his initials at work? Nothing like TAE to break the ice though. 

Try a rhyme.
How do you choose a 'safe' name for your baby? Think like a child. Because trust us, they will come up with hilarious puns. Don't believe us?

One of our Facebook fans messaged us asking for help for a matching first name to "Logan," which she decided will be the second name of her child. Naturally, we sought the help from our more than 1 million followers, and they came up with the most creative first names: "Eat Logan," "Mark Logan," "Hulk Logan," "It Logan," "Tino Logan," "Beth Logan"…it never ends. Mind you, these were all grown-ups. We shudder to think how your child will fare against other children.

ADVERTISEMENT - CONTINUE READING BELOW

What other parents are reading

How common is it?
You might feel attached to your or your spouse's name, but if it's as common as Ana or Juan, your child might appreciate it if you pair it with another, more original moniker. The Philippine Statistics Authority has a list of the 10 most common baby names, but unfortunately, it's from the years 2014 and 2015. Here's another idea: Check out SmartParenting.com.ph's list of the trendiest names for 2018.

Is it setting unrealistic expectations?
Fancy naming your daughter Beyoncé or Ariana or your sons Kobe or Lebron? We want the best for our children so we give them famous people names in the hopes that they would one day grow up to be as amazing as their namesakes. Avoid giving your child unnecessary pressure when he grows up. Choose a name that will let his individuality shine instead.

Run it on Google.
I have a cousin who was born and raised in another country and when she came here and introduced herself as 'Becky' every person who heard it would try hard not to laugh at her face. When choosing a name, make sure that it doesn't translate to something bad or funny in another country. Thinking of your naming your son 'Willy' or your daughter 'Cara'? Well, in the United States, Willy is slang for 'penis' and 'Khara' in Arabic is s**t. So just be careful. While you're at it, you might also want to check if your child's name is associated with anyone infamous — you wouldn't want to name your baby after a criminal, right?

ADVERTISEMENT - CONTINUE READING BELOW

Recommended Videos

What other parents are reading

Use it when you order coffee.
Yes, we're serious. You want to name your son Kylo Ren? Give that name to the barista the next time you're at a coffee shop. When he shouts, "One Grande Americano for Kylo Ren!", assess how you feel. Are you embarrassed? Do you feel evil or feel like joining the Dark Side? Are you proud of yourself? If the answer is yes to the final question, then it's probably 'the Chosen One.'

Yell it out.
You know how your mom shouts your full name, and you automatically know you've done something wrong? It should have the same effect for the name that you've chosen for your child. "STELLA LUNA, YOU BETTER COME DOWN THIS INSTANT!" Try it with your sternest Mom or Dad voice and if you've scared even your partner, then you know the name is perfect.

What other parents are reading

Celebrate your pregnancy milestones!


Enter your details below and receive weekly email guides on your baby's weight and height in cute illustration of Filipino fruits. PLUS get helpful tips from experts, freebies and more!

You're almost there! Check your inbox.


We sent a verification email. Can't find it? Check your spam, junk, and promotions folder.

Trending in Summit Network