62 Korean Baby Names For Boys That Mean Strong, Successful, And Great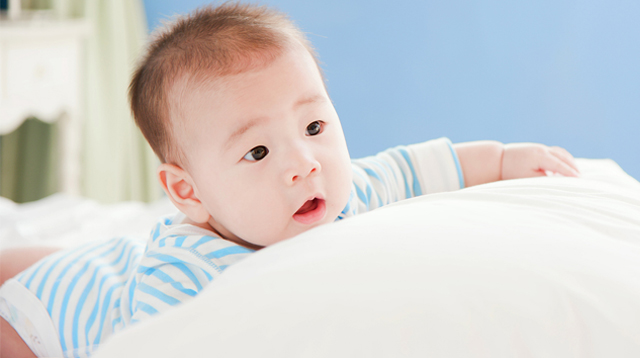 For parents who are welcoming a new bundle of joy, finding the perfect baby name feels like a special mission. They're always looking for beautiful meanings behind the names, as it signifies their hopes and dreams for their little one. (We have a number of suggestions here.) For those expecting a baby boy and want something unique, why not try Korean names for boys? These are worth a try because they usually center on positive traits and the beauty of nature.

62 Korean names for boys with beautiful meanings

Korean given names are typically made up of two syllables. The first syllable is shared by everyone of the same generation in the family, while the second is unique to the individual (for example, siblings will share the first syllable 'Bong' but will have different second syllables in their names, like Bong-soon and Bong-ki).

Each syllable also has a different meaning depending on the hanja (the Korean name for Chinese characters) used to write it, but some modern Korean names already use Hangul (the Korean alphabet). This is why some names that sound alike might have different meanings. Both will reflect the traits and characteristics that Korean parents would like their children to have.

Here are some of the most popular names for boys that have beautiful meanings. You might even recognize the name of your favorite actors, K-drama characters, and singers! (Looking for Korean baby names for girls? Find it here.)

Baek-hyun

Meaning: Virtuous or good (hyun) older brother (baek)

ADVERTISEMENT - CONTINUE READING BELOW

Bi

Meaning: Rain

Byeong-ho

Meaning: Bright, luminous, or glorious (byeong) and great, numerous, or vast (ho)

Chan-yeol

Meaning: fruitful, profitable

Chang-min

Meaning: Bright, clear, good, or proper (chang); strong, robust, tough (min)

Chung-ho

Meaning: A righteous lake

Dae-hyun

Meaning: Great or honor

Dae-sung

Meaning: Big, great, vast, or large (dae) and completed, finished, succeeded (sung)

Dal-gun

Meaning: Moon (dal) and to construct, strong, or respect (gun)

Do-hyun

Meaning: Virtuous or good (hyun) path

Dong-hae

Meaning: East sea

Dong-wook

Meaning: East or pillar, beam (dong) and rising, sun, brilliance, radiant (wook)

Eun-hyuk

Meaning: silver (eun) and radiant (hyuk)

Ha-joon

Meaning: Summer or great, grand (ha) and talented or handsome (joon)

Ha-neul

Meaning: Heavenly

Ho-jun

Meaning: Tiger, brave, fierce or bright, clear

Ho-seok

Meaning: Commands adoration. The name broken down means, to order, command, or proclaim (ho) and to cherish, adoration (seok)

Hwan

Meaning: Bright

Hye

Meaning: A bright and intelligent man

Hyeon-woo

Meaning: Virtuous, worthy, or able (hyeon) and divine intervention or protection (woo)

Hyuk

Meaning: Radiant

Hyun

Meaning: bright or intelligent

Hyun-ki

Meaning: Intelligent, shrewd, or clever

Hyun-sik

Meaning: The roots of wisdom

In-su

Meaning: Preserving wisdom

Iseul

Meaning: Dew

Jeong-ho

Meaning: quiet, still, gentle, virtuous, chaste, or loyal (jeong) and great, numerous, vast (ho)

Jeong-hyuk

Meaning: Quiet, still, gentle or virtuous, chaste, loyal (jeong) and leather, radiant, abundant, quiet (hyuk)

Jeong-suk

Meaning: Quiet, still, gentle or virtuous, chaste, loyal (jeong) and good, pure, charming (suk)

Ji-hoon

Meaning: Wisdom or intellect; will, purpose, or ambition (ji) and meritorious deed, rank (hoon)

ADVERTISEMENT - CONTINUE READING BELOW

Recommended Videos

Ji-min

Meaning: Wisdom (ji) and the autumn sky (min)

Jong-dae

Meaning: Great bell

Joo-hyuk

Meaning: radiant jewel

Joong-ki

Meaning: The second in order and foundation

Joon-jae

Meaning: king or ruler; talented or handsome (joon) and talent or ability; wealth or riches (jae)

Joon-hyung

Meaning: king or ruler; talented or handsome (joon) and smoothly, progressing, no trouble (hyung)

Joon-woo

Meaning: Handsome (joon) and divine intervention, protection, or rain (woo)

Jung-kook

Meaning: Straightforward, honorable, or patriotic

Kwang

Meaning: Wild

Kyung-soo

Meaning: Bright (kyung) and flowering (soo)

Man-sik

Meaning: Deeply rooted

Man-young

Meaning: Ten thousand years of prosperity

Min-ho

Meaning: Bright and good

Min-joon

Meaning: Quick, clever, or sharp (min) and talented or handsome (joon)

Min-seok

Meaning: Stone resembling a jade (min) and large or great (seok)

Nam-joon

Meaning: Southern direction (nam) and excellent, sharp-minded, and handsome (joon)

Seung-gi

Meaning: Rising from a firm foundation

Sang-wook

Meaning: One who is always well and healthy

Seo-joon

Meaning: Felicitous, omen, or auspicious; unfold, comfortable, or easy (seo) and talented or handsome (joon)

Seok-jin

Meaning: Masterful, very or extremely (seok) and treasure or precious (jin)

Seong-su

Meaning: Completed, finished, succeeded; holy, sacred (seong) and a river in China (su)

Si-jin

Meaning: Begin, start (si) and gold, metal, money (jin)

Si-won

Meaning: Cool; refreshing

Soo-hyun

Meaning: gold, excellence, and virtuous

Sung

Meaning: Successor or one on the verge of winning

Tae-yang

Meaning: Sun

Tae-hyung

Meaning: Peace, prosperity, wonder, or beauty (tae) and smooth, fortunate, flowing, or a rich person (hyung)

Ye-joon

Meaning: Art, talent, or craft (ye) and talented or handsome (joon)

ADVERTISEMENT - CONTINUE READING BELOW

Yeong-jae

Meaning: Glory, honor, flourish, or prosper (yeong) and to rule (jae)

Yong-sik

Meaning: brave or perpetual, eternal (yong) and plant, trees, grow (sik)

Yoon-gi

Meaning: A precious jade

Young-joon

Meaning: Flower, petal, brave, hero (young) and talented or handsome (joon)

Giving birth during the COVID-19 pandemic? Click here for what to expect when you get to the hospital.

What other parents are reading

Celebrate your pregnancy milestones!


Enter your details below and receive weekly email guides on your baby's weight and height in cute illustration of Filipino fruits. PLUS get helpful tips from experts, freebies and more!

You're almost there! Check your inbox.


We sent a verification email. Can't find it? Check your spam, junk, and promotions folder.

Trending in Summit Network