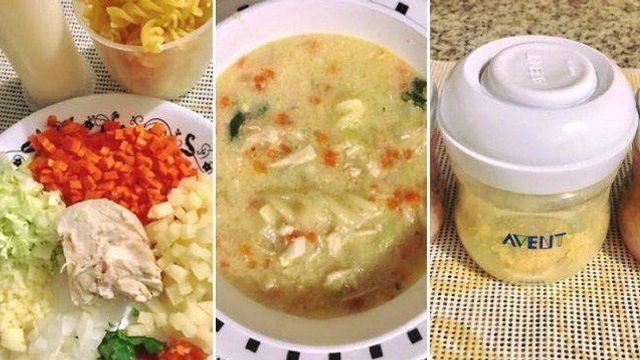 Need ideas for homemade baby food for your little one? We found a little treasure trove of baby food recipes at The Nanay Avenue Facebook page! The album, "Ceana's Complementary Feeding Recipes," has over 20 recipes for babies who are already munching on solids -- from purees and mashed food to rice and pasta dishes.

According to the World Health Organization, you add "complementary foods" to a baby's diet when breast milk is no longer enough to meet his nutritional needs. "The transition from exclusive breastfeeding to family foods, referred to as complementary feeding, typically covers the period from 6 to 18-24 months of age."

Cherdyn Mojica runs The Nanay Avenue and is mom to 10-month-old Ceana Erin. She works in shifts as a full-time medical technologist at a major hospital in the metro, which makes her baby food adventures even more impressive! 

Some of the ones we're excited to try are miswa con patola for babies, banana oats pancake, suam na mais for babies, and crunch berry-bana baby ice cream. You'll be able to find the recipes for a few of these below. (Thanks, mom!) 
"I usually cook when I'm off duty," Cherdyn told SmartParenting.com.ph in an email interview. Sometimes, she makes a big batch and divides it into smaller portions to store in the fridge. She does the bulk cooking for porridge, veggie frittatas, and fruit snacks (like fruity popsicles!).

"The rest of my recipes, I prepare them to be consumed within the day especially for those with eggs, milk, tomatoes, and cabbage. Mabilis kasi mapanis," she said.

Cherdyn also uses breast milk in some of her recipes because she still nurses Ceana. But other alternatives are also available, she said.
Aside from ingredients and cooking instructions, you'll also be able to find useful tips on the Facebook recipes album. Cherdyn shares that she uses JML 3-in-1 Juicer Blender and a mortar and pestle, which is more affordable than a food processor, Cherdyn adds. Cherdyn uses the mortar and pestle for mashing fruits and veggies, and it also comes with a removal grater. Make sure to have a separate mortar and pestle for your baby food.

In a pasta recipe, Cherdyn revealed that she gets malunggay noodles from Eng Bee Tin. (Smart Parenting tip: You can also order them from a Pinay mom who hand-makes them at home. Read her story here.)
Ceana is a preemie, and her mom and dad went through a lot to have her in their arms. "I am an APAS mom and had a complicated pregnancy, and Ceana is a rainbow baby (the common term for a baby after a miscarriage)," Cherdyn shared. 

"Our baby is so precious. We experienced a lot of struggles to have her, and I promised to God if He gave me Ceana I will do my very best to be a good mom. Aside from breastfeeding, I think hands-on cooking of complementary foods is the least I can do," she continued. 

The mom started feeding solids to Ceana at 5 months old and baby-led weaning at 8 months old. Cherdyn said her daughter is not a picky eater. "I think 'yun ang namana niya sa akin -- katakawan!" Cherdyn also makes sure that she gets an okay from Ceana's doctor before including any kind of food in a recipe. 
Mom & Daughter's favorite #ginisangampalaya
#BWL#10mosCeana🌈#expzphilippines#carrieandMeBaby

Posted by Cher Dyn on Thursday, July 20, 2017
The mom is also grateful that everyone in the family comes together to make sure Ceana eats healthy and well. Dad finds ways to make sure they always have ingredients for their little girl's meals, and her parents and in-laws supply them with veggies whenever they can.

Cherdyn's best tip for finding fresh ingredients for your little one? Have a suking tindahan. She always goes to the same fruit vendor because "she knows I'm documenting complementary baby foods and she's very kind to give me discounts." 

It can be tough making homemade baby food, said Cherdyn, but it's worth it. "Our schedules are always so busy, and it's so challenging to be a hands-on parent. But I think the assurance that I'm giving my baby nutritious and healthy food is the best thing about being able to make her homemade meals."
Here are a few of mom Cherdyn's homemade baby food recipes. More can be found at The Nanay Avenue Facebook page. 

Miswa con Patola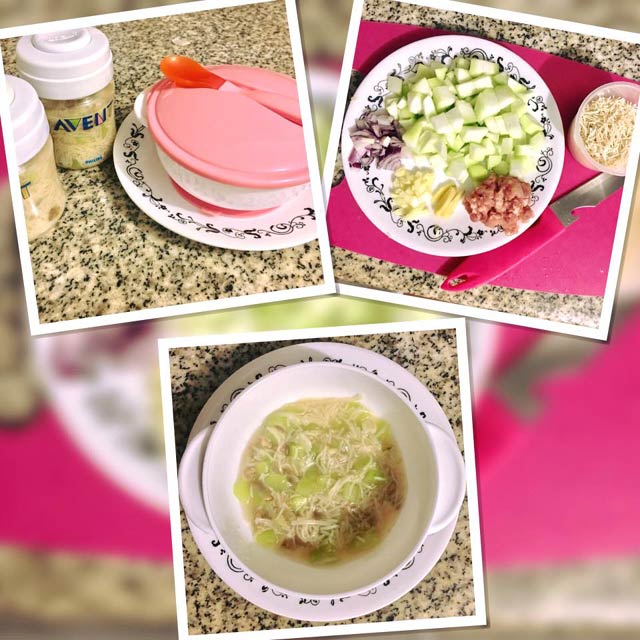 First tried by Ceana at 9 months old
Makes 3 servings
1/2 patola cut into small cubes
1/4 or 1/2 cup miswa noodles cut into small pieces
1/4 onion
1 small garlic
1 small ginger (remove when served)
1 tbsp ground beef
1 cup water
1 tsp olive oil
1 beaten egg yolk (optional)
1. Saute garlic, onions, ginger. Add ground beef until brown.
2. Add patola cubes and water. Boil then add miswa noodles until cooked.
3. Serve with brown rice.


Ceana's Power Puff Porridge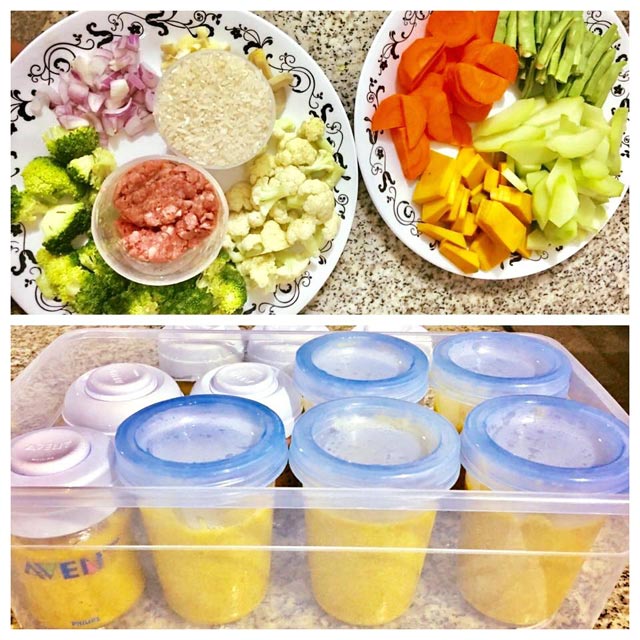 First tried by Ceana at 8 months old
Makes multiple servings when stored properly (only up to 2 days in the fridge and up to a week in the freezer, as recommended by Cherdyn)
1 cup serving each of preferred vegetables (e.g. broccoli, cauliflower, carrots, squash, chayote and string beans)
1 1/2 cup of rice grains
1 cup ground beef
small size onion, garlic, ginger
1/2 tsp olive oil
1. Wash all vegetables thoroughly, cut into small pieces then steam.
2. Saute ground beef, onion, and garlic in olive oil.
3. Combine rice grains, ginger, and water to make a porridge. Remove ginger when cooked.
4. Mix the sauteed ground beef in the porridge.
5. Blend all together (steamed veggies + porridge) until smooth.
6. Store properly. 
Crunchy Berry-Bana Baby Ice Cream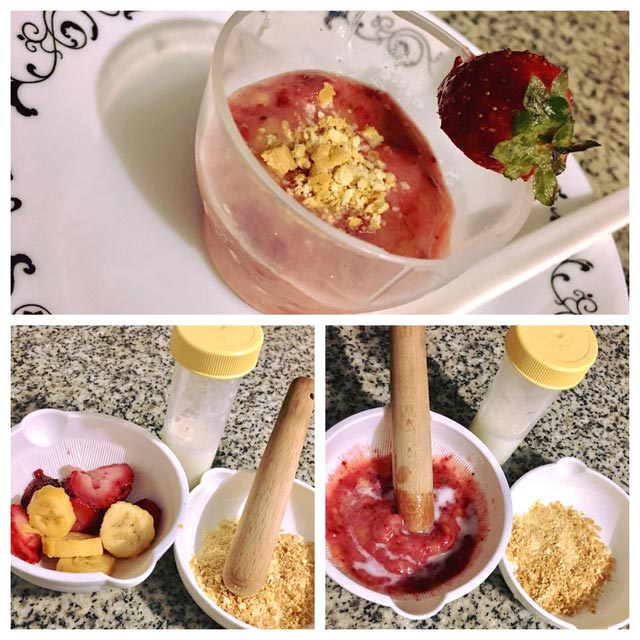 First tried by Ceana at 6 months old
Makes 1 serving
3 reg size strawberries
1/4 banana (lakatan)
10 ml cold breast milk
1/4 crushed baby biscuit
1. Freeze sliced strawberries and banana in an airtight container overnight
2. Mashed the frozen strawberries and banana
3. Combine with crushed baby biscuit, and serve right away

Baby Mojos in Rolled Oats Breading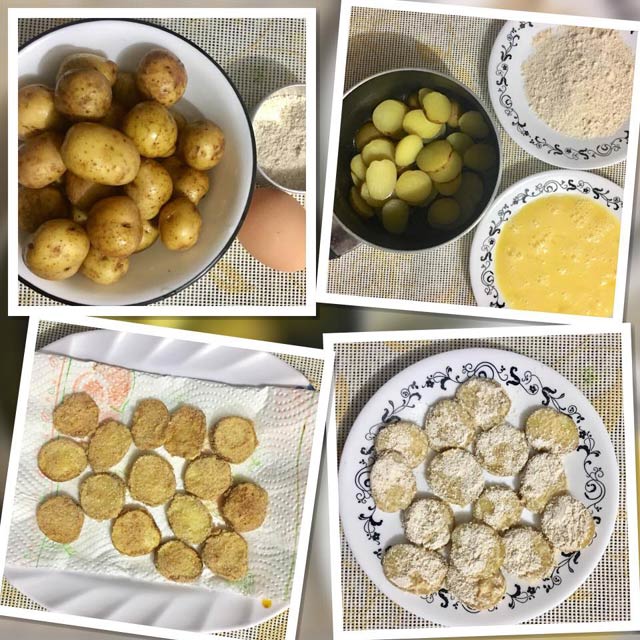 First tried by Ceana at 10 months old
Potatoes, thinly sliced
Homemade rolled oats flour (grind oats and pass through a sieve) 
1 egg
1/2 cup olive oil
1. Boil the potato slices.
2. In a bowl, whisk the egg.
3. Dip potato slices into the whisked egg.
4. Coat potato slices with rolled oats breading and deep fry in batches for 3 to 4 minutes. 

Here's a photo of the mom-and-baby duo. Find more of Cherdyn Mojica's baby recipes at The Nanay Avenue on Facebook.