Get Your Newborn's Birth Certificate in 5 Easy Steps. Plus, How to Apply Online

It's possible to get your child's birth certificate a month or two after birth.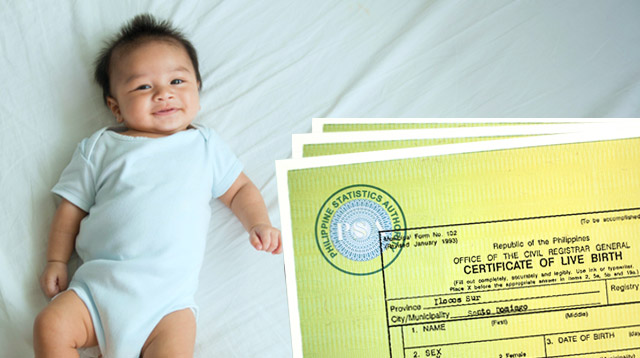 One of the most important documents you'll need for government transactions is your birth certificate. It is considered a primary proof of identity and is needed in passport applications, claiming of SSS benefits, driver's license applications, etc. You'll also need to present one if ever you get hired for a job. Fortunately, you can easily get a birth certificate via  Philippine Statistics Authority (PSA) or  National Statistics Office (NSO) online application.

The NSO used to be the agency responsible for collecting, producing and publishing general statistics, as well as archiving data on live births, deaths, and marriages. They also fulfill servicing requests for copies and certifications of these documents.

In 2013, the PSA was formed, merging different agencies including the NSO, National Statistical Coordination Board, the Bureau of Agricultural Statistics, and the Bureau of Labor and Employment Statistics. Part of their function is to enforce civil registration functions in the Philippines.

What other parents are reading
How to apply for a birth certificate for a newborn 
It can take up to six months for parents to receive their child's birth certificate, but if you are willing to do the legwork, you can get a certified true copy of your child's birth certificate from the PSA in less than a month.
That was the experience of mom  Sheena Arai who runs the blog, Binibining Cinnamon. She was able to process her son's birth certificate right away because she wanted her son to have her citizenship as Filipino and his dad's, which is Japanese.
ADVERTISEMENT - CONTINUE READING BELOW
"We needed to register him for Japanese citizenship within three months after birth, and some parents get their child's birth certificate in six months! Major anxiety talaga. I didn't want to take the risk. Nag-aalala kami ng husband ko baka pag hinayaan namin yung hospital mag-process, we would lose the chance to register Kai's Japanese citizenship," she told Smart Parenting via an e-mail interview.
According to her blog, the process of securing a birth certificate for your newborn is as follows:
1. Compile medical records.
Fill out the form with your child's information. This is done in the hospital where you will give birth. You'll then receive a copy of your baby's Certificate of Live Birth. Sheena notes that this is just a copy and cannot be used in any legal process.
2. Registration at the Local Civil Registry.
Whether the childbirth is at home, in a clinic, or a hospital, the forms for the certificate of live birth must be submitted to the Local Civil Registry. Make sure to do this within 30 days from the time of birth because delayed registration will require additional requirements.
If you give birth in a hospital or clinic, the medical personnel are responsible for forwarding the filled-up form to the Office of the Civil Registrar of the municipality where the birth occurred. If you give birth at home, the doctor, nurse, midwife, your partner, or anybody who attended to the delivery of the child shall be responsible both in certifying the facts of birth and the registration.
CONTINUE READING BELOW
Recommended Videos
3. Get your child's Certificate of Live Birth stamped.
After receiving a certified true copy of the Certificate of Live Birth, you can go to your city or municipality's City Health Office and have it stamped and authenticated. You can then apply for advance endorsement and go to the PSA after 3-4 days. Click here to find the PSA Serbilis Center nearest you.
4. Apply for a birth certificate.
The advance endorsement means requesting the Local Civil Registry to endorse a copy of the birth certificate to the PSA ahead of the regular schedule of submission of civil registry documents. Expect to be charged a fee for this service.
After securing the endorsement, you may follow up the status of your application with the number provided by the PSA.
5. Release of birth certificate.
After being informed that your child's birth certificate is ready, proceed to the PSA in your city or municipality for claiming.
How to apply for a birth certificate online
Alternatively, you may request a copy to be delivered to you via the NSO online service. The PSA Serbilis website also facilitates requests for marriage certificates, death certificates, or CENOMAR (Certificate of No Marriage Record).
Step one
Fill out the NSO online application form here. You will be asked to enter the following information:
Your name
Your delivery address (with zip code)
Your telephone number
Your valid email address
For birth certificate requests, you will also be required to supply the following information:
Number of copies you are requesting
Name
Sex
Place of birth
Date of birth
Father's name
Mother's maiden name
Date of registration, if the birth certificate was late registered
Purpose of your request
Your relationship with the birth certificate owner
ADVERTISEMENT - CONTINUE READING BELOW
Note: As per The Child and Youth Welfare Code (Presidential Decree No. 603), birth records cannot be released to you without proper authorization. Make sure you are the parent or legal guardian and provide proof of identity when claiming the certificates.
Step two
After completing your online application, you will receive a Batch Request Number and a Request Reference Number for each request. When paying for all requests in the batch, specify the Batch Request Number. When paying for a particular request only, specify the Request Number.
Fees are Php330 per copy of birth, marriage, or death certificates. For CENOMAR, fees are Php430 per copy.
You may pay via credit card during the NSO online application or through accredited payment channels including Banco de Oro branches, UnionBank branches, and Bayad Centers. You can click here for the full list.
Step three
Wait for delivery. Documents will be delivered via courier within three to 13 working days after payment, depending on your delivery address and the type of document. Birth certificates in Metro Manila take up three to five working days after payment, while birth certificates in other cities or provinces within the Philippines can take up to four to nine working days after payment. For international destinations, allow six to eight weeks delivery after payment.
How to get a birth certificate in one to two working days?
Instead of going through an NSO online application, you are advised to apply in person at the PSA Serbilis Center nearest you.

Trending in Summit Network