Follow These Safety Tips if You Want to Sleep With Your Baby on the Same Bed

Experts remind U.S. parents to practice safe sleep after infant suffocation deaths rise.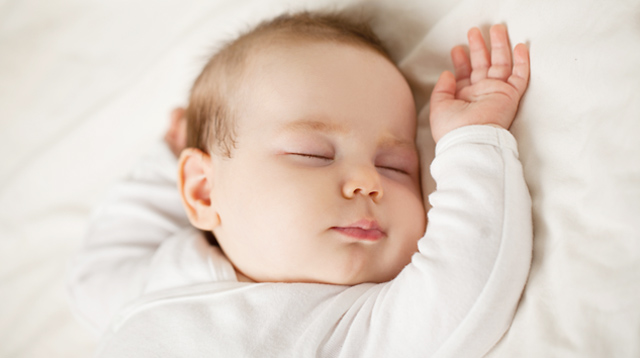 The American Academy of Pediatrics (AAP) recently published a study that found soft bedding "like a blanket or a pillow" as the leading cause of Sudden Infant Death Syndrome (SIDS) in the United States, responsible for 250 cases of infant suffocation deaths between 2011 to 2014. The median age of death was 3 months old with most accidents occurring at home.

Apart from soft bedding, there were two other causes of suffocation deaths: overlay, when another person rolls onto or against the infant, and wedging, when an infant is trapped between a mattress and wall. Many of these accidents happened when babies were lying on their stomachs or side or were sleeping on an adult bed.

According to data from the Centers for Disease Control and Prevention, the number of infant deaths in the US classified as Sudden Unexpected Infant Death has remained relatively flat since 1999. However, SUID cases attributed to suffocation have dramatically increased, at least partly due to changing diagnostic preferences and improved death investigations.

What other parents are reading

A safe sleep setting for your baby

The AAP reiterates that the deaths could have been prevented with safe sleep practices. This includes:

Sleeping alone and on their back
A sleep surface like a safety-approved crib with a firm mattress and tight-fitting sheet
A sleeping space clear of pillows, blankets, crib bumpers, stuffed toys, and other soft items

Some parents think that infants are more comfortable sleeping on their stomach, however, experts disagree. "That advice was abandoned because of the observation that the prevalence of SIDS was very low among those babies who slept on their back, and higher among those who slept in their stomach," said Dr. Philip S. Chua on the Cebu Doctor's University website.

Parents should also be wary of sleep accessories that can pose additional risks to your baby. Baby loungers, which are often marketed as co-sleepers, are not safe for baby to sleep in because of their soft surfaces and the pads surrounding the sleeping area. This goes against AAP's safe sleep recommendations. "Soft bedding is actually really a problem because it's so soft, they sink into it. People will often use pillows to 'cushion' the babies, and babies sink into them," says pediatrician Dr. Rachel Moon, the lead author of the AAP safe sleep guidelines and chair of the Task Force on SIDS.

Baby bouncers and sleepers may help fussy infants fall asleep faster, but it is also attributed to sleep-related infant deaths in the US, due to babies rolling over from their back to their stomach or side while unrestrained and suffering from asphyxia. The AAP also does not recommend bouncers, car seats, strollers, or other devices for prolonged or nighttime sleep "because of the risk that a baby could roll over or turn into an unsafe position and be incapable of moving." This can lead to accidental suffocation or strangulation.

ADVERTISEMENT - CONTINUE READING BELOW

What other parents are reading

Can you co-sleep safely?

The AAP recommends that parents avoid co-sleeping with babies "preferably until the baby turns 1 but at least for the first six months." However, you'll find more Filipino families preferring to co-sleep even when their kids are old enough to sleep on their own.

Dr. James McKenna, an expert on international mother-infant co-sleeping and SIDS, believes that co-sleeping has its own share of benefits. (A recent survey showed adults who had a history of co-sleeping with their parents had higher self-esteem and less guilt and anxiety.) However, Dr. McKenna has very specific guidelines for parents who will choose to sleep with their babies in the same bed, and number one is that adult beds were not designed to assure infant safety.

What other parents are reading

If you would like to co-sleep with your baby in the same bed, Dr. McKenna has a few bed-sharing reminders:

Both you and your partner should agree and feel comfortable with co-sleeping.

Since one of the leading causes of infant deaths is an overlay, it is important that both parents are aware that their baby is present in their bed space. "Do not place an infant in a bed with a sleeping adult who is not aware that the infant is present in the bed space," says Dr. McKenna.

Avoid letting older siblings sleep on the same bed as your baby.

They do not have the same awareness of the baby as parents, especially if they are asleep.

Always tie your hair.

Moms (or even dads) with long hair should keep their hair up to prevent infant entanglement — there have been reported accidents of infants accidentally being strangled by human hair. Hair tourniquet, a medical condition wherein a strand of hair wraps around a body part and cuts off circulation, may also occur.

CONTINUE READING BELOW

Recommended Videos

Don't sleep with the baby if you are unable to arouse easily from sleep.

This includes parents who are taking sedatives or medication or are intoxicated from alcohol or other substances. Similarly, if you find it difficult to feel where exactly or how close your infant is when on the bed, you may consider letting her sleep on a co-sleeper attachment.

Don't blame yourself or each other for any accident that may occur.

Since both you and your partner have made the decision to co-sleep, Dr. McKenna offers a gentle reminder: "Just as babies can die from SIDS in a risk-free solitary sleep environment, it remains possible for a baby to die in a risk-free co-sleeping environment."

What other parents are reading

Celebrate your pregnancy milestones!


Enter your details below and receive weekly email guides on your baby's weight and height in cute illustration of Filipino fruits. PLUS get helpful tips from experts, freebies and more!

You're almost there! Check your inbox.


We sent a verification email. Can't find it? Check your spam, junk, and promotions folder.
Trending in Summit Network