Practical Guide For Teaching Your Kids About Sex: Loving Your Own Body And Crushes

Remember that the way kids see themselves and others starts with what they see their parents model or say is acceptable behavior.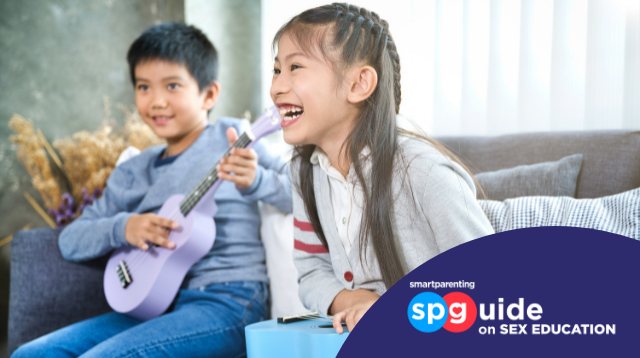 Smart Parenting Guide on Sex Education seeks to empower parents in raising informed tweens and teens who understand their body and their rights with the goal of protecting them from all kinds of sexual abuse. Smart Parenting resident sex education expert, Dr. Rica Cruz is a US-board certified sexologist, a sex and relationships therapist. Together with tween daughter Caia Miella, Dr. Rica, navigates the realities of sex in the eyes of today's teens and tweens and aims to foster honest and healthy conversations between parent and child. 

The following story is the second part of a series by Dr. Rica Cruz and Caia Miella on practical tips for teaching kids about sex. It includes puberty and periods, loving your body, talking about sexuality, and condoms.

Liking your body starts when you're young

Rica: It's important to help your child develop and maintain a healthy body image as they literally, grow up. Media has come a long way in the body positivity movement but some children might not understand how to come to terms with their changing body. 

'The way we talk about our bodies or other people's bodies around our children can also affect how they view themselves. 

For example, weight gain is natural for both boys and girls during puberty, but they may equate it with "getting fat" instead of just "growing up". The way we talk about our bodies or other people's bodies around our children can also affect how they view themselves. 

In our culture, relatives often greet kids by saying "oh ang taba mo na, or oh pumayat ka na" and this has to stop. This has a profound effect on self-esteem and sometimes even self-worth. Although the comment may not have been ill-intent, it is certainly more harmful than it is helpful. And it's best to be on your kids' side when they hear comments like these.

ADVERTISEMENT - CONTINUE READING BELOW

RELATED: 'Limit SocMed Access' At Iba Pang Paraan Ng Mga Nanay Para sa Healthy Body Image Ng Anak

As long as your children are growing up healthy, there is no reason to put them on a diet or force them to exercise to look a certain way. They need to learn to be okay with their bodies changing, and you as parents need to be okay with it, too. 

Greetings like 'O, ang taba mo na!' has a profound effect on self-esteem and sometimes, self-worth.

Caia: For me, I still don't like my body sometimes. Whenever I think about it, I go through thoughts of "everyone can be different," I am myself. But other times you can want to change your body for yourself, and that's fine! 

Changing your body, for me, is fine. And if you are liking the changes you've done to achieve what you like, whether you change to a male/female, etc. Great! 

It's your body and you decide what to do with it. 

Crushes are part of being a kid

Rica: If your child has a crush, that's nothing to worry about. Having a crush can actually be good practice for the future as it can teach kids a lot about themselves and their feelings. 

These childhood crushes can help children explore their romantic feelings before they are ready for romantic relationships. They can also learn to cope with emotional challenges such as how to react when their crush doesn't like them back. 

RELATED: How to Stay Cool When You Hear "I Have a Crush" from Your Tween

CONTINUE READING BELOW

Recommended Videos

While having a crush sometimes means obsessing over the object of desire (knowing their favorite color, things, food, music, etc), sometimes crushing can go too far. Remind kids that there is a respectful way to admire and crush on another person. 

'If your child tells you about their crush, listen openly and try not to laugh or dismiss their feelings.

Emphasize the values of consent and respect. If your child is on the receiving end of the crush, teach them how to express their boundaries and how to advocate for themselves. As early as now, teach them how to accept a 'no'. Do not perpetuate the narrative that 'persistency is key'. If someone declines their affections, teach them to accept it and move on. 

If your child tells you about their crush, listen openly and try not to laugh or dismiss their feelings. You'll want them to feel comfortable opening up to you and reacting negatively could scare them or make them feel like they can't open up to you in the future. 

RELATED: All Dads Can Relate to Aga Muhlach's Reaction to Atasha Having A Crush

Caia: Crushes, for me, are a normal part of growing up. I think I had my first crush when I was 5. My Mama even has a video of me telling her that I had a crush on a boy in school. And we all just laugh about it. 

I remember when I was younger my friends would have crushes on each other, I remember I had one childhood friend who had a ton of people having crushes on him. 

ADVERTISEMENT - CONTINUE READING BELOW

Sometimes why I have a crush is because I like the idea/looks of the person, other times it's because the person is someone that I have talked with for a ton of time and the person has grown on me. 

Sometimes I have crushes on fictional characters, which is normal. Unless it affects a part of your life. You can have crushes for different reasons. You can have multiple people you like. 

I believe crushes can sometimes help us understand the qualities of a person you like, what qualities you don't like, and if by appearance what do you like in how someone looks.

READ MORE FOR SMART PARENTING'S GUIDE ON SEX EDUCATION:

Celebrate your pregnancy milestones!


Enter your details below and receive weekly email guides on your baby's weight and height in cute illustration of Filipino fruits. PLUS get helpful tips from experts, freebies and more!

You're almost there! Check your inbox.


We sent a verification email. Can't find it? Check your spam, junk, and promotions folder.
Trending in Summit Network