Aubrey Miles Blamed Herself For Daughter's Autism: 'What Did I Do?'

The celebrity mom says she's happy now that she and her husband Troy can talk about it openly because it used to be hard for them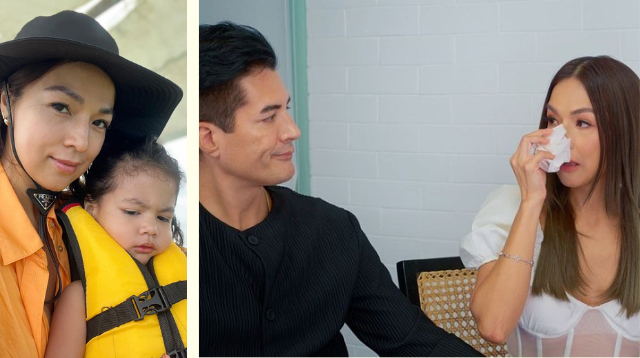 Aubrey Miles said she'd always noticed something was different with their youngest child, Rocket Miller, especially because she'd already raised her two older brothers.

"I have two kids so alam ko yung development ng kids, she explained in a recent guesting at Toni Talks uploaded on July 10, 2022.

"So, with her, sabi ko parang may iba siya. She doesn't acknowledge her name. Ayun yung first, said Aubrey. One of the signs of autism in children is not responding to their name.

"When I say 'Rocket,' sige, sabi ko baka naman sa two [years old], she doesn't look." It was on April 26, 2022 when Aubrey and Troy shared with their followers that Rocket has ASD or Autism Spectrum Disorder.

RELATED: Aubrey Miles On Signs Of Autism In Daughter Rocket: 'No Proven Reason, Can Just Happen'

Troy Montero said that despite noticing Rocket was different, it still wasn't easy to hear. "Parang we got punched kasi it's official na nga, he said.

"Although may feeling na there was really something, but once it's official, it's like, 'Oh, wow! It took us how long for it to sink in."

Aubrey gets real with Toni and admitted what many moms of children with ASD likely felt in the immediacy of their daughter's diagnosis.

"You want to blame yung sarili mo kasi as a mom, parang, 'Ako ba ito?'

When Toni followed up to ask if she blamed herself, Aubrey immediately answered "Yes.

"Ako ba 'yan? What did I do? Yung genes ba namin? She remembers thinking back to her pregnancy and whether or not she did something that might have harmed Rocket's development in utero.

ADVERTISEMENT - CONTINUE READING BELOW

"Sabi ko, 'Bakit? Hindi naman ako nag-diet noong time na iyon.'"

Healthline says the exact cause of ASD is still unknown and that "the most current research demonstrates there's no single cause."

'If this is autism, I'll be okay with it'

Since Aubrey and Troy have shared their family's autism journey on their accounts, the Millers have continued to talk openly about Rocket's development.  

On May 24, 2022, Aubrey shared that Rocket just learned to call her mama and that she has started to look at other kids in the eye. (Eye contact is a challenge for children with ASD.) She was also getting better at routines.

RELATED: What Is Autism Spectrum Disorder? Its Range Of Symptoms Including Patterns of Behavior

Troy said in the interview, "After the diagnosis, for me, I was thinking, you know, she laughs, she plays with us.

"She's still a breath of fresh air. And when you see her, she's so happy. He added, "And I'm, like, if this is autism for us, I'll be okay with it. She's happy."

Rocket's older brothers Maurice and Hunter understand and accept Rocket's diagnosis. And just as Aubrey has shared on her Instagram, she also said in the interview that Rocket has made their family stronger. 

"This little person here gave us a whole different meaning to life, Aubrey wrote in a recent Instagram post. "What's more important and what truly matters.

CONTINUE READING BELOW

Recommended Videos

Though Aubrey and Troy are able to post about their autism journey and do interviews, the mom of three cried at the interview because she realized that it wasn't always like this. Like most parents receiving diagnosis for the first time, it was hard to talk about openly.

"I'm crying because we can say it, kasi before parang it was so hard.

She adds, "Sabi ko, 'Nakakahiya ba yun na baka [kung anong sabihin nila]?' Now, I'm happy that I'm open and I'm, like, 'You know what? We can do this.'"

RELATED: Engaged And Living The Island Life: Aubrey Miles, Troy Montero And Kids Live In The Beach For A Month

Dealing with parental guilt about a child's diagnosis or special needs

It's never easy for parents to hear news about their child, whether it's a diagnosis, confirmed disability, or any special need. Here are three things to remember for parents who have just received a diagnosis about their neurodivergent child:

1. All your feelings are okay.

"Many autism parents tend to grieve when their child is first diagnosed with autism. Even if you expected your child is on the autism spectrum, says Dr. Tasha Oswald, a trained developmental and clinical psychologist and founder of Open Doors Therapy in a message for autism parents on January 22, 2021. 

Dr. Oswald says a diagnosis can bring up feelings of fear and worries about your child's future. "It's hard to imagine your child experiencing challenges or difficulties in life. As parents, you want what's best for them. And you'd likely do anything to take away the pain.

ADVERTISEMENT - CONTINUE READING BELOW

If you find yourself wondering if your child can lead an independent life, make friends, or have romantic relationships, know that your questions and thoughts are normal. All your emotions are valid and understandable.

2. Live by the saying: Comparison is the thief of joy.

This popular saying can be applied for both children on the spectrum and parents of children on the spectrum. "The life of an autism parent can sometimes feel very lonely. Especially if you compare your child with neurotypical children, says Dr. Oswald.

She adds, "Comparing your child to others can cause you to feel a variety of negative emotions that are ultimately unhelpful and unproductive.

RELATED: How the Proposed Autism Care Bill Can Help Filipinos on the Autism Spectrum

Dr. Oswald encourages autism parents to embrace your child's uniqueness and celebrate their neurodiversity. It won't happen overnight and not all moments in your family's autism journey will feel like a gift, and that's okay. Autism or not, not every moment in parenting is enjoyed by a parent. 

Autism parents can still celebrate their child's uniqueness while also dealing with grief at the same time.

3. Find support for yourself.

"It's okay to experience a myriad of emotions surrounding your child's ASD diagnosis. After all, you probably did not envision neurodiversity in your child's future, says Dr. Oswald.

"Offer yourself self-compassion," she says, "and find support to help you navigate these emotions and the challenges you as their parent are facing.

ADVERTISEMENT - CONTINUE READING BELOW

RELATED: Raising Two Sons With Autism: Small 'Champagne Moments' Give Us Strength

Many parents will immediately get to work at what their child needs and set aside their own needs but as Dr. Oswald reminds, autism parents must take care of their mental health in order to be "in the best shape to help your child."

Again, much like comparison, taking care of oneself in order to parent your child applies to all–diagnosis or no diagnosis.

READ MORE ON AUTISM:

Celebrate your pregnancy milestones!


Enter your details below and receive weekly email guides on your baby's weight and height in cute illustration of Filipino fruits. PLUS get helpful tips from experts, freebies and more!

You're almost there! Check your inbox.


We sent a verification email. Can't find it? Check your spam, junk, and promotions folder.
Trending in Summit Network