These Brothers With Autism Have Had Public Meltdowns: The Right Thing to Say if You Witness It

A little sensitivity goes a long way with parents who have children with autism and special needs.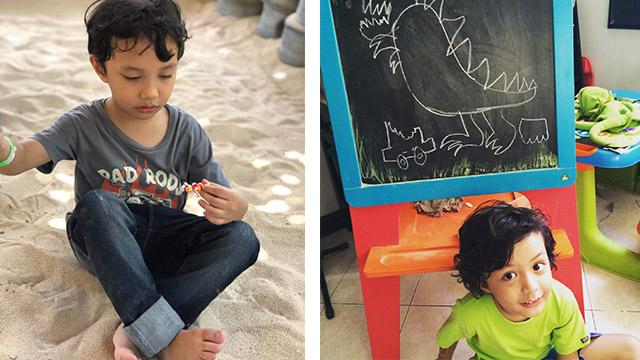 Diane and Gabe, who are raising two sons with autism (read their story here), know many people don't fully understand what it is like to have children with special needs or even grasp what autism spectrum disorder is.

The couple says, "To be honest, we don't mind if they ask questions! If there is anything we can do to clarify the situation to make them understand more, or empathize more, then it's okay to ask. Then we won't feel like we're being defensive or over-explaining something they don't really want or care to hear about."

If they are in public place and one of their boys have a meltdown, Diane and Gabe are forthright and transparent with statements like "Oh, he doesn't like fireworks," or "He gets scared when dogs are near him."

But Diane is quick to declare, "We never say 'Oh, it's because he's autistic.' I wouldn't want [my sons] to feel that their autism is what defines them. We all have certain likes or dislikes, things we are afraid of or find weird, or things that make us feel excited, just like anyone else. They just react differently."

"Most people who personally know us are already aware of our kids' condition. For the other people present during a meltdown, we rarely explain what's going on because truthfully, it's difficult," Gabe candidly admits, "Sometimes I am unaware as to what triggered the meltdown!"

What other parents are reading

When asked about the best way for people to respond when they encounter special-needs kids going through a meltdown, this hands-on father has this to say: "Personally the best way for people to respond is not to turn it into a bigger spectacle. [It's like] the way other cars slow down to look at an accident. It causes more traffic. No need to stop and stare."

ADVERTISEMENT - CONTINUE READING BELOW

Just like any set of parents, Gabe and Diane feel joy when their children are included when kids play together and are happiest when they see other children enjoy playing with their sons.

"Sometimes it may be a small thing, but it shows how the child is raised in an environment where there is a kindness. Even for us, we pray that we model kindness in our boys."

Nate, 7, tries his hand at drawing which happens to be his big brother's favorite thing.

PHOTO BY

courtesy of the author

What other parents are reading

Here are simple yet heartfelt responses Diane and Gabe appreciate as parents of special-needs kids

"We appreciate it when those around us show patience like not showing their irritation or 'nagpaparinig'"
"Since we know how best to handle a situation like a meltdown, it's okay to ask, 'Is there anything we can do?' But sometimes, just giving us space and time to deal with things helps a lot."
"Just interceding with the simple things like picking up something the kids may have knocked over or holding on to a bag that got forgotten in the middle of the chaos is already a big help."
"I appreciate it when I see other parents actively watching over their kids.  It just increases the overall sense of comfort in a play place."

CONTINUE READING BELOW

Recommended Videos

And here are the things that cause pain and unnecessary stress for parents of kids with special needs

"Honestly, what hurts more are the things unspoken. The disapproving shake of a head. The blank stare while my son is shouting in public. These probably hurt more than words spoken out of ignorance," Gabe reveals.
"Don't try to diagnose as if autism were a sickness."
"Saying things like 'Do you think this caused it?' or 'Does it run in your family?' or 'Maybe it was this…' isn't helpful because there are still a lot of things we don't know about autism, and it puts a lot of guilt and unnecessary burden. For me, I tend to overthink and blame myself, and I know a lot of mothers naturally tend to do this too," Diane pours out.
"Don't dismiss or belittle us when we share. Sometimes it takes a lot of courage to share that our kids have been diagnosed to be on the spectrum, and it hurts when we encounter statements like 'Oh, you're just imagining it!"
"Don't say 'Back in my day, there was no such thing as…" Just because we don't have a name for specific conditions in the past doesn't mean it doesn't exist. Doctors didn't know about a lot of things back then. With the help of advancements in research and technology, they now get to diagnose and introduce early intervention."
"Don't say 'They invent so many conditions now just to make more money! They're just being kids!' This makes us feel like you think we are wasting money for an imaginary condition. That all the hours and expenses we spend on helping our kids reach their developmental milestones, overcoming challenges, and celebrating their successes, is just one big scam."

ADVERTISEMENT - CONTINUE READING BELOW

What other parents are reading

You are likely to find Ralph donning a pirate costume or holding props like that of a scientist.

PHOTO BY

courtesy of author

Gabe and Diane know what it is like to celebrate the ordinary because, for their boys, it is an extraordinary feat to overcome struggles that come with their condition. And every day, these parents put their shoulders to the wheel and work hand-in-hand as a couple to help their children face the world that is not always understanding. They take time to translate the world for them when they need it.

The couple implores others not to be afraid to ask questions. Gabe couldn't be more emphatic. "We're more than happy to educate or demystify some of the incorrect assumptions about the condition. When something beyond our control happens, it's nice to hear 'It's going to be okay, it wasn't that bad.' Even if it was."

ADVERTISEMENT - CONTINUE READING BELOW

"We appreciate it when those around us show patience like not showing their irritation or 'nagpaparinig'"

Diane leaves everyone with a message about how to show more empathy and understanding for children with autism. As a hands-on mother and partner to her husband, she too only wants the best for her children, just like any other parent.

"Don't be afraid to ask specific questions because by knowing more about my children, that means you will make fewer assumptions and you will not pass judgement.

"Ask me what they love to do, what makes them cry or shout in fear, what their favorite toys are. The more you get to know my kids, the more you'll see that yes, autism is one part of who they are, but there are still so many other wonderful parts that make them truly whole.  They are special and unique, and it isn't because they are on the spectrum."

Adrienne Sarmiento-Buenaventura is a freelance writer and songwriter, with two professional albums as a singer/recording artist. She is a staunch advocate of Original Pilipino Music and hands-on parenthood. She sings with her band AdJunDie and is a worship leader at church. She loves creative collaboration, quirky vintage finds, poetry, a well-prepared meal, and traveling with her husband and two children.

What other parents are reading

Celebrate your pregnancy milestones!


Enter your details below and receive weekly email guides on your baby's weight and height in cute illustration of Filipino fruits. PLUS get helpful tips from experts, freebies and more!

You're almost there! Check your inbox.


We sent a verification email. Can't find it? Check your spam, junk, and promotions folder.
Trending in Summit Network