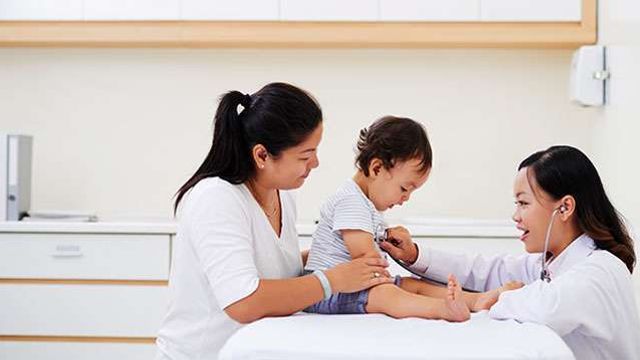 Developmental pediatrics deals with developmental, learning, or behavioral difficulties in children, as defined by the American Academy of Pediatrics. A developmental pediatrician is the doctor you see if your child has been diagnosed with autism spectrum disorder, attention deficit hyperactivity disorder (ADHD), sensory impairments, language disorders, intellectual disability, cerebral palsy, and spina bifida, among others.

At every check-up, your child's doctor checks if there are issues in your child's social, speech, and motor development. It is why Dr. Marcelino Reysio-Cruz III, a developmental pediatrician who holds a clinic at Capitol Medical Center in Quezon City, refers to general pediatricians as the "front-liners" — they are the first medical professionals to inform parents that their child needs to be evaluated and screened by a developmental pediatrician.
"Developmental delays can be detected at any age, which is why your pediatrician conducts developmental surveillance at every well-child visit," Dr. Reysio-Cruz, a diplomate and a fellow of the Philippine Pediatric Society and the Philippine Society for Developmental and Behavioral Pediatrics, told SmartParenting.com.ph. 

Pediatricians will refer parents to a developmental pediatrician if they see any of the following red flags at 18 months old: 

Social and emotional
has no or limited eye contact
does not respond to own name when called
has limited joint attention, pretend play, and imitation
does not point to things and/or people in recognition or to indicate what he or she wants
Speech and language
can say less than three words
does not understand "no"
Physical
is not walking independently
favors one hand over the other (i.e., only uses preferred hand to reach for nearby objects) 
Your child's pediatrician will be able to provide the family with much-needed support and reassurance. "They may do close follow-ups or even request diagnostic tests, if needed, such as a formal hearing test, a vision screen, an EEG (which is a test that detects electrical activity in the brain), or other exams before your appointment with a specialist," said Dr. Reysio-Cruz. 
Dr. Reysio-Cruz would like to add that parents know their child best. "Often, parents already have an idea of what the diagnosis is, and then seek confirmation from a specialist." 
Finding a developmental pediatrician for your child
While parents can make a schedule with a developmental pediatrician directly, said Dr. Reysio-Cruz, a referral from a general pediatrician may be more advisable because it can be difficult to schedule an appointment. As of this writing, there are only a 51 practicing developmental pediatricians in the Philippines, according to Autism Society Philippines (ASP).

In case a friend or a relative recommends a developmental pediatrician, look into his qualifications. Developmental pediatricians have two to three years of fellowship training from recognized and certified programs locally or abroad. Dr. Reysio-Cruz, for example, did his fellowship training in Developmental-Behavioral Pediatrics in Seattle, Washington after completing three years of pediatric residency at Capitol Medical Center. 

What to expect with your first appointment
The reality is your first appointment may take months to happen before you do get sit down and see a developmental pediatrician's clinic. As mentioned, there are not a lot of developmental pediatricians in the country, unfortunately, so the waiting time is long. 

The cost of an initial evaluation can range from Php2,500 to Php8,000, and the first appointment usually lasts from an hour to an hour and a half. Prepare and bring reports from your child's teachers, counselors, psychologists or therapists.

"Evaluations are conducted via thorough history-taking, and complete physical examinations are backed up by lab exams, if indicated," said Dr. Reysio-Cruz. "Developmental and behavioral pediatricians make use of standardized screening tools to objectively assess a child's behavior and development in various domains." 
Dealing with a diagnosis
The time it takes for a diagnosis to be made varies. Sometimes, only one appointment is needed and other times, several. "For the family pinaka-important ang acceptance of the condition, because pagna-accept na ang condition ng anak nila, the rest will follow in terms of treatment," Dr. Christine Cruz-Conducto, a neurodevelopmental pediatrician, said in this ASP video. 

The news can be a lot to take in and support from both family and experts is crucial. "There are a lot of challenges, and these challenges can be faced by families together with all the members of the intervention team," said Dr. Erlinda Avendaño, also a neurodevelopmental pediatrician in the same video. 
Your developmental pediatrician may also refer you to consultants from other subspecialties. "These include therapists in the fields of speech and language pathology, occupational therapy, behavioral therapy, and physical therapy," said Dr. Reysio-Cruz. 

"We have to focus on what we can actually accomplish," said Dr. Alexis L. Reyes, a developmental pediatrician. "It can start with little steps, and these little steps make a difference." Always, the hope is that the child, conquering his condition, will grow up to be a functional and independent person, added Dr. Cruz-Conducto.