This 8-Year-Old Filipino With Autism Taught Himself to Play the Piano

He learned to play at age 6 and now has 10 classical pieces in his repertoire. Awesome!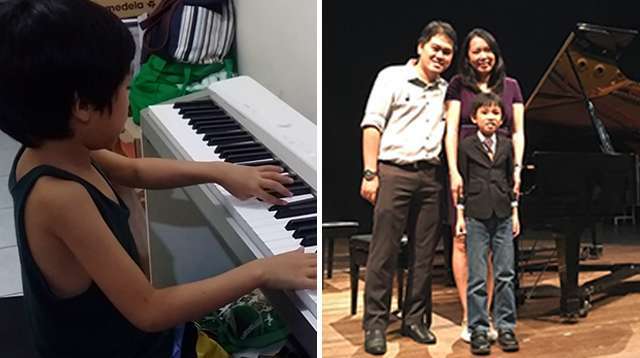 There's a lot of heartaches involved when a child gets diagnosed with autism. "Not only are they saddened by the news of diagnosis and overwhelmed with the changes it will bring to their lives, but they're also worried about the kind of lives their children will have," says Thumby Server-Veloso, director of Toddlers Unlimited, in her article for SmartParenting.com.ph.

Many parents experience denial and even reject the diagnosis. It's what happened to Chloe Kayanan, 36, when her 8-year-old son, Chace, was diagnosed with Global Developmental Delay with autistic features in 2011.

"It started out as little things his pedia noticed, like how he would not make eye contact and how he was still not talking at almost 2 years old," she shares. "We finally had him assessed by a developmental pedia, and we found out Chace was not developing at the same pace as other kids his age."




ADVERTISEMENT - CONTINUE READING BELOW

What other parents are reading

It took a while for Chloe and her husband, Carlo, to accept the truth. They only told immediate family members because of fear that other people would judge their son. They admitted that, at the time, they continued to hope that Chace's development would eventually catch up.

"We thought he was too young to be properly diagnosed. We thought that the doctor would turn out to be wrong, that Chace was just a little delayed," Chloe recalls.

But after two years of following the doctor's advice and doing occupational therapy, the couple slowly realized that Chace's significant delay in speech and language meant only one thing: he is a child with autism.



Chloe and Carlo did not give up on Chace. They enrolled him in a school that specializes in special education and made sure his therapy was consistent. One of Chace's difficulties was communicating with words. As she persisted to find ways to help her son express himself, Chloe soon discovered that music could be her son's language. 

ADVERTISEMENT - CONTINUE READING BELOW

Recommended Videos





What other parents are reading
"When Chace was still a baby, even as we observed him missing some of his developmental milestones, we noticed how quick he was to pick up a tune. He could hum 'Happy Birthday' and 'Twinkle, Twinkle Little Star' before he turned 1 year old. It gave me the idea that he might eventually learn how to play an instrument, like the piano, or maybe even the violin," she shares.
Chloe, who took piano lessons as a child, bought a digital piano so that she could practice playing. She secretly hoped it would interest Chace, who ignored the musical instrument. But he was now singing pop songs (he loves Bruno Mars) and fiddling with his iPad and the app Garage Band, which lets users create tracks using instrumental effects.

One day, when Chace was 6 years old, Chloe and Carlo heard "Twinkle Twinkle Little Star" playing. As they listened, Chloe wondered why "the song sounded broken in some parts" She looked to see what Chace was doing and was dumbfounded — the boy was playing the tune on the iPad on his own!

"We watched as he played out the notes, brought the tablet close to his ear at times to listen if the notes were right."
ADVERTISEMENT - CONTINUE READING BELOW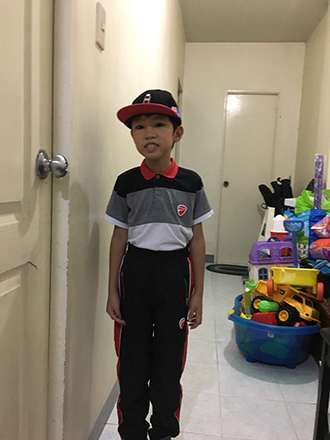 Chloe excitedly took Chace to the piano and showed him that he could play the same tune on the instrument. "He intently watched as I sounded out the notes one by one with just my right hand. Almost immediately, he tried it out for himself and got the hang of it in 10 minutes," she shares.

Chloe's gut instinct was telling her Chace had an ear for music. She decided to test her son's skills further. "I played the tune again, this time with two hands, the left accompanying the melody played by the right hand. Chace watched me with his big, big eyes. I played it again and again. Then I asked him to try." 
What other parents are reading
Tentatively, Chace tried to copy his mother. He used his left hands and made mistakes, as expected. But after a day or two, he mastered the tune that Chloe played for him.

Weeks later, Carlo told Chloe he heard Chace playing the classic "Fur Elise" by Beethoven. She was stunned. The piece was one of the few she had memorized, so she would often play it on the piano. Chace never had formal piano lessons, and Chloe had not been able to teach him or break the music down for him. He could have only learned it by playing from memory. "We know that many have this gift of 'ouido' (being able to play music on instruments just by listening and without reading the notes), but what made it even more special for Chace was he learned how to do it at only 6 years old."
ADVERTISEMENT - CONTINUE READING BELOW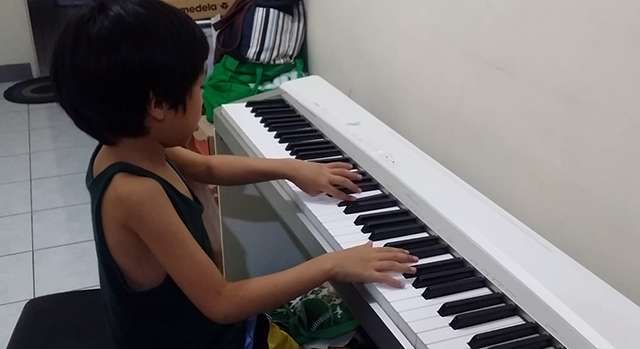 Chace slowly improved his musical ability. He sometimes played demos from the piano's song bank, listen and learn how to play the songs. If he heard something he liked, he would try to play it on the keyboard. Pop songs were more straightforward for him to learn than classical pieces. 

The couple enrolled him in UP College of Music's Extension Program. It lasted six sessions and culminated in a recital. While Chace found learning to read musical notes challenging, the experience made Chloe realize they needed to find a teacher who was willing to accommodate his special needs.

"I don't want him to be stunted just because he can't learn the traditional way," she says.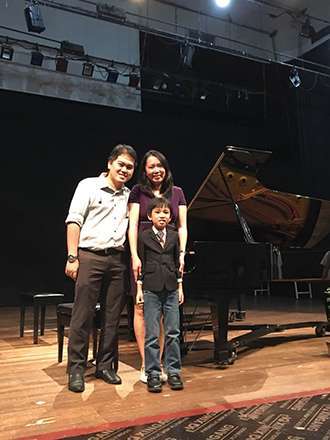 As of this writing, Chace now plays 10 pieces flawlessly. It includes classical music like "Serenade in Bb" by Cornelius Gurlitt, "Turkish March" by Mozart, "Le Retour" by Friedrich Burgmüller, "Nocturne" by Chopin and more contemporary ones like Adele's "Someone Like You," John Legend's "All of Me," and Coldplay's "A Sky Full of Stars."
ADVERTISEMENT - CONTINUE READING BELOW


Chloe also tells us that Chace has started to sing while playing, which may have been inspired by Chloe, who sings along to the music while Chace plays. Chloe hopes it would encourage him to talk more.

Like any proud mom, Chloe shares videos of Chace playing for family and friends to see, and in 2016, she took it a step further with a YouTube channel, Chace Plays the Piano. It only contains four videos for now, but Chloe just wants people to see that her son is so much more than his autism.


"Given the stigma of mental health, and how many people still think autism is an illness that needs to be 'cured,' I am hoping that we could give kids like Chace a chance to share any gifts that they have. It doesn't have to be just through music. It can be as simple as enhancing current laws to give PWDs more opportunities, more chances to be a part of society," she says. (With the proposed Autism Care Bill, we can be one step closer. Read more about it here.)

But for all parents who have a child with autism, the ultimate goal is this: "In our growing social consciousness, I want for Chace what every mother wants for her child: acceptance."
What other parents are reading
Celebrate your pregnancy milestones!

Enter your details below and receive weekly email guides on your baby's weight and height in cute illustration of Filipino fruits. PLUS get helpful tips from experts, freebies and more!
You're almost there! Check your inbox.

We sent a verification email. Can't find it? Check your spam, junk, and promotions folder.

Trending in Summit Network