Kahit Royalty Makulit Ang Anak: Kate Middleton And Prince Louis Prove Kids Will Be Kids

Here's your reminder that you are not alone in parenting makulit kids. Kahit ang prinsesa kailangan mag-disiplina!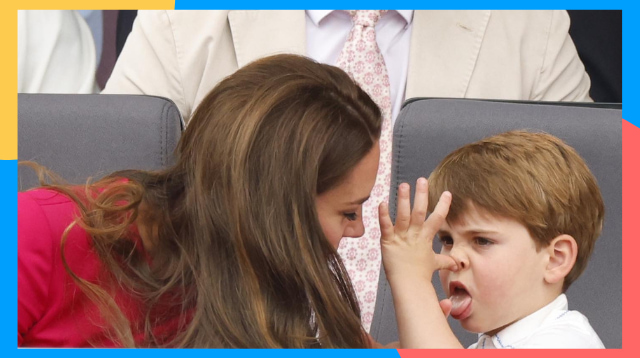 Just in case you thought you were the only one dealing with a young sassy child, Prince Louis is here to remind you that you are not. Just ask his mom, no less than the Duchess of Cambridge Kate Middleton.

On June 5, during The Platinum Jubilee Pageant, he was captured on video and in photos 'misbehaving' or as perhaps more developmentally appropriate to say, behaving like a regular four-year-old. 

We have to hand it to the Duchess of Cambridge! Parents know it's not easy to stay calm and collected in these moments.

PHOTO BY

FACEBOOK /BRITISH VOGUE

 

Prince Louis was caught making funny faces and even shushing his mom by covering her mouth while she was speaking. 

Yes, even royalty has to deal with makulit children. 

Like any mother, Kate seemed to have corrected her youngest son's behavior when cameras caught her speaking to him with a stern expression. 

ADVERTISEMENT - CONTINUE READING BELOW

We all know that look, don't we? No subtitles necessary. 

One of Prince Louis' uncles who sat behind him, Mike Tindall, was seen presumably telling the little royal that he's being watched by uncle so he better put his best behavior on. 

Tindall pointed to both his eyes as mom Kate laughed at the parenting assist he provided her. 

CONTINUE READING BELOW

Recommended Videos

Mom Kate gets a bit of help from one of Prince Louis' uncles, Mike Tindall.

PHOTO BY

FACEBOOK /TELEGRAPH.CO.UK

Over at their official Instagram, the Duke and Duchess of Cambridge AKA mom and dad poked fun at their son's antics captioning the end of their Platinum Jubilee post, "We all had an incredible time, especially Louis…" and then punctuated it with the double eyes emoji.

How to be you, Kate?

We have to hand it to Kate. She kept her cool, even smiled at some instances, but evidently didn't allow certain behaviors past her without a verbal correction.

Many parents dread being caught in public with a child who misbehaves or is causing a scene. What more when you are a public figure with cameras constantly catching your every move and media who writes theories about your family merely based on the footage?

We're just glad no one takes videos of all our parenting moments. We might not be as gracious and calm as the Duchess!

ADVERTISEMENT - CONTINUE READING BELOW

Mother and son share a sweet moment, all within the same event of making funny faces at and covering Duchess of Cambridge Kate Middleton's mouth.

PHOTO BY

FACEBOOK /ITV NEWS ROYALS

How to deal with makulit children in public

It's embarrassing to be in public when a child behaves in a manner that parents don't prefer, but as Fatherly reminds, "A parent's first obligation is to their child, after all, and not to the sensitivities of the strangers around them.

It adds, "Some may think this spoils the child, but there's a vast gulf between indulging a kid's every whim and providing basic parental love and empathy.

"A child who trusts their parents is more likely to calm down, in any case."

Here are some things to remember next time your child is makulit in public:

1. Calm yourself down first.

It's not the easiest to do especially when your child is already screaming in the middle of the grocery, but taking a few seconds to take a few deep breaths right before you address your child will prevent you from speaking in a manner you may regret later on.

This can help parents avoid shouting back or snapping. A child may listen to this but it may also result in hurting your child's feelings.

RELATED: 'Hindi Mo Kasalanan, I'm Sorry': An Angry Mom's Letter To Her Kids

2. Consider if they're actually misbehaving or acting their age.

Healthline says "It may seem that your child is constantly challenging you. But they're probably acting appropriately for the 4-year-old age range."

ADVERTISEMENT - CONTINUE READING BELOW

If your child is four years old just like Prince Louis, remember that emotional regulation can still be a challenge.

Dr. Eric Ball, pediatrician at Providence Mission Hospital in Orange County, California says to Very Well Family that "It is still normal at this age for children to have some difficulty regulating their emotions and temper tantrums are still relatively common."

RELATED: Sobrang Kulit Ng Anak? Ito Ang Mga Tips And Tricks Ng Mga Mommy

If your child is misbehaving, experts from Very Well Family advise authoritative parenting which incorporates and allows the child's feelings and preferences but the "final decision ultimately remains with the parents."

3. Make room for their emotions.

"Let your child know that their feelings are welcome, even if their misbehavior isn't, says Very Well Family.

"While it's reasonable to expect your child to control their behavior, be sure they know that they can still share whatever feelings they are having.

RELATED STORIES:

Kids learn to regulate their emotions through the adults in their life. By allowing their emotions–like being upset that they have to wait in a long line at their favorite fast-food chain–but screaming or stomping their feet is not acceptable.

Try saying: "I know it's hard to wait because you want to eat already. It's hard not to get what you want right away. It's okay you're tired of waiting. Let's wait together."

ADVERTISEMENT - CONTINUE READING BELOW

"They learn that while it's hard not to get what they want or to have to wait, they can cope—and their parent is right there with them," says Very Well Family.

What other parents are reading

Celebrate your pregnancy milestones!


Enter your details below and receive weekly email guides on your baby's weight and height in cute illustration of Filipino fruits. PLUS get helpful tips from experts, freebies and more!

You're almost there! Check your inbox.


We sent a verification email. Can't find it? Check your spam, junk, and promotions folder.

Trending in Summit Network