Is It Okay For Your Kids To See You Naked? Experts Weigh In

How much parents embrace nudity in the home is influenced by how they were raised as kids.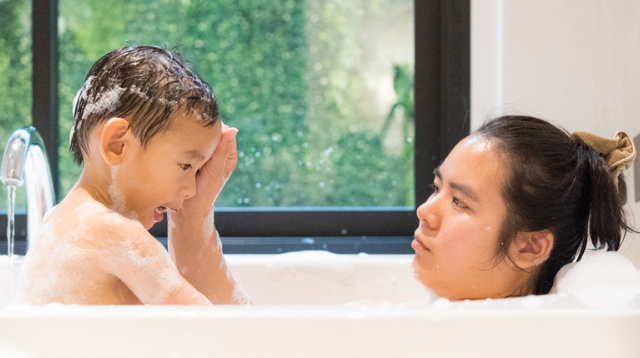 Parents taking a bath with or changing their clothes in the presence of their little children is common in many Filipino households. But, surely, many have wondered if setting some boundaries is necessary if the child is of the opposite sex or if he or she reaches a certain age.

According to an article published in the website, Parents, there's little research on this but one study found exposure to parental nudity had no harmful effects for kids ages 3 to 6.

University of California in Los Angeles (UCLA) Professor Paul Abramson, one of the authors of the study, says "There's nothing inherently wrong with being nude with members of your family."

While his statement can be reassuring, many parents still struggle knowing when they should start 'covering up' and being more discreet around their kids. 

When and how to set boundaries

How much parents embrace nudity in the home is influenced by how they were raised as kids. However, according to the same article, it is important for children to know that different households regard nudity differently.

In setting boundaries, the article through advice from experts, provide these guidelines for parents on how to discern what limits to place when it comes to nudity in the home.

1.

Teach them that your home has its own 'nudity' rules.

"Make it clear to your child that the clothing-optional mindset only applies to your home and that other families may have different rules," says Amy Lang, a sexual health educator in Seattle, Washington. 

ADVERTISEMENT - CONTINUE READING BELOW

She adds that it is important to make sure that your child realizes they need to put on clothing when other people are around since guests may not be comfortable with it.  If this is the rule you set in your home, it is important to be firm and stick with it.

2.

Make the message about privacy rather than 'shame'.

According to Lang, as long as the message is about privacy and not shame, embarrassment, or anything negative then it's okay to be naked around your kids. The key is to be comfortable with it, if not, she advises that parents keep their clothes on.

Not everyone will have the same level of comfortability when it comes to being naked in the presence of their children. The article shares how one Dad began to cover up more when the eldest of his three daughters turned four.

"I was raised very conservatively, so that mentality is kind of ingrained in me," he says.

3. Be open when your kid starts asking questions.

No parent ever escapes questions like 'why does Daddy have a penis and Mommy has none?' Or 'Why does mommy have hair in her privates and I don't?'

According to the article, expect such kinds of questions when your child approaches three. Make sure to answer their questions in the same manner you would when they ask about their toes, eyes, noses or any other body part.

Kids this age are naturally curious. Staying calm and answering any questions matter-of-factly is a positive approach, says Lang. "If you can communicate to them that you are totally down with whatever questions they have, they're going to be more likely to come to you when they have a problem with their body," she adds. 

ADVERTISEMENT - CONTINUE READING BELOW

Recommended Videos

4.

Teach kids early that not all bodies are the same.

The article stresses on the importance of starting conversations about the body early on so children can place what they see online and in print in a better context such as 'sexualized, photoshopped, and airbrushed images of nude or semi-nude adults. 

"We have to start teaching kids at a young age that we are imperfect by nature, and our bodies go through changes and transitions," says Aviva Braun, L.C.S.W., a New York-based social worker specializing in body image and eating problems.

Braun adds that it is important to keep these conversations age appropriate–no need to go into details, no need for huge discussion, keep things light, and focus on the task at hand.

5.

Let your child take the lead.

As they grow older, children's views about nudity may change. The same child who constantly asked you to help him or her dress up may one day tell you to close the door behind you while he or she changes.

Expect them to change as they learn about privacy–yours and theirs. If you're still confused on how to approach the business of nudity in the home, your child is your best gauge, says Alan Kazdin, Ph.D., director of the Yale Parenting Center in New Haven, Connecticut.

"The general lesson for much of parenting is that the child is often a really good guide," he says.

When they reach the age of puberty, it would be good to periodically check whether the family's approach to nudity is still okay with them, advises Braun.  "It's a very vulnerable time when kids' bodies are starting to change," explains Braun. "They might want to cover themselves up at that age and not be very open."

ADVERTISEMENT - CONTINUE READING BELOW

Navigating our and our children's attitudes toward nudity is probably one of the  trickiest parts of parenthood. But a parent's role, no matter how uneasy the subject may be, is to drive the right message about bodies and privacy to their child. 

Lang aptly puts it when she says, "You want them to know that a safe adult respects a child's boundaries."

Celebrate your pregnancy milestones!


Enter your details below and receive weekly email guides on your baby's weight and height in cute illustration of Filipino fruits. PLUS get helpful tips from experts, freebies and more!

You're almost there! Check your inbox.


We sent a verification email. Can't find it? Check your spam, junk, and promotions folder.

Trending in Summit Network