Speech Pathologist Shares Fun Activities to Help Your Kid Learn at Home

"It is through play that children use and practice the things they learn."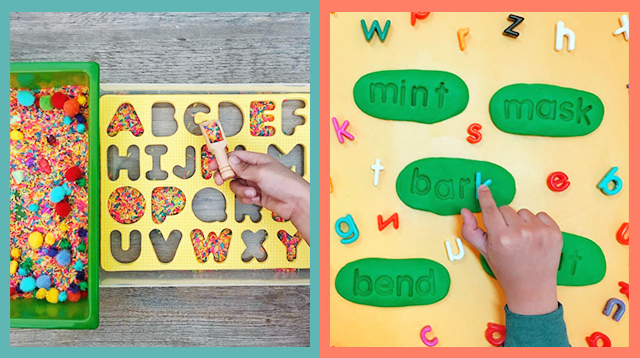 Playtime is the best brain-building gift that we can ever give our children. It develops social, language, motor, and cognitive skills, which are all important for a child's development. But as most parents will quickly realize, plying your child with many toys isn't the answer — he becomes bored easily. For your children to learn through play, sometimes you'll have to get really creative and opt for hands-on experience.

Lourdes Bernadette Lopez, CSP-PASP, or Teacher Bernice as students fondly call her, is a pediatric speech and language pathologist based in Batangas who knows just how hard it is to keep children's attention and make them focus. Using her love for crafts, she decided to DIY creative teaching aids for her students and share it to the world via the Instagram account @thecrafterteacher.

"Crafting has always been my outlet and stress reliever," Bernice shares with SmartParenting.com.ph. "For years, I managed to be a therapist in the morning and a crafter at night."

What other parents are reading

Bernice (left) with her sister, Kristine Ann Lopez, OTRP, at their intervention center in Batangas.

PHOTO BY

courtesy of Bernice Lopez

ADVERTISEMENT - CONTINUE READING BELOW

In 2017, Bernice was diagnosed with depression and anxiety after her mom passed away. At the time, she had an online craft business that she had to close it down to give herself more time to rest and recover. She also needed to focus on managing the clinic she ran with her sister, Kristine Ann, an occupational therapist. "We had more therapists joining our team, we added facilities, and the number of our students increased as well. This entailed more time spent at work as a speech pathologist and a clinic owner," Bernice explains.

But her love for crafts prevailed, and she started pouring out her creativity at work. She would get her inspiration online, mostly from other crafters who are preschool teachers, pediatric therapists, even stay-at-home and homeschool moms.

"Aside from the fact that it helped me cope with my depression and anxiety, I felt more motivated to get up in the morning and go to work," Bernice shares. "I never thought I could actually combine these two things I love to create the 'perfect career' for me."

Crafting activities are also crucial in teaching her students. "I noticed how my students' attitude towards the session changed with the creative activities I present. They are also more engaged and motivated, making learning more effective for them," she shares.

What other parents are reading

An increasing need for early intervention

ADVERTISEMENT - CONTINUE READING BELOW

Recommended Videos

Most of Bernice's students at Jumpstart Therapy Center have special needs or experience developmental delay. She and her sister decided to open up the clinic after seeing an increasing need for it, especially in their hometown in Lipa, Batangas. "Most children come to us with a referral from a developmental pediatrician for speech therapy, occupational therapy, social skills classes, or other specialized services we offer in our clinic," Bernice explains.

Those specialized services include baby-parent (or caregiver) classes, which are open to children 6 months to 3 years old. "We realized that aside from early intervention, there is also a need [to orient parnets about] developmental delays. We are hoping these classes will help us teach parents and caregivers on how to effectively facilitate their child's over-all development at home," Bernice says.

What other parents are reading

Why playtime is important

Since starting her Instagram account seven months ago, Bernice shares she's gotten an overwhelming response, especially from stay-at-home and homeschool moms who spend most of their time with their kids. "A lot of them requested that I sell curated materials for them, or help them source materials for the activities they can do at home," she shares.

Though her activities are primarily for children with developmental delays and special needs, Bernice assures parents that it is applicable to other children as well. "I made it primarily to share creative teaching ideas to other pediatric therapists, teachers, and hands-on moms," she says.

ADVERTISEMENT - CONTINUE READING BELOW

What other parents are reading

She says that the activities are particularly helpful because most parents these days are focused on academics and other enrichment activities. They sometimes forget that playtime is also important for the healthy development of a child's overall skills.

"I have a lot of students who can already read at 2 or 3 years old but are still unable to use their words to communicate, or construct simple phrases or sentences. Some even have advanced vocabulary from playing iPad apps or watching YouTube videos but are unable to engage in meaningful conversations due to processing difficulties," Bernice shares.

"It is through play that children use and practice the things they learn. But don't just let your children play — it is equally important that you play with them, too," she says.

What other parents are reading

Crafts and activities to help your child learn at home

Nature Scavenger Hunt

"I let my students go out in the garden (just outside our clinic) to go for a scavenger hunt. There are countless skills you can target with this activity," says Bernice.

PHOTO BY

@thecrafterteacher/Instagram

ADVERTISEMENT - CONTINUE READING BELOW

Some of the skills you learn include:

Vocabulary building. Teach them adjectives such as colors, textures, and sizes.
Listening and auditory processing. Ask them to follow verbal instructions like, "pick a small yellow flower."
Fine motor skills. Ask them to cut and pick flowers and leaves!
Expressive language. Ask them to describe the different things they see around them.

What other parents are reading

Interactive Storytelling

"Kids are more motivated and engaged with activities that are very interactive. Some of my students enjoy storytelling when we have props," says Bernice.

PHOTO BY

@thecrafterteacher/Instagram

"In The Three Little Pigs, we build each house while I tell them the story. We also blow it down one-by-one during the wolf's 'huffing and puffing' scene. They understand and remember details better with these kinds of activities," shares Bernice.

Slime monsters

Bernice decorated the slime using assorted beads, googly eyes, and neon colored stones.

PHOTO BY

@thecrafterteacher/Instagram

ADVERTISEMENT - CONTINUE READING BELOW

Aside from developing creativity and imagination, this also builds vocabulary, expressive language, listening and processing, and sequencing. Children also learn to take turns (while making and decorating the slime) and improve their social skills.

What other parents are reading

Pretend play activities.

On her Instagram, Bernice shares that one of her students built this 'city' on his own.

PHOTO BY

@thecrafterteacher/Instagram

Pretend play promotes overall development, says Bernice. It develops language and communication, thinking and problem solving, imagination, creativity, social and emotional skills, and physical and motor skills.

Playdough stamping

Stamping words on clay puts a creative spin on learning CVCC ('C' for consonant and 'V' for vowel) words!

PHOTO BY

@thecrafterteacher/Instagram

ADVERTISEMENT - CONTINUE READING BELOW

Bernice uses this as a reading intervention for students who have difficulty blending and segmenting sounds. Instead of just using book, pen, and paper, kids can have fun and learn better!

For more DIY activities, follow Teacher Bernice on Facebook and Instagram.

What other parents are reading




Celebrate your pregnancy milestones!


Enter your details below and receive weekly email guides on your baby's weight and height in cute illustration of Filipino fruits. PLUS get helpful tips from experts, freebies and more!

You're almost there! Check your inbox.


We sent a verification email. Can't find it? Check your spam, junk, and promotions folder.

Trending in Summit Network