Torn Between Being A Parent And A Friend To Your Children? Permissive Parenting Can Work

It has similarities and differences from panda parenting.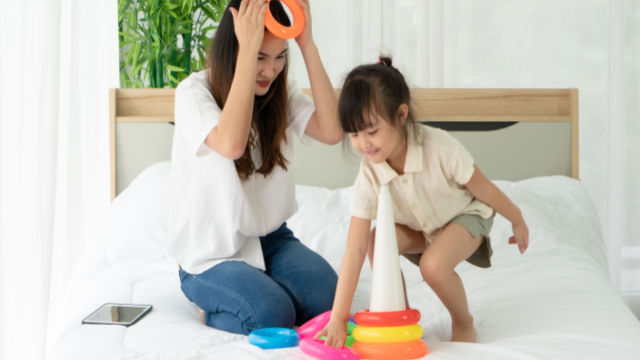 Parents naturally want their children not just to love but also like them. It's quite understandable if you want your children to like hanging out with you, joking around, sharing secrets, and basically being friends. There's the danger, though, in becoming indulgent before realizing that you are into permissive parenting.

What is permissive parenting?

Permissive parenting is one of the three parenting styles coined by Diana Baumrind, an American clinical and developmental psychologist. The two others are authoritative parenting and authoritarian parenting.

Baumrind introduced the three parenting styles in her first peer-reviewed paper on the topic, Effects of Authoritative Parental Control on Child Behavior, Child Development (1966). She gave an extensive discussion in her second and most often cited paper, Genetic Psychology Monographs (1967).

(Later on, Maccoby and Martin, 1983, added uninvolved/neglectful  to expand Baumrind's model of three parenting styles.)

Dr. Gail Reyes Galang, a child and family expert and educator, explains that the permissive parenting style is characterized as warm, but too lax.

She points out, "In this style, parents assume more of a friendship role than a parenting role. Unlike authoritarian parenting that imposes strict rules on children, expectations are rarely set and rules, if any, are seldom enforced by permissive moms and dads."

Permissive parenting vs. panda parenting

Permissive parenting has similarities to panda parenting, coined by author Esther Wojcicki of the book, How to Raise Successful People.

Dr. Reyes Galang expounds, "Permissive parenting and Panda parenting both create a warm atmosphere with very little chances of conflict between parent and child. Both types allow children to do what pleases them."

ADVERTISEMENT - CONTINUE READING BELOW

She then clarifies that the main difference between the two parenting styles is in the intention.

For instance, she says, "Permissive-indulgent parents are responsive to their child's emotional needs yet fail to set acceptable limits and healthy boundaries. Such parents would rather give in to what their children want, than make them feel angry, worried, or distressed. As a result, such children may grow to be entitled teens and young adults."

On the other hand, Dr. Reyes Galang points out, "Panda parenting allows children more freedom to explore and do what they want. The intention here is to allow children to make independent decisions and learn from their failures should they encounter mistakes along the way.

"Here, parents intervene only when they are asked for help. However, with the emotion-control in the brain (amygdala) being more dominant than the rational part of the brain (pre-frontal cortex), children and teens cannot be relied upon completely to make sound decisions for themselves nor gauge wisely when to approach their parents for help.

"For this reason, panda parents check on what types of freedom match age appropriateness, something which permissive moms and dads don't necessarily consider."

Pros and cons of practicing permissive parenting

Dr. Reyes Galang breaks down the advantages and disadvantages when parents choose, even unconsciously, this style in raising their children.

PROS

Fostering warm relationship

Parents take delight when their kids tell them that they are the coolest parents for allowing them to do certain things their peers are not yet allowed to do.

CONTINUE READING BELOW

Recommended Videos

Causing minimal conflict

Since parents are always ready to say 'yes' to what their children want,  there is little reason for children to fuss, react, or complain.

Avoiding stress

Children need not worry much because their parents are always there to support and provide for them.

CONS

Creating a power struggle between parents and children

When parents realize a clash in their values, power struggle happens when they attempt to limit their child's freedom later.

Children growing up to be less driven teens and adults

Somehow, the intrinsic motivation to work hard to achieve something that will be internally rewarding to them is lost.

Children having poor adversity-quotient

Children of permissive parents may not know exactly what to do when adversity strikes because there aren't many difficult situations which should have strengthened their skills in problem solving.

Tips on making permissive parenting work

To help make this parenting style work in your household, if you really want to stick to it, Dr. Reyes Galang gives these recommendations:

1. Be warm but firm with expectations. While it is delightful to be regarded as cool parents, children should know that there are real consequences when they go beyond their limits. Such boundaries should be discussed beforehand and followed-through whenever violated.

2. See stress as a necessary part of life. For many, it is the gentle push that enables people to perform better. In the same way, conflicts can be resolved nonviolently through open communication and a deep desire to collaborate on what is best for the family.

ADVERTISEMENT - CONTINUE READING BELOW

3. Emphasize family values which are non-negotiable to you as a parent even if you allow children to make their own decisions. However, do a self-check if your values are free from bias. Example: sometimes, parents impose rules on friendships because they have an existing stereotype on LGBTQ.

4. Allow children to make decisions based on age-appropriateness. If your young child uses a gadget extensively, should you allow this even if most of the content are educational in nature? What is the acceptable screen time for given ages?

5. Expose children to developmentally appropriate problems because they will need the skills to solve bigger life challenges later in life.

6. Spend genuine quality time with children. Drop the gadget and engage intentionally with your children. Sometimes, parents become permissive because they've been too busy to find out what's really going on with their children.

Yes, moms and dads, you can find the right balance between being a parent and a friend to your children, even if you feel stuck in the permissive parenting style. Remember, parenting is a process.

Dr. Gail Reyes Galang is chair of the Family Studies program of Miriam College where she also teaches under the Department of Psychology. She is currently the associate director of the Center for Peace Education. Follow her on Instagram @gailfrancesgalang.

Read also: Traditional Parenting versus Gentle Parenting

Celebrate your pregnancy milestones!


Enter your details below and receive weekly email guides on your baby's weight and height in cute illustration of Filipino fruits. PLUS get helpful tips from experts, freebies and more!

You're almost there! Check your inbox.


We sent a verification email. Can't find it? Check your spam, junk, and promotions folder.
Trending in Summit Network