Sibling Fights: Teach Your Kids How to Resolve It on Their Own With This 5-Step Guide

Kids don't have the ability to resolve arguments by themselves, so the help of parents is crucial.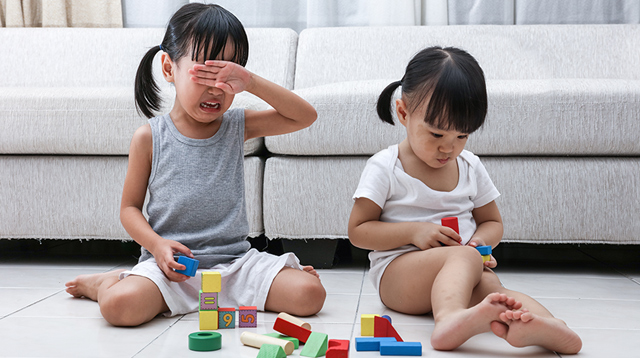 One moment you see your kids peacefully playing with one another or watching their favorite show together in the living room, and you think the day is going to pass peacefully. Suddenly, the next minute, you hear the children screaming angrily at each other, maybe even hurting each other physically.

As a parent, you might feel torn between intervening and letting them handle the issue on their own. But there is harm in only sticking to one of the two options: if you keep swooping in, they might not learn how to fix their problems themselves, but if you keep yourself out of the situation, one sibling might end up taking advantage of the situation and using it to abuse the other. The key is to make a balance between both. But how do you do that effectively?

Why siblings fight

Arguments are a natural part of life with siblings, and there are lots of different things that can incite them. Greater Good Magazine points out one well-known fact between siblings: they are constantly in competition over just about everything without them even realizing it  — toys, food, and their parents' attention, of course. And anyone who "loses" feel they are being treated unfairly.

These sibling arguments, however, are beneficial despite the stress. For one thing, arguments shed light on problems that need to be solved. And these problems are usually unrelated to the fight that is currently happening, Ross W. Greene, Ph.D., director of the non-profit organization Lives in the Balance and author of The Explosive Child tells Parents.

ADVERTISEMENT - CONTINUE READING BELOW

Getting involved in arguments also develops children's social skills — the family is a child's first social group.

Peter Coleman, Ph.D., a professor of psychology and education and director of the International Center for Cooperation and Conflict Resolution at Columbia University in New York, USA, tells Parents, "Family is our society, the first institution we are exposed to with rivals and allies and rules and regulations. Then comes school and our peers.

"These settings naturally present us with conflicts, big and small, and it is through our engagement with these disputes that we learn about ourselves, others, authority, group life, and the costs and consequences of our actions. The issue is how we engage in the conflicts we face, in ways that make them worse or better, and whether or not we learn from these encounters."

What other parents are reading

How to teach your kids to settle sibling fights

Though sibling fights are common and can happen often, children are not yet equipped with the ability to resolve fights on their own, which is why they need their parents' help to figure things out. Learn how you can help your kids settle their arguments below.

1. Take a breather

Your kids will understandably still be upset after their fight. Gathering everyone right away to think about how to settle the argument might make it difficult for your kids to talk calmly and provide an opening for more violent outbursts. For this reason, it can be helpful to encourage the children to spend some moments by themselves, so they can breathe and regain their composure.

ADVERTISEMENT - CONTINUE READING BELOW

Recommended Videos

2. Establish ground rules

Once everyone has gathered to talk, start by laying down ground rules for the children to abide by throughout the conversation. You can set guidelines such as "No hurtful words," "No shouting," and "No interrupting." Aside from helping make the conversation as civilized as possible, you are also avoiding the possibility of your children feeling even more hurt and frustrated because of something hurtful that was said to them.

3. Give everyone a chance to talk

Allow each child to have time to discuss their own perspectives — specifically, how they view the issue and how they feel about it. You can then help each one see how they might have offended their sibling. According to Greater Good Magazine, doing this helps your kids name the problem so that they know what needs fixing and develops their ability to listen to others around them.

4. Encourage the kids to brainstorm for solutions

Once your children know the problem, it's time for them to begin working towards finding the best solution for it. It won't be easy or fast — sometimes, you might have to intervene and encourage your kids to dig deep and make realistic suggestions. This step is helpful because "It gets them into brainstorming mode, which opens them up to new possibilities," Laurie Kramer, a professor of applied psychology at Northwestern University in Illinois, USA, tells Greater Good Magazine.

Giving the kids the chance to come up with their own ways of solving their issue also helps reduce the sense of helplessness and powerlessness they might feel due to having someone else swooping in to fix the problem for them, according to an article by Elaine Shpungin, Ph.D. for Psychology Today.

ADVERTISEMENT - CONTINUE READING BELOW

5. Teach the kids how to apologize and acknowledge their faults

Parents writes, "Helping your child learn to admit when he is wrong can take away the fuel that feeds many arguments." In other words, by encouraging your kids to take responsibility for their mistakes and to apologize accordingly, you can help reduce the possibility of even more difficult or violent fights and address the root cause of the problem.

The best way to teach the importance of owning up to your faults: Knowing how to say sorry yourself. "Young children are sponges who automatically soak up what the adults are doing and adopt it," Dr. Coleman tells Parents. "So don't teach constructive conflict-resolution skills to children and then turn around and scream at them or your spouse. That doesn't work. Adults should take responsibility for their own behavior."

What other parents are reading

Celebrate your pregnancy milestones!


Enter your details below and receive weekly email guides on your baby's weight and height in cute illustration of Filipino fruits. PLUS get helpful tips from experts, freebies and more!

You're almost there! Check your inbox.


We sent a verification email. Can't find it? Check your spam, junk, and promotions folder.

Trending in Summit Network