Akiko Thomson On Raising Daughter With Down Syndrome: Count Blessings, Not The Challenges

The champion swimmer tackles the challenges and many joys of raising a child with Down Syndrome.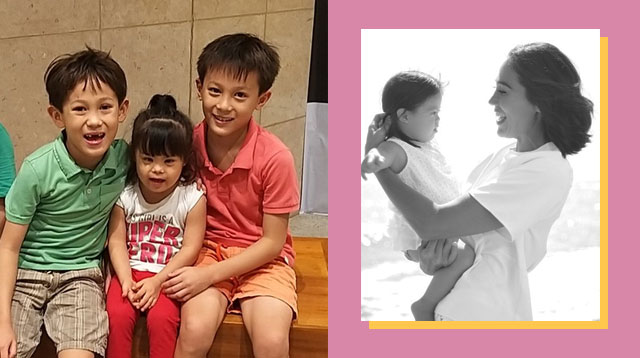 Many of us who grew up in the 80s and 90s know Akiko Thomson-Guevara to have conquered many challenges in competitive swimming that have resulted in her stints in three Olympic Games, and eight gold medal wins in the SEA Games. After retiring from competitive swimming, she has taken on new endeavors — television host, product endorser, and leadership roles in sports organizations.

And in the past nine years, Akiko, together with husband Chip, has taken on the joyous yet challenging role of being parents to three kids: Noah, 9; Elijah, 7; and Sachiko, 3, who was born with Down syndrome (DS).

What other parents are reading

Fear of the unknown that is Down syndrome

"We were unprepared for the diagnosis as we didn't know then she had DS. We were naturally very fearful when she first came out — we feared the unknown and her future. We didn't know what DS meant in the long run," Akiko tells SmartParenting.com.ph  in an email interview.

In navigating the unknown, Akiko got valuable outside support. One of Sachiko's godfather, whose brother has DS, referred her to an aunt who was one of the founders of Down Syndrome Association of the Philippines (DSAPI). "They instantly put us in touch with the DSAPI group who swooped us in their arms and invited us to an early intervention seminar," she says.

Apart from DSAPI, there were also other friends who connected Akiko and Chip with families with children who have DS. "God was really enveloping us, assuring us it was going to be okay," she says.

ADVERTISEMENT - CONTINUE READING BELOW

Akiko shares that two weeks before she was supposed to give birth to Sachi, as the family fondly calls Sachiko, she had an appointment with a developmental pediatrician. She was consulting about allowing children with special needs to be enrolled at their swimming school. "Lo and behold, God was preparing us for Sach!"

"Sachiko loves music, loves to dance, loves the water, and can dribble the ball, thanks to her brothers! She is a girly girl — unlike her mama — and loves to wear pretty clothes," says Akiko.

PHOTO BY

courtesy of Akiko Thomson

Raising Sachi

Sachi is growing up to be an active young kid who "can get away with murder," as her mom jokingly describes her. And yes, she loves the water, too.

Speech is perhaps the most significant challenge kids with Down syndrome have to overcome at this point. "Because of the size of their mouth and tongue which is longer than average, speech is harder and talking clearly, more so," says Akiko.

CONTINUE READING BELOW

Recommended Videos

These days, Akiko and Chip choose to count their blessings rather than the challenges since Sachi entered their lives.

"Sachiko is very healthy all considered since many DS children have heart conditions and sometimes leukemia, and she has neither," Akiko says. She adds they have been blessed in many aspects, such as meeting people who have been down the same road before, having great doctors and therapists, and having Sachi at a time when early intervention is available.

Lessons on embracing inclusivity

Indeed, the arrival of Sachi has transformed many aspects of her family's life, and this has spilled over to the swimming school Akiko runs, the Akiko Thomson Swim School. They currently teach students from One World, a school that supports children with special needs and accept children with DS as well.

"We are not experts in special needs, but I believe for many the water has a calming effect. We also have heard from a parent that her son with special needs seems to develop better when engaged in physical exercise like swimming," she shares.

Full disclosure of a child's condition before enrolling him/her is essential, she stresses so the school can provide one on one teaching.

"Don't be scared and afraid of your child's future," Akiko says when asked what advice she would give to parents who are learning that their child has DS for the first time. "Your child can have a very good future, different perhaps, but who's to say or stop what they can be and do? 

ADVERTISEMENT - CONTINUE READING BELOW

"And believe me, they will open your eyes and your heart to so much more. They will be your deepest joy and greatest therapy, and you will thank God for giving you such a beautiful, beautiful gift," she says.

Akiko is "thankful Sachiko has two brothers who I know will be there for her someday when we're no longer around."

PHOTO BY

courtesy of Akiko Thomson

Like the athlete that she is, Akiko, the mom, carries the same positive attitude as she and her husband take special care of Sachi. The experience continues to transform their lives, including Sachi's two brothers whom Akiko knows will be there for their sister when she grows up. In enumerating how Sachi has changed her, Akiko shares her realizations.

1. You develop more compassion.

"[Raising Sachi] has definitely opened my eyes, made me more compassionate and sensitive to parents with SPED children. My heart is bigger and more tender."

ADVERTISEMENT - CONTINUE READING BELOW

2. You focus on what the child 'can' do.

"I no longer focus on what Sach can't do and don't see the need or desire to compare. Sachiko will develop at her own pace, and she will, by the grace of God, be and do all that her heart desires in her own unique way."

3. You appreciate every milestone.

"With SPED kids, you really do enjoy and celebrate all the milestones because it takes that much more effort for them to speak and walk and do things that typical kids don't even have to think twice about."

4. You worry less.

"We don't know what the future holds for any of our kids so there's no point worrying! I'm just thankful Sachiko has two brothers who not only help her be that much stronger, but who I know will be there for her someday when we're no longer around."

 

What other parents are reading
Celebrate your pregnancy milestones!

Enter your details below and receive weekly email guides on your baby's weight and height in cute illustration of Filipino fruits. PLUS get helpful tips from experts, freebies and more!
You're almost there! Check your inbox.

We sent a verification email. Can't find it? Check your spam, junk, and promotions folder.
Trending in Summit Network