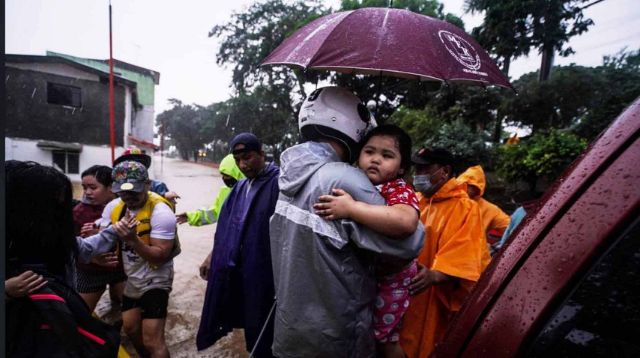 Mikee Cojuangco-Jaworski is making disaster preparedness a family affair. With a series of strong earthquakes jolting a number of Philippine provinces recently, including Batangas, Davao Oriental, and Lanao del Sur, the mom of three said that they will need to "update" their go-bags. 

In an interview with Pep.ph, Mikee explained that in her family, her kids Robbie, 17; Ralph, 15; and Renzo, 9, are quite conscious [of disaster preparedness] because she and husband Dodot are always reminding them, adding that it's best for each family to prepare their own go-bags and discuss.

"There are a lot of go-bags, but no one knows better than us what our necessities are," said Mikee, who is also the Climate Change Solutions Steward and the first female Earth Hour Ambassador of the World Wide Fund for Nature-Philippines (WWF). Families with babies, for example, need to pack milk, feeding bottles, diapers, and bug repellants in their go-to bags, in addition to the basic necessities for bigger kids and grown-ups.

Another good reason to prepare kids for emergencies is this: we can't be sure exactly when disaster will strike, and it is likely that they could be out of our sight when it happens, such as on the road, or in school. 

What other parents are reading

School emergencies can range from the mundane to the alarming, and parents are naturally the first to worry. Although these are unforeseen circumstances, there is much that parents can do in preparing their kids for anything that may happen. While the school takes important steps to prepare children for major emergencies (such as holding fire and earthquake drills), parents are responsible for knowing what these drills are, making sure their children understand why they need to participate in them, and letting them know what outcomes could possibly be prevented by doing so. Then, supplement these with concepts that are easy to understand to help children deal with any emergency at hand.

ADVERTISEMENT - CONTINUE READING BELOW

Key concepts for kids
Teacher Ana Niguidula, school head of Holistic Education and Development Center (HEDCen) in Antipolo City, enumerates five key concepts that can jumpstart the discussion on emergency preparedness: courage, sensibility, resourcefulness, safety, and cooperation. "These will make parents feel confident that their children can keep themselves safe during emergencies," she says.

When children have courage, they are unlikely to give in to fear. This will help them maintain presence of mind and remember what they need to do. Niguidula continues, "Sensibility includes common sense, alertness, and sense of urgency." Resourcefulness will allow kids to use available materials at hand in order to handle an emergency, while safety and cooperation will allow them to work with their classmates and teachers to better cope with the situation.

What other parents are reading

In addition to these basic concepts, here are eight things you can do to prepare your children for any type of emergency in school:

1. Ensure that your child has a basic understanding of disaster preparedness.
According to the Center for Disaster Preparedness (CDP), a resource center for community-based disaster-risk management, guidelines for coping with a particular disaster are available at government agencies such as the Philippine Institute of Volcanology and Seismology (PHILVOCS) and the Philippine Atmospheric, Geophysical & Astronomical Services Administration (PAGASA) and can be found on their official websites. An additional reference material that the CDP recommends is Project DINA (Disaster Information for Nationwide Awareness Project), a government project that particularly addresses disaster preparedness for earthquakes, tsunamis, tropical cyclones, landslides, floods, and volcanic eruptions.

ADVERTISEMENT - CONTINUE READING BELOW

Recommended Videos

2. Help your child prepare his own disaster emergency kit.
This consists of food, potable water, flashlight, whistle, and a change of clothes. Hygiene kits containing soap, toothbrush, and bottled water may also be included. Make sure your child has an emergency kit both at home and in school, each properly labeled with his name. 

3. Teach your child to memorize emergency contact numbers.
Knowing this information enables your child to immediately call for assistance. Help him create his own directory containing your mobile number, your landline number at home, as well as those of relatives and the authorities. Some parents use a song to help very young children memorize their home phone number.

4. Quiz your child on what to do during emergency drills in school.
Does he know the special signals for a fire or earthquake? What is the first thing he should do upon hearing the signal? Where should he go? According to the CDP, knowing the school's evacuation system by heart will spell the difference in alleviating the effects of a disaster. 

What other parents are reading

5. Get down to specifics: teach your child what to avoid during times of disaster. 
Remind your kid not to wade in floodwater, especially when he has an open wound, and to steer clear of electrical wires during a fire or an earthquake. It may help to tell him these by way of a story, in which your child is the lead character. Let him choose the next step (or "adventure") in each situation.

ADVERTISEMENT - CONTINUE READING BELOW

6. Emphasize the importance of staying together with classmates and teachers. 
Charmee Gregory, a teacher at the Ateneo Grade School in Quezon City, says it is a must for children to not wander off by themselves during an emergency. Being with a group, especially with an adult such as a teacher or school official who knows the safety guidelines, will decrease the risk of further danger. This will also make it easy for teachers to account for all students. In some schools, the buddy system is used during emergency drills to ensure that no one is left behind. 

7. Help your child identify situations wherein he would need an adult's help. 
Kids should be alert in informing the teacher of a particular concern, like, say, smelling smoke from a burning object. Niguidula emphasizes, "It is necessary to equip students with the ability to know when they need help, when they are in danger, and when to have the presence of mind to help themselves -- or ask for help." 

8. Tell your child to trust, follow, and listen to teachers or school personnel.
The school is our children's second home. Thus, kids should know that in the absence of their parents, the teachers are their guardians. When children know that they should trust their teachers and follow them, it will be easier for the school to implement emergency procedures.

What other parents are reading

Age-appropriate teaching
In introducing these concepts to your children, the CDP says there should be a gradual change in the level of teaching, depending on their age.

ADVERTISEMENT - CONTINUE READING BELOW

3 to 5 years old
Basic elements of preparedness should be taught at an early age. "Between three to five years of age, children should be acquainted with the simple protocol of disaster preparedness such as 'duck, cover, hold' during earthquakes. They should know the intensity of typhoons in storm signals,"says the CDP. At this stage, it would also be helpful to introduce the flood-level color indicators from Project NOAH (Nationwide Operational Assessment of Hazards).

6 to 12 years old
Kids in the first to sixth grade should be able to understand the concepts of disaster risk reduction, according to the CDP. "These include how typhoons are formed, how earthquakes are generated, and why there is global warming, among others. This will ground them in understanding how various scientific concepts affect society," adds the CDP.

13 years old and above
For older kids, the CDP recommends that parents encourage more involvement in dealing with emergencies and in reducing the risks as well. "From grade seven onwards, the students should be able to understand the national context of disasters, and the respective duties and responsibilities of the citizens, civil society, and government agencies," says the CDP.

When parents reinforce the safety guidelines taught in school, children become better equipped to handle emergencies. "The consistency of having these skills integrated into any learning opportunity helps make sure that children understand how important it is for them to think quickly, logically, and systematically, and that they can use their common sense to bring themselves to safety," Niguidula concludes.

ADVERTISEMENT - CONTINUE READING BELOW

This article originally appeared in the June 2014 issue of Smart Parenting magazine. Additional text by Lei D. Sison.

Celebrate your pregnancy milestones!


Enter your details below and receive weekly email guides on your baby's weight and height in cute illustration of Filipino fruits. PLUS get helpful tips from experts, freebies and more!

You're almost there! Check your inbox.


We sent a verification email. Can't find it? Check your spam, junk, and promotions folder.

Trending in Summit Network