Gowns, Playsets, And Dollhouses: 3 Pinoy Parents Who Impressed With Their DIY Projects

These mom and dads are so creative!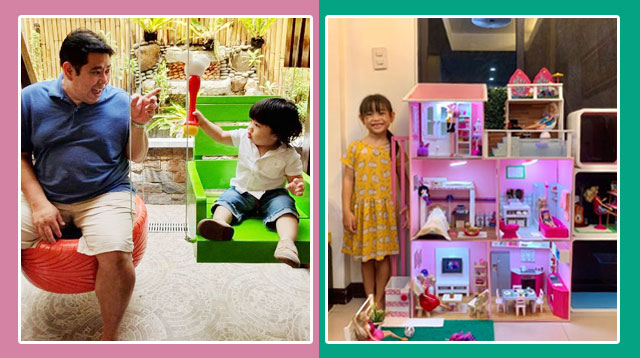 Moms and dads have pretty much proven that they will do anything for their kids just to make them happy. But they still remain practical and go for do-it-yourself or DIY projects to cut on costs — and to create a more customized item for their kids.

Best DIY projects from moms and dads

Whether it was a discovery from our Facebook group Smart Parenting Village or projects that our readers sent via email, SmartParenting.com.ph has no shortage of amazing work done by moms and dads. And we always love featuring these stories because parents deserve recognition for their creativity and ingenuity.

From a wooden playground set, a giant dollhouse, and even couture gowns, here are three DIY projects by Pinoy parents that will make you go, "Ang galing ni mommy at daddy!"

Slide and swing set

This dad built a wooden slide and swing set for his son!

PHOTO BY

courtesy of Mia Camarillo

ADVERTISEMENT - CONTINUE READING BELOW

Dad Daniel Camarillo wanted his son, Xavier, to engage in outdoor play which is why he and his wife Mia canvassed for playsets in malls. But they didn't find anything they liked — they were looking for something big enough for their children to use for a long time but what they saw were playsets that were either too small or too expensive.

Daniel then took matters into his own hands and made the slide and swing set himself. Thanks to Pinterest and his handyman skills, he was able to finish the project in one week. It cost them roughly Php30,000 but it looked as if a professional built it!

Of course, their son was excited to go on the slide and swing after it was finished. "Every morning, right after he wakes up, he goes straight to his slide and plays there until it's breakfast time," Mia shares. "His happiness is just priceless."

Learn how this dad constructed the playset here.

What other parents are reading

Giant dollhouse

The finished product is a dollhouse that's almost as tall as Zian, Riza's youngest daughter!

PHOTO BY

courtesy of Riza Gamaya

Dollhouses can get expensive, especially if you're looking for one with gorgeous details. That's why entrepreneur mom Riza Gamaya decided to just make one for her daughter, Zian, when the little girl asked for one for her birthday.

ADVERTISEMENT - CONTINUE READING BELOW

With the help of Google and YouTube, Riza was able to construct the dollhouse. Then, she worked on the rooms, wanting them to look as realistic as possible. She used her kids' old, unwanted toys, plus recycled materials and got creative with the design — she even added a pool and an elevator for Zian's Barbie!

Riza tells Smart Parenting that she is a DIY enthusiast, adding that it gave her "enormous satisfaction" whenever she finished one part of the DIY dollhouse. "What I love most about this DIY project is that my kids really enjoyed doing their part to complete the dollhouse," Riza shares.

Learn how Riza created the dollhouse, including the materials she used and how much it cost her here.

Couture gowns

Greg sews the gowns whenever he has free time after school and on days when he is off work.

PHOTO BY

courtesy of Toni Masil

ADVERTISEMENT - CONTINUE READING BELOW

Gregorio "Greg" Masil won the hearts of many parents after the story of how he created gorgeous gowns for his daughters went viral online. A public school teacher, the 44-year-old dad taught himself to sew and with the help of YouTube videos, was able to design gowns for his two daughters, Toni and Maegan, which they used in various school events.

Greg, whose wife is an overseas Filipino worker (OFW), really stepped up to the role of raising his kids. He didn't want them to feel as if they were one parent short while growing up. "Ayaw mo madisappoint [sila] kasi nakikita mo sa mga mata nila na nandun 'yung tiwala na kaya mo," he tells Smart Parenting.

And his daughters are very happy and proud to have an awesome dad. "Medyo mayabang na rin po kasi naipagmamalaki ko po na daddy ko ang gumawa non. And seeing people's reaction po when I say my dad made my gown boosts my confidence," Toni shares with Smart Parenting.

ADVERTISEMENT - CONTINUE READING BELOW

Read Greg's story here.

Got your own DIY project to share? Email us your story and photos at smartparentingsubmissions@gmail.com. We'd love to feature you!




Trending in Summit Network